Kids With Autism Going Through Airport Security
What Happened When 2 Kids With Autism Tried to Get Through Airport Security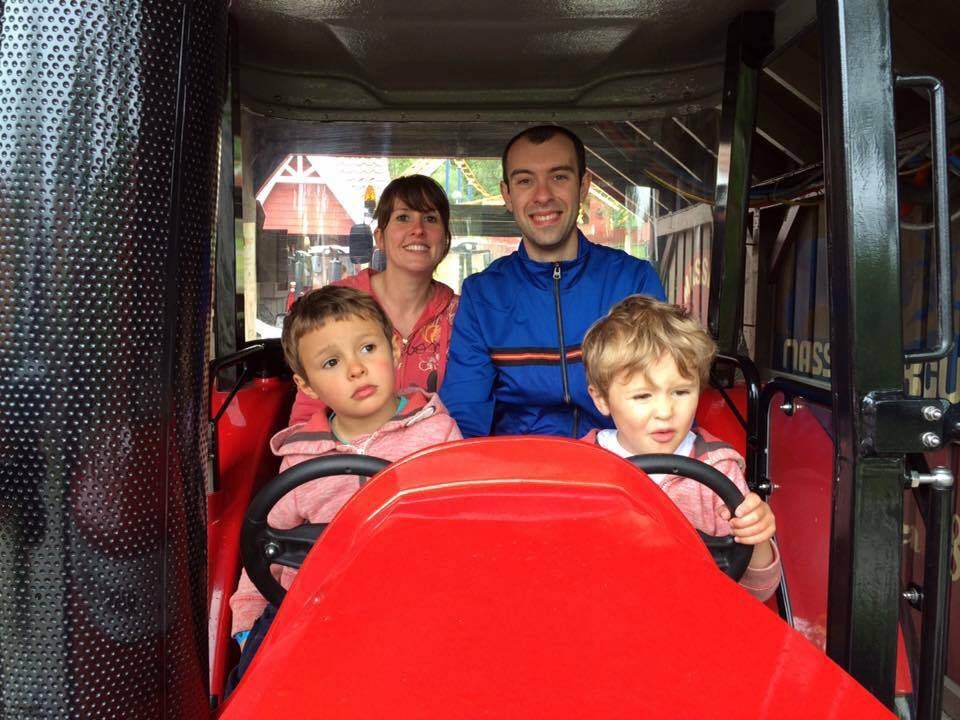 Kris Cruickshank and his family have been living abroad for the last four years, so they are familiar with flying. However, both of Kris's children have autism, so just because they have flown before doesn't mean that the process is easy for them. However, a recent encounter with strangers at Aberdeen Airport in Scotland showed them the difference some compassion can make while traveling with their kids.
After a recent trip to visit family, Kris and his wife were flying back to Norway with their 6-year-old and 4-year-old; they were starting to worry about how their boys would manage going through security. "Our oldest's autism is severe and he also has other severe learning difficulties," Kris wrote on Facebook. "Public places, queues, background noise, and the hassle of traveling can be extremely difficult for him to handle and can often result in severe autistic meltdowns and intense self harming."
When the family first arrived at the airport, the child was already getting stressed and the woman checking them in tried to distract him by offering to let him push the button on the baggage conveyor belt. "We mentioned he was autistic, had other learning disabilities, that he is nonverbal, and has next to no understanding of language," he wrote. "She offered us assistance but we declined as we'd hoped things would be okay once he was on the move again."
The next stop was the line for security, but the noises from the machines were too much for the boy to handle. Kris explained that his son just couldn't cope and had an "intense" meltdown. "My wife and I did our best to calm him down and stop him from hurting himself whilst still trying to keep an eye on his little brother and keep putting our things up on the security belts," Kris wrote. "We said to the lady at security that he was autistic as we were aware we were holding up everyone. We were amazed at what happened next."
The woman immediately told her other colleagues working in security to stop rolling all bags going into the X-ray machine and stop all other noise and asked for a few additional employees to assist the family. "They took my wife and oldest son through the metal detector and into a quiet room so our oldest son could calm down and have some peace and quiet," he wrote. "And they also helped me with the bags and everything else that had to go through security and even had a laugh and a joke with our youngest son getting him through the metal detector as a way of keeping him occupied."
The employees then helped Kris with the rest of their bags, pointed him the direction of the quiet room, and told him to take as much time as his son needed. "Our oldest calmed down after five minutes and after that, to him it was as if nothing had happened. Typical!" he wrote.
When the family arrived at the gate, they were informed that the woman from security had already given them a heads-up about their kids. The employees at the gate offered them the option to board first or last, whichever would be best for the family. "We usually wait until last but our oldest was exhausted after his ordeal and we were worried he may become agitated again," he wrote.
Another helpful employee, who happened to have experience working with a teen who has autism, met them at the plane's door and they were able to get the kids comfortably situated before others started boarding. "My wife and I would like to pass on our sincerest gratitude to all the staff at Aberdeen airport for everything they did on Friday afternoon for us and the kids. Without them we don't think that we would have been able to fly that day," Kris wrote. "We cannot believe the efforts your staff went to and the kindness they showed. Well done to you all for recognizing invisible disabilities!"
Another thing that stood out to Kris about these employees was how obviously well trained they were. "When I look back on it now, what stands out is how discreet and efficient the staff were at handling this situation. They were incredibly professional but also so friendly at the same time," Kris told POPSUGAR. "It was as if they were really proud and happy that helping people out like this was part of their job!"