Kim Kardashian and Kanye West Pierce North West's Ears
You Won't Believe Why Parents Are Bashing Kim Kardashian and Kanye West Now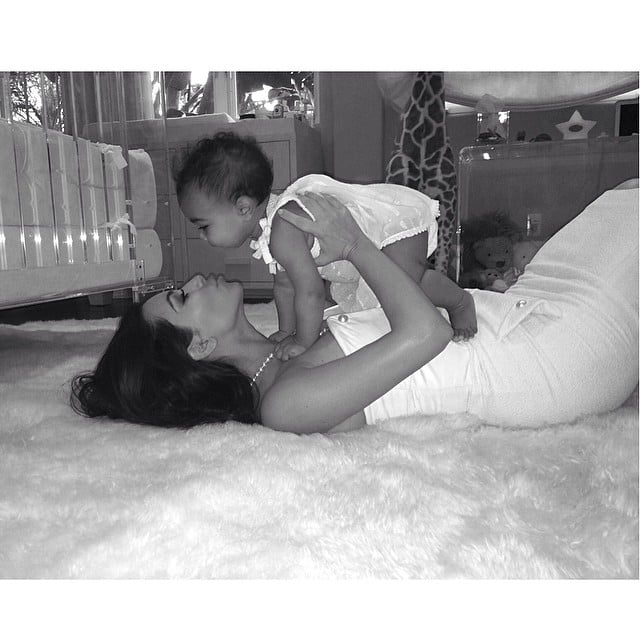 Uh-oh, Kim Kardashian and Kanye West are under attack, and this time it has nothing to do with their over-the-top wedding. Over the past week, photos have surfaced of the newlyweds' daughter, North, sporting small diamond studs in her ears. While some say the 1-year-old's new bling is cute, others are calling the decision to pierce her ears "cruel" and "tacky." Of course, Nori isn't the only baby to sport earrings. Whether it's a cultural decision or anticipating future fear of the process, many moms opt to pierce their kids' ears at an early age. But according to doctors, parents may want to wait a bit.
"We generally don't recommend it that young, primarily because babies will often pull at their ears, and if the earring comes out, it can be a choking hazard," Dr. Mary E. Brown, a pediatrician at Floating Hospital for Children at Tufts Medical Center, tells Today.com. There is also the chance that the accessory can prevent proper ear growth. Aside from the medical risks, the child also does not get to choose whether they want their ears pierced. Should they decide later in life that they don't want to wear earrings, it may be too late for the holes to close.
How do you feel about piercing babies' ears? Vote in our poll and leave your comments below!
Source: Instagram user kimkardashian