Mom Raises Cancer Awareness by Sharing a Photo of Daughter
Why 1 Mom Decided to Share Her 5-Year-Old Daughter's Last Moments to Raise Cancer Awareness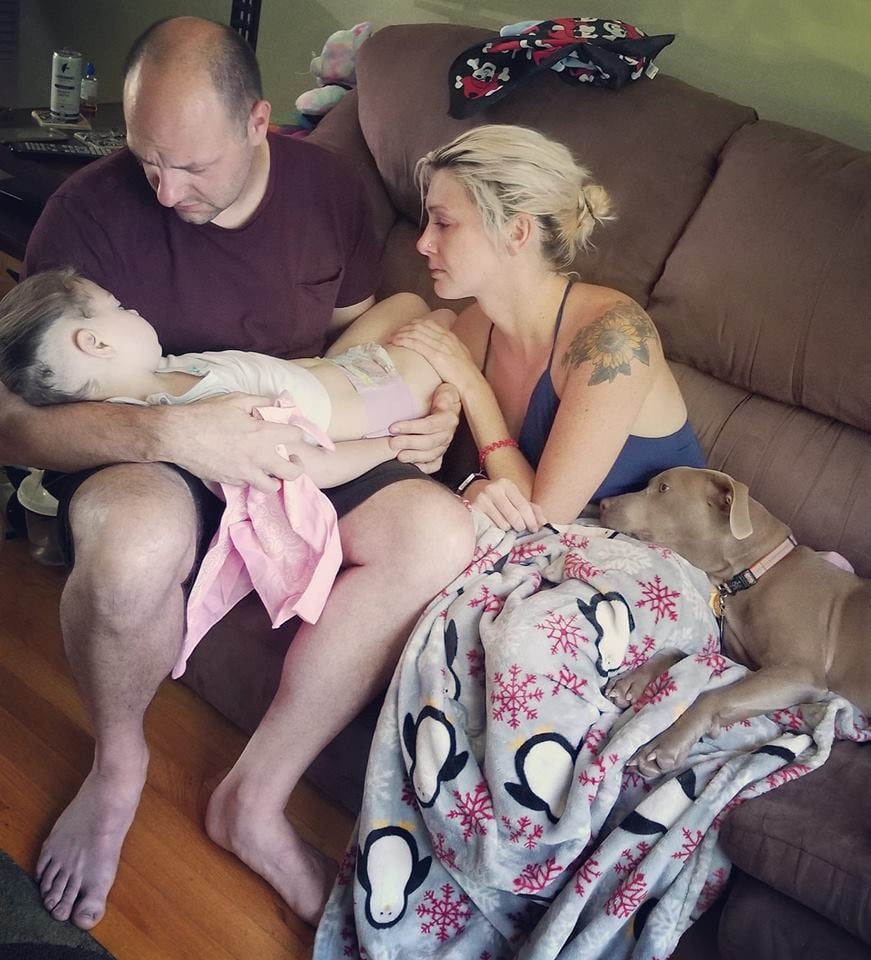 Two years ago, Casey and Ben Daggett found out that their daughter Zoey had a rare brain tumor — known as Diffuse Intrinsic Pontine Glioma (DIPG) — that doctors were unable to operate on. In that moment, they came to the devastating conclusion that their daughter wouldn't have much longer to live. Tragically, Zoey passed away on July 4 at just 5 years old. And her parents shared a photo on Facebook of her final moments in the hopes of spreading cancer awareness.
Casey told POPSUGAR that Susan, one of Zoey's nurses, offered to capture the family's last few hours together. The day after Zoey passed away, the grieving mom posted the picture with the following caption:
"Zoey is going to be shared with the world. Her love and light have been abundant and we will continue to pay it forward and share love and light with the world."
While Casey and Ben are understandably heartbroken, they're hoping that their family tragedy can help other parents whose children have DIPG.
"We have always tried to help others when we can't help ourselves."
"I shared the photo because not a lot of people know what DIPG does to children," she said. "And there is no real funding at all for this type of cancer. We wanted to continue Zoey's sharing of love and happiness and I think that what has happened with this photo and how it has gone viral is the first step to bringing awareness to DIPG and spreading love."
On July 4 at 4:17 p.m., Zoey passed away surrounded by friends and family. Her last few days were "filled with stories, music, and movies," according to her mom.
In hindsight, Casey is happy she had Susan take the picture, as it was the last photo they would have together as a family.
"We thought it was a beautiful photo that showed our love for Zoey and even when we knew she was going to pass, it was just a beautiful photo to us," said Casey. "We have always tried to help others when we can't help ourselves."
If you would like to learn more about DIPG or to donate, please visit the official website.