Mom Sues Her Daughter's School Over the Dress Code
This Mom Is Suing Her Daughter's School Over the Dress Code, and Who Can Blame Her?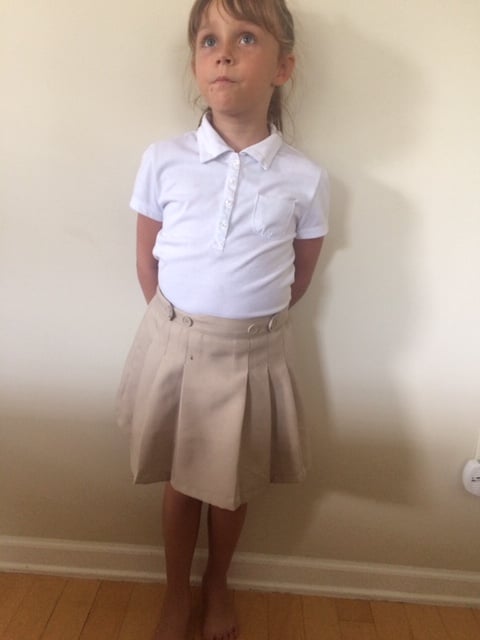 North Carolina mom Erika Booth is standing up to the double standards of dress codes in schools. It all started when her 12-year-old daughter (whom Erika wants to remain anonymous) was only given three types of uniforms to wear to school: a skirt, a skort, and a jumper. And yes, that means no pants for girls.
In fact, Charter Day School in Leland, NC, specifically forbids its female students from wearing pants, and naturally, that just didn't sit well with Erika. She joined in on a preexisting lawsuit another mom, Bonnie Peltier, had already filed against the school for the same reason.
"Once I found out there was a lawsuit, I was delighted," Booth told Today. "I felt like the rule was unfair to girls all along. When my daughter . . . found out she had to wear skirts the first day of kindergarten, she cried."
"They can't run, they can't play, they can't flip upside down. The clothing is simply not as durable."
Aside from the fact that it's 2018 and little girls should definitely be allowed to wear pants, Erika pointed out that sometimes wearing dresses or skirts is downright inconvenient.
"It's impractical to wear a skirt," Erika said. "They can't run, they can't play, they can't flip upside down. The clothing is simply not as durable. They're told that they can wear leggings, and any woman who has ever worn leggings can tell you leggings are not pants. When it's 14 degrees in the morning in January . . . they're not pants. They're not."
It's also become an issue in the classroom. While the male students are allowed to sit cross-legged, girls are required to "sit like a princess" during discussions.
According to Today, there are a few exceptions to the no-pants rule. Female students are allowed to wear shorts once a week — on the day they have gym class — as well as for spirit days and field trips. "For PE, which is one day a week, even they (the school) admit that a skirt is impractical," Erika said. "So basically they're not allowed to be athletic."
Galen Sherwin, an ACLU attorney who's working on the case, said that while sexist dress codes aren't all that unusual, this case is different. "This is definitely an extreme case," she said. "Certainly none of the schools in the local area have a similar requirement, including the Catholic schools."
Baker Mitchell, the founder of the organization that runs Charter Day School, defended its dress code policy, previously stating that it promotes "chivalry" and "traditional values" in a 2015 email addressed to Bonnie.
"Bullying and sexual harassment are current topics of concern almost everywhere we look," Baker wrote. "Teen pregnancies and casual sex receive concerned attention in most communities. Thus, the uniform policy seeks to establish an environment in which our young men and women treat one another with mutual respect."
Image Source: Erika Booth