Morning Routine For Mom With a Toddler
From Snuggles to Play-Doh Messes, This Is How One Family Gets Out the Door in The Morning
Melissa and her husband live across from San Francisco in the East Bay with their almost 3-year-old daughter. Both parents work full-time, and their toddler attends a Montessori school. As the director of editorial partnerships here at POPSUGAR, Melissa commutes to work via BART. But to get out the door, her mornings require serious teamwork and a little bit of patience, along with swift and unexpected clean-ups.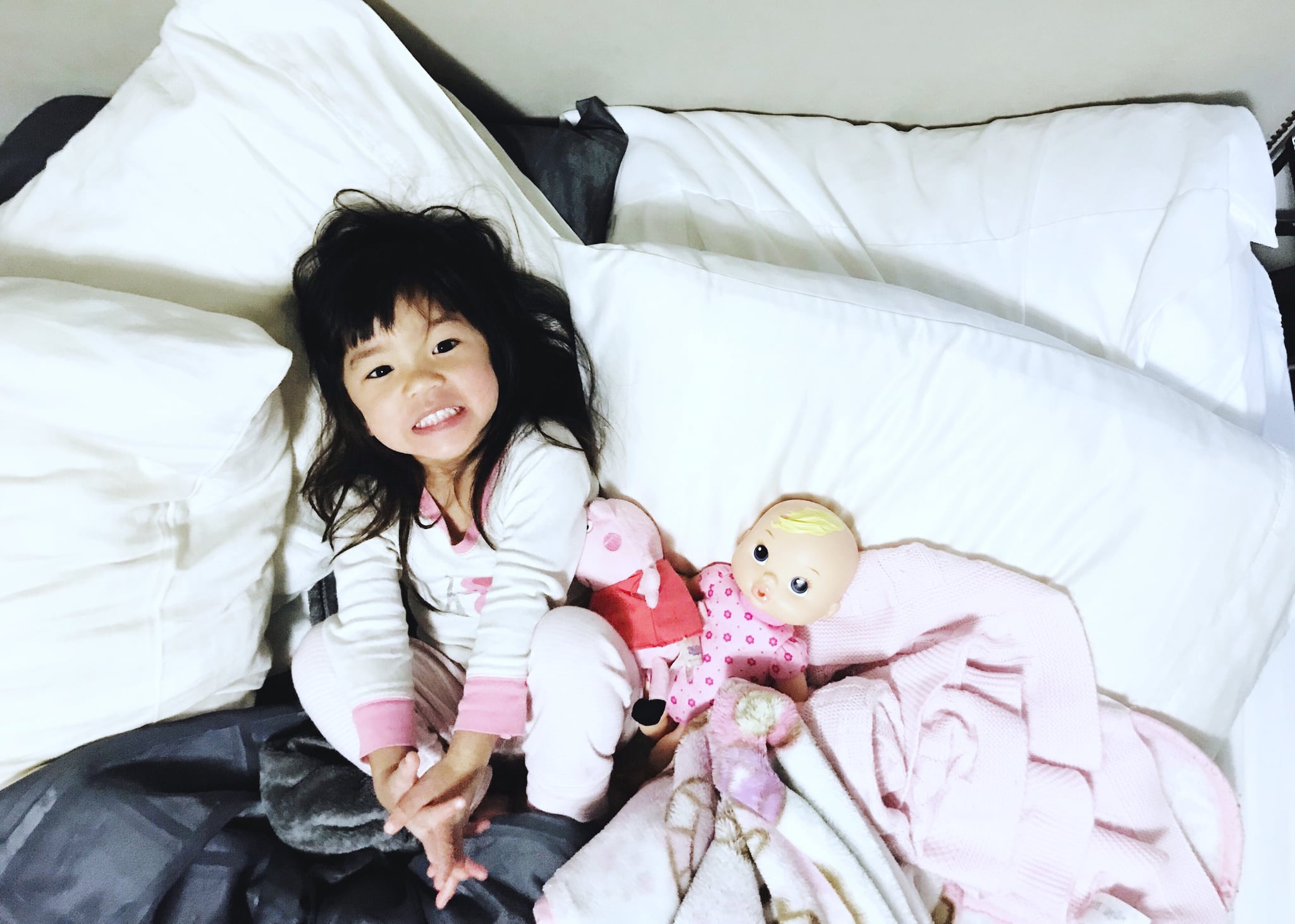 My Morning Juggle
6:15
My husband's alarm goes off. He hits the snooze button and I wake up grumpy. I was dreaming I was in Bora Bora. Maybe if I can doze off again, I can pick up where I left off.
6:30
Ugh, there goes his alarm again. He quietly gets up and out of bed, tiptoeing around to get ready without waking our toddler. I come to terms with the fact that I'm done sleeping and realize, miraculously, our toddler has been asleep for nine hours so I'm actually well rested. This is a rare occurrence. I pick up my phone and scan my calendar, news headlines, and emails, and mentally prepare myself for the day.
6:43
Crap. Just caught myself mindlessly scrolling through my social media feeds. I roll out of bed, wash up, and brush my teeth. Thankfully I showered at night (gotta find extra sleep where you can).
6:50
Our toddler quietly walks out of her room and schleps two blankets, Peppa Pig, and her "baby" over to our room and climbs into our bed — basically an invitation for morning snuggles. I lay down with her for a sec since I have an extra minute to spare.
6:55
My husband walks in with a cup of coffee and a cup of milk. Bless his heart. He joins the snugglefest, too. I gush about our toddler sleeping through the night. He breaks it to me that she actually woke up once, but he went in to ease her back to sleep. I love this man.
6:58
Our toddler gets up to use the toilet because she's a "big girl" now and then brushes her teeth (after negotiating a Minions bandaid as part of the deal). I grab her toothbrush to do a quick pass before she bolts for the kitchen.
7:02
Before my husband heads out, he helps pull breakfast together. The toddler's obsession this week: vanilla yogurt topped with Cheerios. She goes to the spice cabinet and pulls out a jar of pumpkin-pie spice to sprinkle on her breakfast (long story). It's more than a sprinkle but we go with it. We have to pick our battles. We throw a vitamin on her plate for good measure.
7:06
The toddler says her goodbyes to daddy; he turns on the TV to her cartoon of choice so I now have a little bit of peace to get ready. I pop into the bathroom.
7:11
"Mommy!" she calls for reassurance that I'm still here. I respond, take a peek to make sure she's OK and continue on. I put on a little bit of everything: eyeliner, powder, concealer, brow powder, blush, mascara, and lipstick to finalize my "no-makeup makeup" look. That's still a thing, right?
7:26
I've learned to master a quick face in 15 minutes since becoming a mom, but I'm not the night-before outfit planner. I run my schedule through my head and know I need to run a lunch errand, so a sweater, jeans, and a pair of walkable slides it is.
7:29
"Mommy! I spilled my drink. I need a napkin!" Uh oh. I take a peek and thankfully the spill is small. I give the girl a napkin and try to wrap up. "Mommy! I'm done!" She always gives the play-by-play.
7:31
I spray on some dry shampoo and brush through my hair once (hair is not a weekday priority for me). Time to get her ready. Once her clothes are on, I tell her to put her shoes
7:36
I'm so glad we prepped her lunch last night. I gather the items, fill up her thermos, zip up her lunch bag and . . . her shoes still aren't on. I calmly remind her to put them on. AGAIN.
7:38
I clean up the last bits of her breakfast (aka eat whatever is left of it) and oh boy, what do we have here . . . a
Play-Doh
mess. Where does she keep finding cans of this stuff? I thought we hid them all for this very reason. I clean up and notice her shoes are still not on.
7:39
I try, but fail this time, to calmly tell her to put her shoes on again. It feels like the millionth time and my patience is gone. I play tough and threaten to walk out the door without her and it works like a charm (almost every time).
7:45
We get into the car and she patiently waits to get buckled into her car seat. Whew! So glad today isn't one of those days she puts up a fight. A quick two-minute drive and we arrive at the Montessori down the street.
7:51
I'm about to walk out when I'm hit with an onslaught of questions and comments from this energetic toddler bunch: "What's your name?" "I have purple shoes!" I willingly participate for a quick second, because they are too darn cute.
7:53
I make and exit and . . . ah, "me time" begins. I take another quick drive to the BART station. I am so glad everything is in the vicinity. Convenience is EVERYTHING these days.
7:56
I park my car and walk onto the platform. I love the ease of getting to work within 25 minutes and not having to drive. I turn on a Spotify playlist, scan through my work emails again, and reply to all the group text messages I got last night while I was asleep (mostly playful parenting rants from my sisters).
8:25
Before I know it, I'm in the city. I walk from BART to the office, which thankfully is right across the street. I get in and head to kitchen for an "office breakfast," because toddler leftovers are not going to cut it. I grab a piece of toast, hard boiled egg, and a couple of almonds.
8:36
Plugged in and ready to start my "other" job. I love being a working mom. I spend a moment being thankful for that. I am also quite thankful that this morning was actually calmer than usual.
Image Source: POPSUGAR Photography / Melissa Pinpin