Morning Routine of Working Mom With a Toddler
When Doing Their Buttons Pushes Your Kids' Buttons — It's All Part of This Mom's Morning
Stacy lives in the San Francisco Bay Area with her husband and two-year-old daughter. Both parents work full-time, and their toddler attends day care. They've been juggling this routine for a while now and have it down to a science. It helps that their girl likes to sleep in. Aside from the few tantrums that pop up or days when they oversleep, they're out the door like clockwork!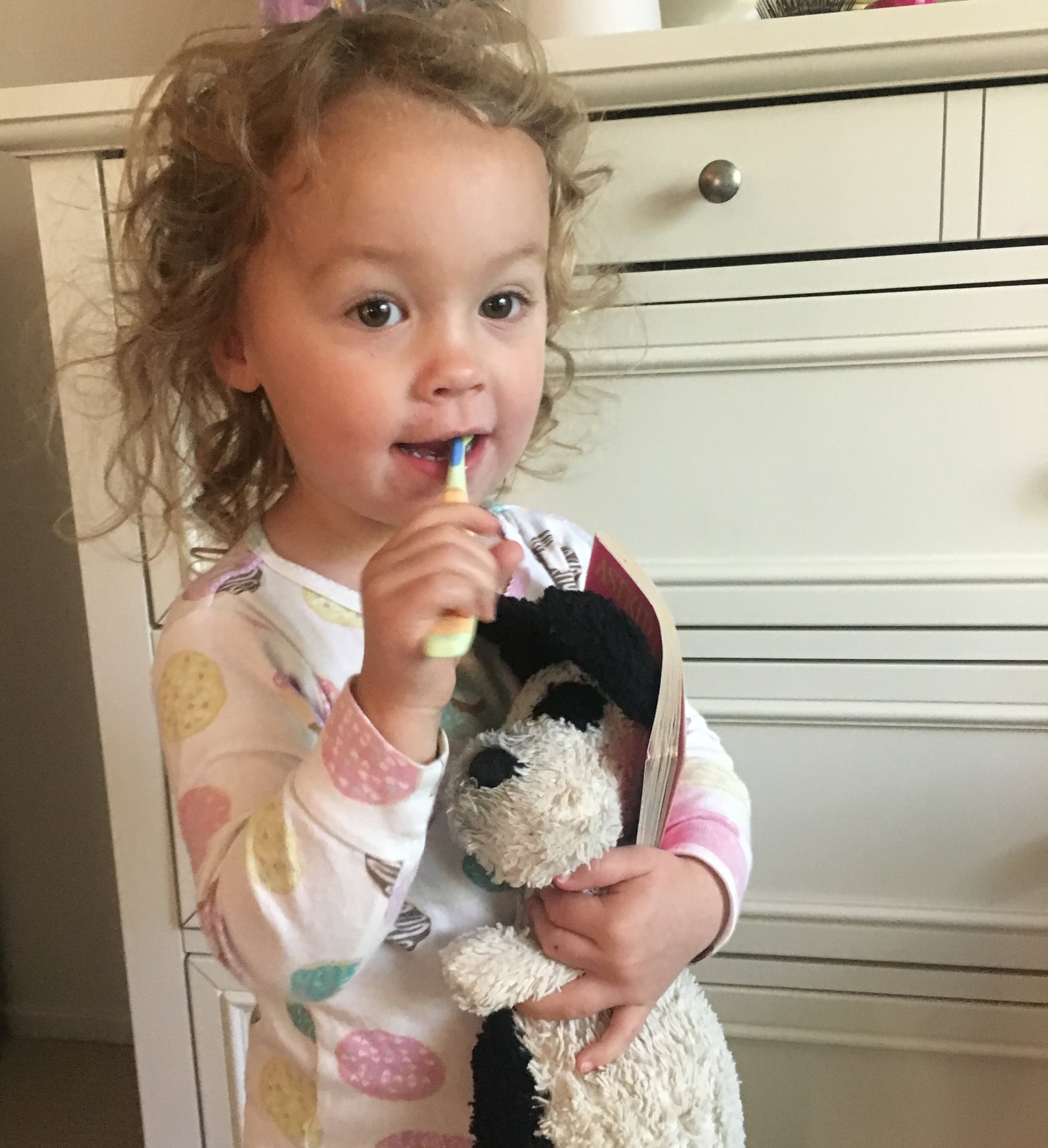 My Morning Juggle
5:55 a.m.
My alarm goes off. I hit snooze and spend the next 10 or so minutes going through my email, Instagram, and Twitter. I also check the weather for both San Francisco (for me) and our hometown (for our daughter) — gotta love Bay Area microclimates!
6:04 a.m.
The second alarm goes off, and it's time to get out of bed. I sneak past my daughter's room, who recently enforced a new habit of sleeping with her bedroom door open, and into the kitchen. I start the coffeemaker, which I prepped and readied the night before.
6:05 a.m.
So, she definitely heard me walk by her room. She let out a cry. I wait a minute for her to quiet down, then walk back to my room to start getting ready.
6:10 a.m.
Time to shower! It's "hair-wash day" on the rotation, so I'm in there for about 10 minutes.
6:20 a.m.
Out of the shower and on to skin care! I prep my face with vitamin C oil, serum, and eye cream.
6:23 a.m.
Time to pour that first cup of coffee and start getting ready. On days like today, I regret not washing my hair the night before. It's going to be a longer morning of drying and curling my hair and then doing my makeup. I try to be extra quiet through all of this because my husband and daughter are both still sleeping.
6:30 a.m.
My husband wakes up, and it's time for us to share our tiny bathroom as we both try to get ready. He showers while I curl my hair, then we battle for the sink and mirror space as I do my makeup and he shaves.
6:38 a.m.
My daughter lets out a cry from her crib. My husband and I freeze, then check the monitor and see that she's still lying down. Phew!
6:50 a.m.
My husband packs up our daughter's lunch and gets her breakfast ready to take to day care. One of us usually gets lunch prepped the night before, and breakfast is usually yogurt and fruit. We try to pack it all up in her backpack and put it by the door so we can get out quickly.
6:54 a.m.
I'm finally done with hair and makeup, so it's time to get dressed!
7:00 a.m.
My husband and I both love waking up our daughter, but this morning it's my turn! I turn on the hallway light, open her door, and greet her with, "Good morning!!" . . . and see a huge smile on her face. She is THE BEST in the morning!
7:03 a.m.
OK, she's still in the crib. I'm going to start laying out some clothes for her while she wakes up.
7:06 a.m.
Time to move! She gets out of bed, and I change her diaper, then take her to the potty. Today she insists that her favorite stuffed animal and book come with her.
7:08 a.m.
Potty success! I get her toothbrush ready and hand it to her. She loves brushing her teeth now but lets me get in there when she deems that it's my "turn."
7:10 a.m.
Got her in her undies. Now it's time to get her dressed. I feel like things are going well so far, but this is when the morning can take a turn. I lay out
three pairs of pants
for her to choose from. She now completely insists on choosing her own clothes, but for the sake of time and my sanity, I have started giving her three choices of pants, then shirts. There aren't any pink pants available in the lineup today, so she chooses flower pants and a purple top.
7:17 a.m.
I do the buttons on her top. Oh, no! Things took a turn. That was NOT OK. She continues to yell, "No buttons! No way!" Thankfully my husband comes in to distract her with an applesauce squeezy.
7:20 a.m.
I'm starting to freak out a little bit about time, but my daughter's hair is wild. I let her choose the hair ties, then we sit down so I can do her pigtails. This isn't without its own drama, but thankfully my husband continues to placate her — this time with a fig bar.
7:23 a.m.
Her hair is done, and I'm putting on her shoes. I didn't let her choose them this morning and somehow got away with it.
7:25 a.m.
I pack up my bag — and aside from all the regular purse essentials, I make sure I have my headphones, fruit, oatmeal, and coffee.
7:27 a.m.
Set the house alarm, and we're all out the door!
7:30 a.m.
Ahhh, 7:30 a.m. is my cutoff time to make it to BART and still get a parking spot, and I've made it! I say my goodbyes and "I love you"s. My daughter very sweetly always makes sure that my husband and I also kiss and hug goodbye in the morning, and we get in our separate cars. My husband takes her to day care, and I head out to start the commute.
7:38 a.m.
I arrive at the BART station and there's still parking. I park in the far lot and walk to the station.
7:45 a.m.
I'm at the station waiting for the next BART. It's in five minutes. I check my phone again and, once again, look at email, Instagram, and Twitter.
7:50 a.m.
I am on the train, standing-room only. I put on my podcast (today it's the latest episode of Pod Save America) and relax. My commute is some of my only "me time" during the week, so I really let myself enjoy it. I check in on email every 10 minutes or so to make sure nothing urgent has come through.
8:26 a.m.
I'm off the train and walking to my office. It's much colder in San Francisco than I thought, and I'm regretting my outfit choice.
8:30 a.m.
I'm in the office. Time to make my oatmeal and settle in for the day!
Image Source: POPSUGAR Photography / Stacy Hersher