Mother Fights to Save Dying Son
One Mother Takes On a Drug Company to Save Her Dying Son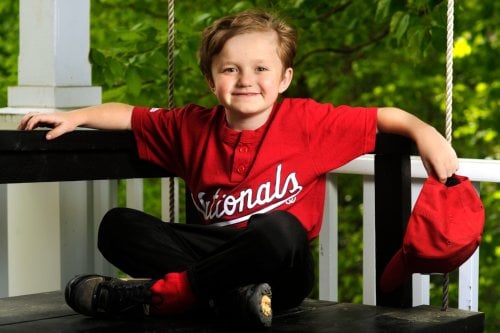 There's nothing a mother won't do to save her child's life, and no one is proving that more than Aimee Hardy. The Virginia mother has watched her son Josh suffer since the day he was born. Josh has battled and overcome cancer, as well as heart and kidney issues. A relapse, however, forced him to undergo a bone marrow transplant in January. Shortly after the surgery, he was struck with an infection called an adenovirus, which has left the now-7-year-old frail and fighting for his life.
Doctors say the cure lies in Brincidofovir, a drug that is currently in the trial stages but has been proven to be effective on kids with Josh's condition. Unfortunately, the drug's developer, Chimerix, refuses to provide the family with the drug.
Kenneth Moch, the CEO and president of Chimerix, told Fox News that the company, "made the difficult decision to end its compassionate use program in order to focus all its efforts on earning FDA approval." He adds that the drug is currently in phase three of the clinical development process, moving it one step closer to being available. But Aimee's son does not have time to wait, and she refuses to do so.
"Where there's a will, there's a way, and our will is very strong," Aimee told Fox News. "We are going to keep on asking and asking until they release it for us."
Source: Fredericksburg News