POPSUGAR
/ Presented by /
H&M
My Daughter Likes Wearing Superhero T-Shirts
Kids' Clothes Have Come a Long Way Since I Was a Kid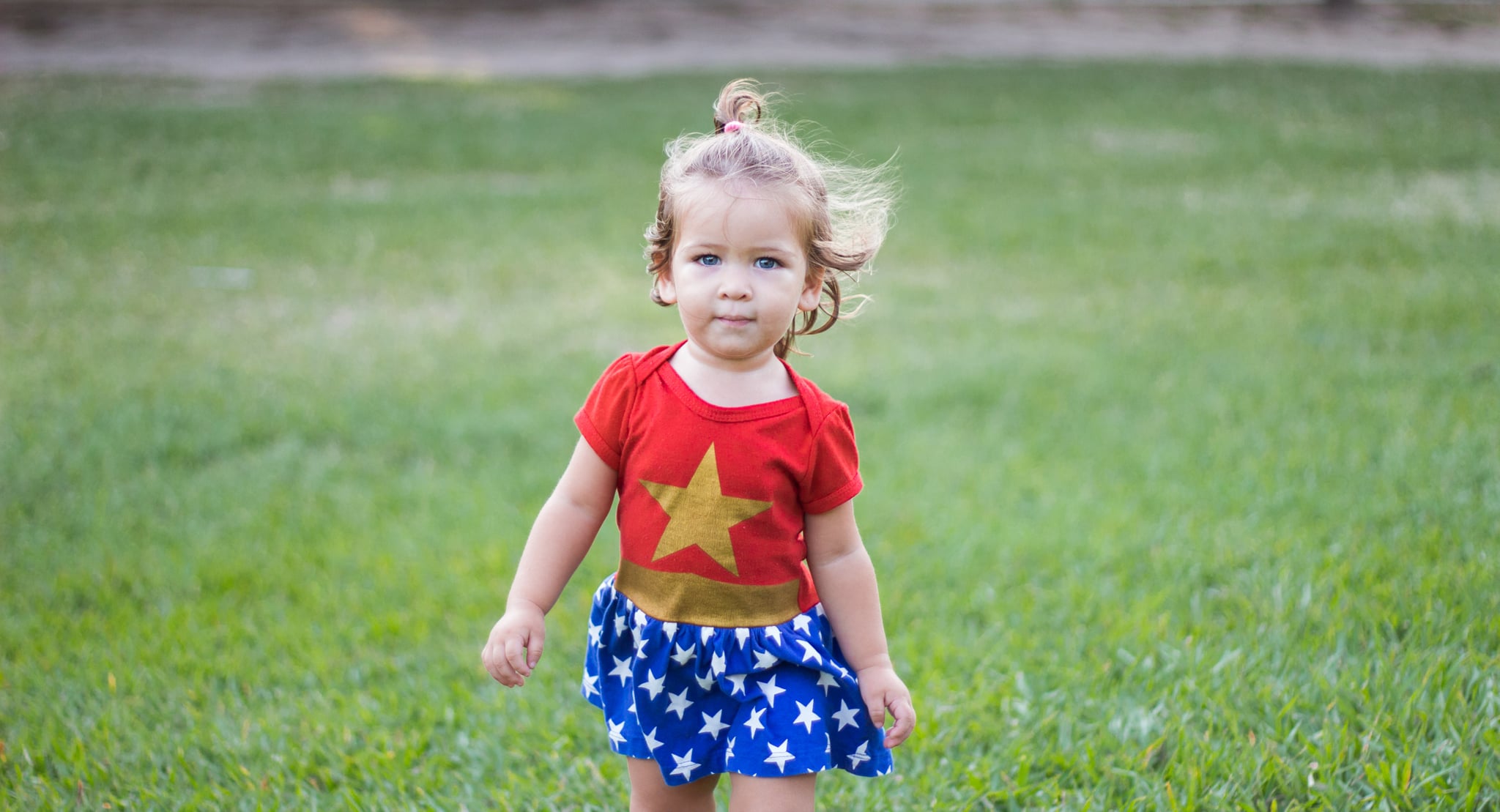 Looking back at childhood pictures of my friends and me, I'm amazed. Not because of how much we've all changed or how much our children look like us, but because of our wardrobes. On the photos, there girls are wearing a lot of loud colors and floral patterns that would blend seamlessly into our grandmothers' couches. As for the boys, it's a mesh of various superheroes, cartoon characters, and dinosaurs. Nineties fashion, especially for kids, was interesting, if not altogether unfortunate with its clear distinction of boys' clothing versus girls' clothing. Now, as I shop for my own children, I'm so glad to see just how far kids' style has come, especially for girls.
I have three girls, and I admit that I'm a sucker for classic looks. Dresses with cardigans and Mary Janes, collared sweaters, and pretty jumpsuits have been the staples in each of my girls' closets. My one-year-old twins are easy to dress. They don't care about what I put on them (yet), but my 5-year-old is another story. She knows what she likes and, to my dismay, it's not my preferred classic style. Instead, she is a t-shirt and leggings kind of kid.
One of my favorite changes in kids' clothing over the years is the fact that superheroes are no longer strictly for boys. When I was younger, if you liked character clothing then it was superheroes for the boys and My Little Pony for the girls. My daughter is the ultimate girly girl and is all about Disney princesses, but she also shares her dad's love of Batman.
I've become a master at redirecting my daughter's attention when she spots her favorite characters on an item of clothing, but one recent day she came to me asking for a Batman's t-shirt like my husband's. I caved! Her excitement at the idea of having a shirt "just like Daddy's" was so genuine and so sweet, I briefly forgot about my usual disdain for superhero clothing (a personal choice). When we sat down at the computer to order a tee, I braced myself for the end-of-the-world style meltdown that would inevitably come with having to order one from the boys' department. Since character clothes are not my jam, I had no idea that they made superhero shirts for girls and just assumed we'd be ordering from the boy's department. I thought that if we were lucky, we'd find something unisex.
I stressed at the thought of having to explain why they only made a certain type of shirt for boys and not for girls, because how do you even explain that? How was I supposed to tell my daughter that there are people who believe girls aren't supposed to like strong, brave, and intelligent characters? That although we've always encouraged her to run with whatever interests her, be it princesses, trains, or superheroes, some people believe there is a real distinction between "boy" things and "girl" things? That what interests one isn't really supposed to interest the other? Thankfully, I was wrong, and I didn't have to.
The first item that came up was a pink t-shirt with a sparkly Batman logo. The fact that I was buying her a t-shirt with one of her favorite characters to match her dad was exciting, but being able to get the same shirt in pink and with her favorite, sparkles? She could hardly contain herself. She wasn't getting a shirt just like daddy's. She was getting an even better shirt than daddy's.
The idea that superheroes are for boys and princesses or ponies are for girls has never crossed my daughter's mind. As far as she's concerned, superheroes are for everyone, and her pink, sparkly, Batman shirts proves it. I'm so glad times have changed since I was my daughter's age, and that her options for things she likes and wants to wear aren't only in the boys' department.
Showing little girls that they, too, can be superheroes may not seem like much, but it's an empowering change made by the kids' fashion industry. I want my girls to know that they are strong. I want them to know that they can be brave and daring. I need them to know that wanting to be like their favorite Disney princess is fine, but they're not limited to that, and they certainly don't need a prince to whisk them away to a happier life. It's imperative that they know they can do good in this world, just like their favorite superheroes. As a society, we still have a long way to go there, but kids clothing stores seem like a good place to start.