My Mom's Battle With Breast Cancer Brought Us Closer
My Mom's Breast Cancer Battle Was the 1 Thing That Brought Us Closer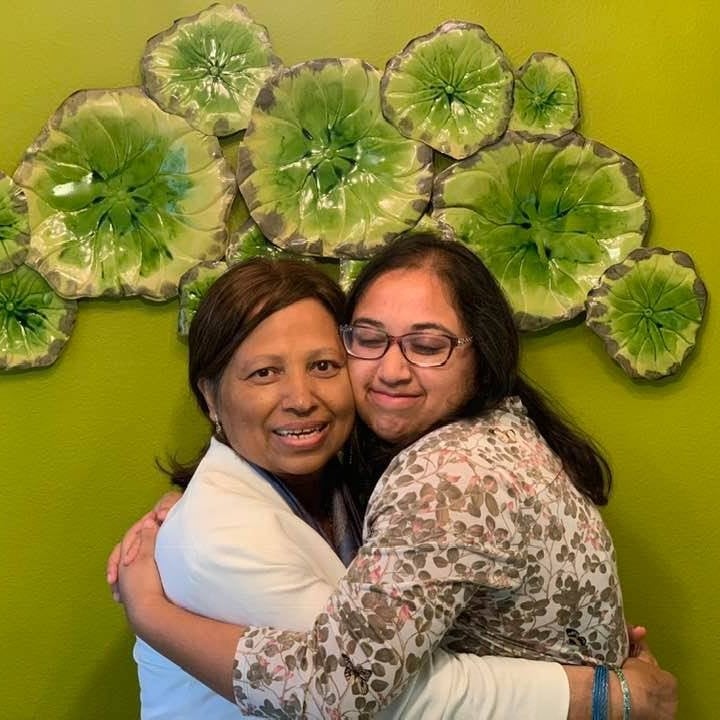 In previous years, I never fully appreciated the importance of raising awareness for breast cancer. Yes, I supported the cause by donating money to different foundations and wearing pink ribbons in October — Breast Cancer Awareness Month — but besides that, I never really thought much about it. But today, breast cancer has become one of the most prominent things in my life. My mom, who's been batting stage three breast cancer over the past year, just finished her last round of treatment. And while this year was extremely difficult for us as a family, I'm so grateful for the journey, because it's done something I didn't really think was possible: it brought my mom and I closer together.
It felt like the rug was pulled out from under me. I was shocked, confused, and scared, and I had so many questions. How could this have happened?
Around this time a year ago, I was ready to take on the world. I had finished college right before the start of Summer, and was eager to start the next phase of my life. But all of my big plans came crashing down when I noticed the dark bruise that developed on my mom's breast. At first, she told me it was nothing and that it would fade, but when I saw it get bigger and darker, I urged her to get it checked. And my mom, being the stubborn woman that she is, argued with me until I got my dad involved and we both dragged her to the doctor. After an endless number of tests, they diagnosed her with an aggressive form of stage three breast cancer. The doctors told us if she didn't start treatment immediately, the cancer could spread to her entire body, if it hadn't done so already.
It felt like the rug was pulled out from under me. I was shocked, confused, and scared, and I had so many questions. How could this have happened? How could it have gotten this bad? How could she have missed the signs? And how on earth were we going to deal with this?
My mom and I have always has a close mother-daughter relationship. Growing up as an only child, I was showered with lots of love and attention from both my parents, but especially my mom. Like any good mom, she did everything she could for me, from taking me on spontaneous trips to the beach to helping me clean up the kitchen after a disastrous attempt at baking cookies. She taught me so many lessons about life that shaped me into the woman I am today, and did everything she could to prepare me for the challenges I would face. But nothing could've prepared either of us to deal with cancer.
But we got through this past year together. We helped each other through the pain, anger, and fear, and somehow made it to the finish line. I feel lucky and grateful that I was able to take care of my mom as much as I was able to — cooking for her, cleaning the house, scheduling every single appointment, taking her to those appointments, and picking up her medicine. This time has taught me to really appreciate the efforts mothers make for their children, and made me appreciate my mom even more.
One of the biggest things I learned from my mom's battle with breast cancer is to embrace every emotion, especially the negative ones. Sometimes, it felt like there were more bad days than good. It was easy to become overwhelmed by everything going on and break down, which is something I tried to avoid in the beginning. My mom was being so strong, so I needed to stay strong, too, right? But the only way I felt real relief was by letting everything out. I lost count of the number of times I cried and screamed out of anger, but after I was done, I felt solid enough again to be the support my mom needed.
My mom has been my rock and cheerleader for my entire life, and this year, it was my turn to be that for her. And when letting those emotions out wasn't good enough, I relied on the support of my community, who rallied behind my family. Their support was so important for us, and it gave my mom so much strength.
Cancer doesn't just infect the patient — it infects all aspects of their life. And supporting my mom through her cancer battle has completely changed our relationship in the best way. I no longer care about small and insignificant things. If it won't matter five minutes, five days, or even five months from now, it's not important enough to fight about. And we stop to appreciate every moment we have together, because even the most mundane of days is special. I'm beyond thankful to still have my mom by my side and will never take that for granted again.
Image Source: Athena Sobhan