One-Pot Shrimp Pasta Recipe
My Family's Brilliant Hack For an Easy Weeknight Dinner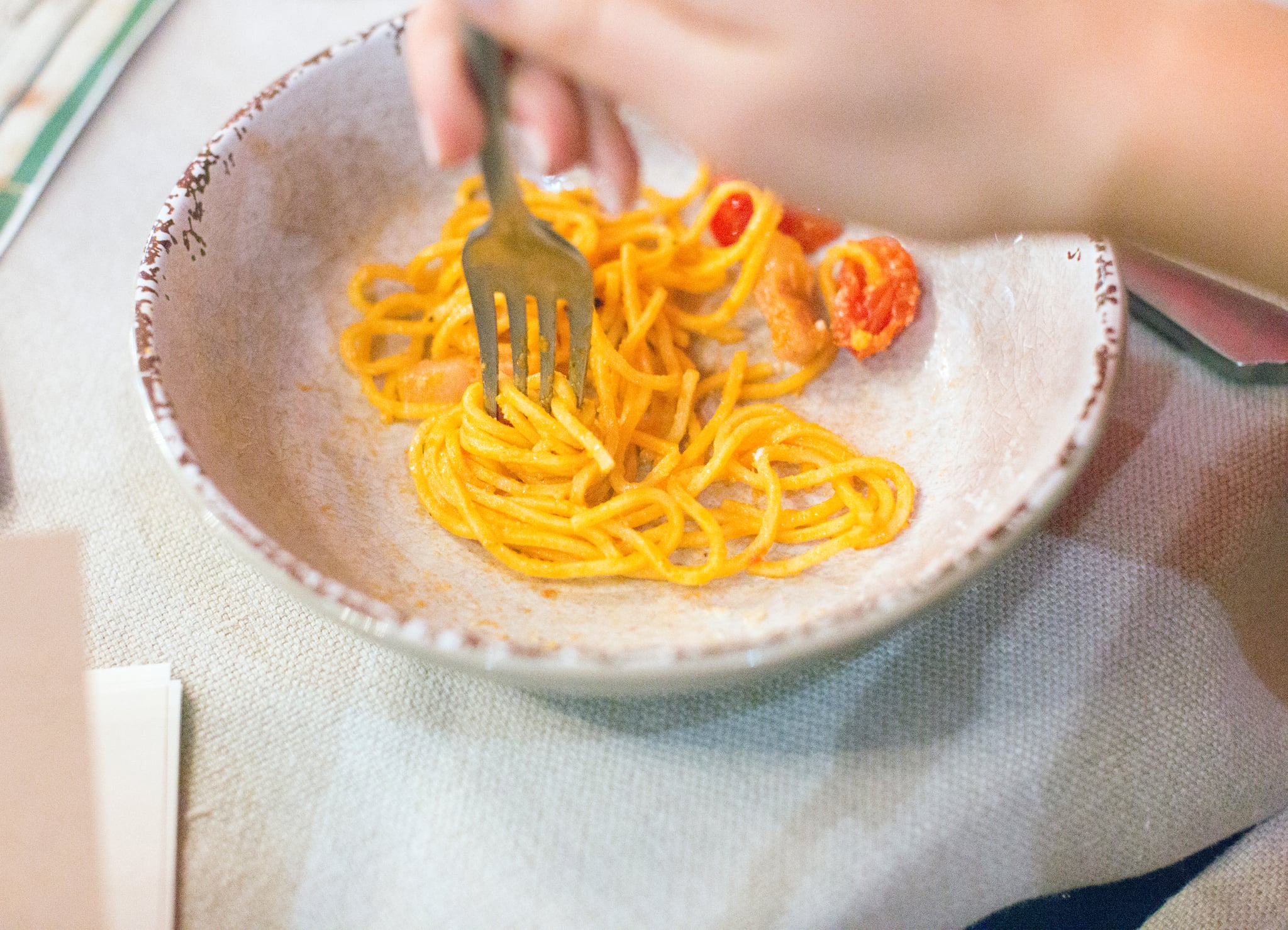 We know the drill: you go into dinner prep swearing that you're going to put your foot down and stick to making one single meal for your family this time. Fast forward 20 minutes, and that plan has been totally abandoned because you've realized it's easier to make three separate meals for three different people rather than fight over who's eating what — until now. This one-pot pasta and shrimp recipe is perfect for busy moms who are sick of surviving solely on chicken nuggets and boxed mac and cheese.
This recipe is a staple because it's super versatile, meaning if your picky kids don't like anything past basic spaghetti and marinara (read: seafood, cherry tomatoes, and everything in between), that's perfectly OK. You can serve your smaller family members before adding the last few "adult" ingredients that give pasta and sauce a much-needed upgrade. The key? Adding a dash of red pepper flakes and relying on a seafood option you don't need to run out and buy the night of. When I was growing up with two siblings, this dish became a weekly ritual. My parents loved the elevated flavor, and my younger brother and sister gobbled up the hearty sauce that's way less sweet than the canned options at the supermarket.
What's more? You can sub out whole-grain pasta for the gluten-free variety if your mini me has allergies. And the crushed tomatoes are pretty much a blank slate for spices — whether they're fresh or dried — so go as crazy or as mild as you want while seasoning it.
The bottom line? There's finally a quick dinner option that everyone in the family will eat, so add it to your rotation ASAP.
One Pot Spicy Shrimp Pasta
Original recipe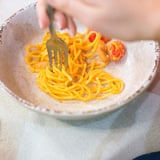 Ingredients
1 pound dry whole grain pasta
1 medium white onion
3 cloves garlic
20 cherry tomatoes, halved
Salt, to taste
Pepper, to taste
½ pound frozen cooked shrimp, peeled and deveined
2 cans crushed tomatoes
1 tablespoon oregano
1 tablespoon dried basil
Red pepper flakes, to taste
Directions
1. Fill a large, shallow pot halfway with water. Add a large pinch of of salt and cover until it comes to a boil.
2. Wash the onion, peeled garlic cloves, and cherry tomatoes. Finely chop the onion and garlic and set aside.
3. Once the water reaches a boil, add the whole grain pasta. Cook to desired doneness and strain.
3. Remove the shrimp from the freezer and run them under cool water until no longer firm. Pull tails off and double-check to ensure each one is deveined. Set them aside in a bowl with a pinch of salt and pepper.
5. Heat a drizzle of olive oil in the same pan. Add the onion and garlic mixture along with salt, pepper, oregano, and dried basil once the oil starts to crack. Cook on medium heat until the onions start to sweat.
6. Slice the cherry tomatoes in half and set aside in a bowl with a pinch of salt and pepper.
7. Add the crushed tomatoes to the pot and bring it to a boil. Once it starts bubbling, reduce the heat and simmer for 5-10 minutes.
8. Stir in the cooked pasta and fold it into the sauce with a wooden spoon. If your kids don't like shrimp red peppers use tongs to set aside half the pasta.
9. Add the cherry tomatoes and cover for 2 minutes. Then stir in the shrimp and hit the sauce with a dash of red pepper flakes and simmer for 3 minutes.
10. Divide between four bowls and serve.
Information
Category

Main Dishes

Cuisine

North American

Yield

4 servings

Total Time

39 minutes, 59 seconds
Image Source: POPSUGAR Photography / Diggy Lloyd