Parents Keep Preemie Alive
Parents Save Premature Baby by Putting Him in Icebox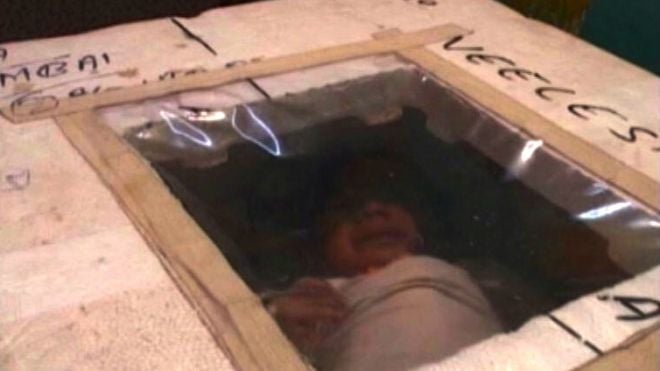 Most babies spend their nights in a cozy crib, but one newborn in India had slightly different sleeping arrangements. After Mithilesh Chauhan arrived two months early in October 2013, his parents had him sleep in an icebox in order to stay alive. The preemie's parents could not afford to keep their baby in the hospital's NICU ward. Worried for their son's life, they sought help from a doctor who gave them some unconventional advice.
"One doctor told us that if we couldn't afford to keep our baby in hospital we should try a Thermocol icebox with holes for ventilation and a 60-watt bulb to provide the right amount of warmth," Mithilesh's mother, Aruna Chauhan, told a local news outlet. "He advised it was better than nothing and might save our baby."
So the parents constructed a DIY NICU bed, taking their son out every two hours to check his temperature. This reportedly lasted for five months, keeping Mithilesh alive, albeit severely underweight. After hearing his story, doctors at the Wadia Hospital for Children offered to treat the child for free. Mithilesh is currently receiving 24-hour care at the hospital, and his parents can finally breathe a sigh of relief.
"It was awful," Aruna recalled. "We had no idea if it was the right thing to do, but we had to try something. We were terrified if we did nothing he'd die, but we were also aware that what we were doing wasn't exactly safe either. It was a very distressing time."
Source: Fox News