Photo of Newborn Honors Late Twin Brother
The Way a Photographer Honored This Newborn's Late Twin Brother Is Heartbreakingly Beautiful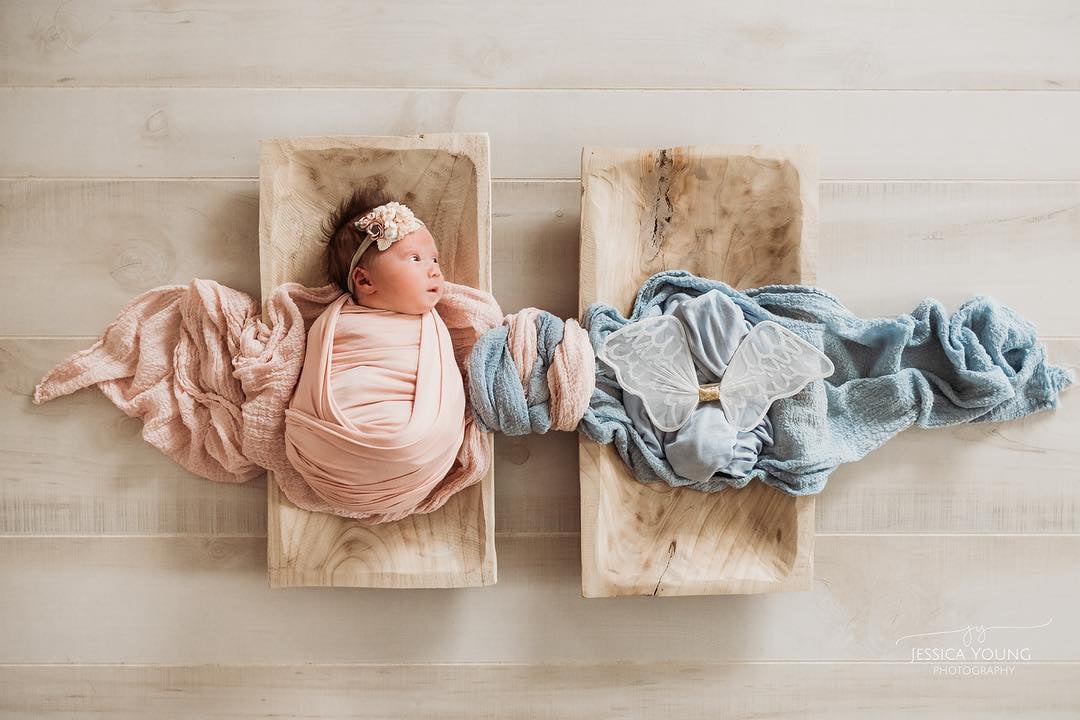 Bittersweet doesn't begin to describe the photograph of newborn baby Leti alongside what should have been her twin brother, James. The image, which shows little Leti's peachy pink blanket knotted up with an empty blue swaddle, is a symbol of the joy of one new life and the incredible loss of another.
For Heather Bowman — who spent years undergoing fertility treatments in order to have a child as a single mother — this image is also a symbol of achieving the impossible.
"My journey has been a long one," she told POPSUGAR. "As I was approaching 36, I was still single and my dream was to always be a mom. I was not willing to sacrifice becoming a mother because I had not found a husband yet."
"When she placed Leti in her spot, all Leti could do was look over to where her brother would have been."
She'd suffered a miscarriage in 2017, and then a few months later, she became pregnant with a set of twins, whom she lost at 16 weeks. After undergoing countless tests, her doctors discovered she was part of the one percent of the female population that has a uterine malformation called "unicornuate uterus," in which she was born with only half a uterus, one ovary, and one fallopian tube.
"The diagnosis was frightening for me, but my specialist was absolutely confident that I could carry a baby to term," she said.
She tried IUI four more times before beginning in-vitro fertilization. When she found out she was pregnant, she was ecstatic. When she discovered she was pregnant with twins, she was understandably terrified that they wouldn't survive to term.
"Every single pain, twinge, cramp, I thought something was going wrong," she recalled.
At her 17-week ultrasound, doctors couldn't find a heartbeat for her son. She was devastated and worried all at once: "I had to compartmentalize my grief to stay positive for my daughter . . . that she was going to be OK." Thankfully, in February, she gave birth to both Leti and James via C-section at 36 weeks — and little Leti's cry was "the biggest relief I have had in my entire life," Heather said.
So, when Heather had arranged a photo shoot for her precious new daughter, she mentioned her story to photographer Jessica Young, who said she "had a wonderful idea to honor their twin bond . . . if I was comfortable." She broke down in tears when they arrived at the shoot and saw the blankets and the angel wings.
"When she placed Leti in her spot, all Leti could do was look over to where her brother would have been," Heather said. "I couldn't help but feel he was lying there, letting her know that he is always with her. She smiled quite a few times while looking in his direction. I will cherish this photo forever."