Reactions to the New Grinch Movie 2018
Because Jim Carrey's Grinch Movie Is Arguably "THE" Grinch Movie, There's Concern About the New Film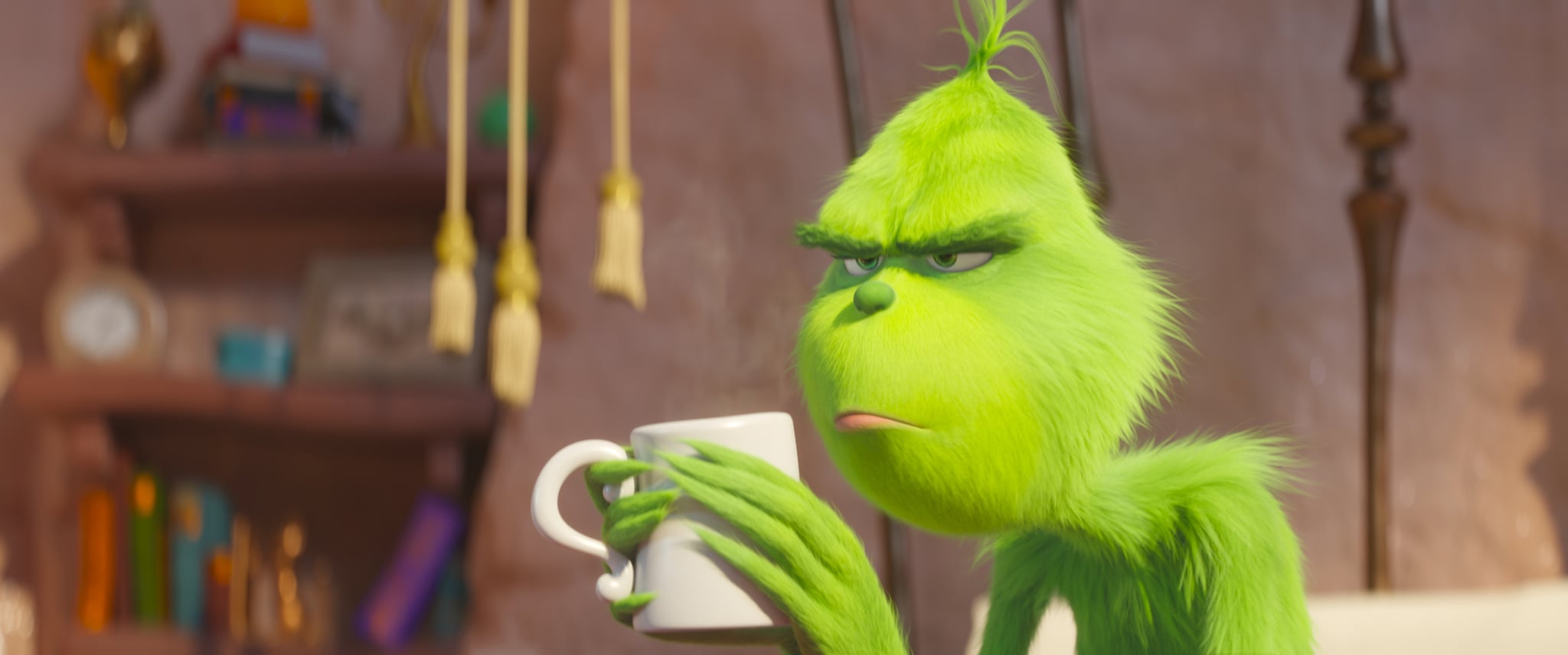 In the year 2000, in a small theater on Long Island, my mom took me to see How the Grinch Stole Christmas staring Jim Carrey. I was a mere 10 years old, and Jim Carrey was basically my idol, so as the snowflakes began to fall during the opening scene, I got giddy sitting in the dark theater and was so ready to see Carrey as the cuddly-as-a-cactus green grump. Eighteen (!) years later, the Christmas movie still holds a very special place in mine and my family's hearts (if I didn't think she'd disown me, I'd insert a video of my cousin enthusiastically reciting some of the lines). And it appears I'm not alone in this devotion to the holiday classic, as since the trailer dropped for the newest animated adaption, The Grinch, starring Benedict Cumberbatch, the people of the internet have wasted no time sharing their thoughts.
The official Twitter account for the movie shared a video of the trailer on March 8, and users immediately began replying to the tweet, whether excited and in support of the new Grinch, or to share that they were concerned the film wouldn't live up to Carrey's version. Although the new trailer made me literally laugh out loud (it's the physical comedy . . . gets me every time), I'd have to admit I'm in the same camp as the latter — I'm nervous this will become the version overplayed on Freeform over the holidays and that the Grinch I know and love will be lost in the past, never to see the light of day again (though he'd love that, I'm sure).
What are your thoughts? See some of the best reactions to the new trailer ahead, and let us know what you're thinking about the new film.
Y'all really gonna disrespek Jim Carrey like this ????????????????? https://t.co/d3HlBhfk55

— SpiderGuy (@TheRealAngelPro) March 8, 2018
I am..... torn https://t.co/3wvz8cwkqj

— danny devito's twin (@mantisreynolds) March 9, 2018
YAAAAAAAAAASSSSS pic.twitter.com/NIY7Uq5X8d

— Mezide | outsider (@c0baltlight) March 8, 2018
This is disgusting. Jim Carrey's portrayal is untouchable. Goodbye https://t.co/Yppo3IZO6q

— chloe lacorazza (@c_laco) March 8, 2018
#notmygrinch https://t.co/NIAYbrMs1p

— kad (@snowmanfIurry) March 8, 2018
I can't be the only one that laughed when "Happy" came on the radio....

Come on that was funny, plus I love that song 🤷

— Just Call Me Mori (@Mement0Morii) March 8, 2018
Okay so the animation looks really slick but I don't think any grinch movie can ever top Jim Carrey's portrayal for me. He was spiteful and mischievous but funny in an eccentric, off-kilter sense—this one comes off as bratty and petty in the wrong ways. Hope I'm wrong! https://t.co/Fn8ES8eQcl

— Jack Russell 🐶 (@JRussTerrier) March 8, 2018
No. pic.twitter.com/gMlOo5lXfW

— Courtney ⊗ (@CourtneyWRocket) March 8, 2018
one too many grinches. https://t.co/nm4FfVMraM

— Jon (@LiterallyJon) March 8, 2018
Why is everyone mad? There's room for more than one Grinch in my heart! #TheGrinch 💟 https://t.co/DGSjGreyUs

— Stephanie Peterson (@sp20) March 9, 2018
— Mitch Wiley (@Mitch_Wiley) March 9, 2018
— MyBatchofGoodies 🌵 (@Alisa221b) March 8, 2018
Image Source: Illumination