School Cancels Transgender Girl's I Am Jazz Book Reading
Why This 6-Year-Old Transgender Girl Was Stopped From Reading a Book to Her Class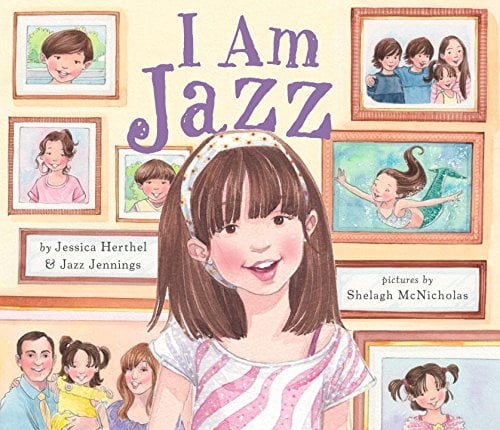 After a 6-year-old transgender girl's school canceled a planned reading of the book I Am Jazz, her community is coming together to show their support.
The little girl, who has not been named due to privacy reasons, hoped to read the book to her classmates as a way of introducing her gender identity and transition.
However, after her school received backlash for the planned event, Mount Horeb Primary Center in Wisconsin decided to cancel the reading.
About a year ago, the girl's parents and teacher took note when she started showing signs of depression and anxiety. Her transition began shortly after, and the student was hoping to present herself at the reading as the girl "she really is," her mother said.
The book — I Am Jazz — is the true story of transgender teen Jazz Jennings, and the girl's parents and the school agreed that sharing the story would help her classmates understand her transition. After the school sent out a letter letting parents know they would be reading the book in class to "foster respect and support," they canceled the event the next day.
In the original letter, school principal Rachael Johnson explained the situation to parents. "We have been working with the family of a student on your child's floor who identifies as a girl, but has male anatomy," Johnson said. "We refer to this as having a girl brain and a boy body. Together we have come up with a plan to support this student in living as her authentic self."
Liberty Counsel, a religious group that has been listed as a hate group by the Southern Poverty Law Center, sent the school a stern letter claiming that the reading would violate "parental constitutional rights" and demanding that they cancel the event or deal with legal ramifications.
The five-page letter claims that being transgender is "a psychological and moral disorder." The letter goes on to say that having classmates refer to her as "her" "infringes upon the other students' rights to tell the truth, in accordance with their religious convictions, and reality."
While the school said in a statement that they canceled the event in order to "allow the Board of Education the opportunity to review the needs of all involved," the little girl's community is showing their support by not sitting back and waiting for the district to make a decision.
Community members have planned two public readings of I Am Jazz in honor of the girl. "When we heard about the lawsuit we felt angry and concerned that an identified hate group would try to insert themselves into our community, threaten our teachers and school district, and try to intimidate others," Amy Lyle, a parent from the school, said. "We believe Mount Horeb to be an accepting place for all children."