Single Father Fosters and Adopts Three Sons
After Growing Up in Foster Care, This Dad Calls His 3 Adopted Sons "Diamonds in the Rough"
Barry Farmer grew up in the foster care system, and while he'd always had plans to adopt children of his own someday, his lifelong dream of becoming a father came true earlier than expected. "I've always pictured myself being a father, but it wasn't going to be at 21, and I definitely didn't see my children being white," the 32-year-old radio host from Richmond, VA, told POPSUGAR via email.
In 2010, at 21 years old, Barry received his foster care license and took in 8-year-old Jaxon, who would soon officially become his adopted son. For Barry, becoming a foster parent and adopting children of his own was especially meaningful because of his own past as a child in the foster care system. "I missed out on having that father-son relationship growing up," Barry said. "Being a father means everything to me."
In 2013 and 2014, Barry met Xavier and Jeremiah, who were both in the foster care system, and immediately felt that father-son connection with each boy. By 2015, Barry adopted both 11-year-old Xavier and 4-year-old Jeremiah, giving his oldest son Jaxon the opportunity to become a big brother. "The moment I met them I knew they were strong, brave boys who had endured a lot," Barry said. "The boys were yearning for normalcy and permanency . . . I could see that they were intelligent individuals, and if I could just be someone who could offer them stability and consistency, then maybe they could allow themselves to heal emotionally."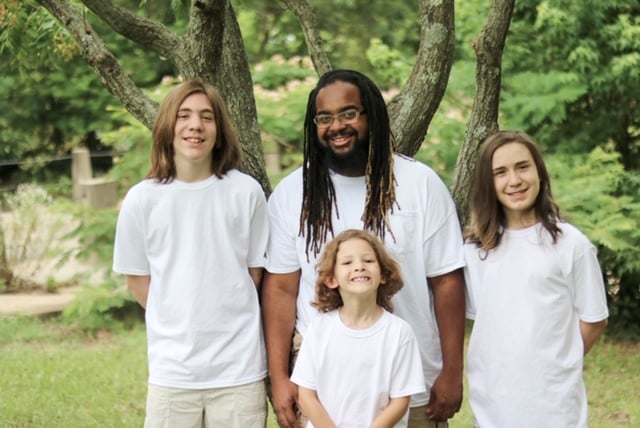 Image Source: Courtesy of Barry Farmer
Today, Barry and his sons — now ages 17, 15, and 9 — keep busy as a family, "growing upward and outward," but they always find time to watch movies together and continue to nurture their relationships with one another.
"I think each one of my sons shares a different bond that allows us to enjoy each other," Barry said. "My oldest has been with me the longest, and for a few years it was just me and him, so our bond was built on a learning curve. He was the first white child I had encountered on a regular basis. I was used to working with African-American children in the inner city where I lived. My middle son and I tend to have great conversations about our past — he likes hearing about me as a child — and hopes for his future. We can talk for hours sometimes. My youngest son and I watch a lot of professional wrestling together. We also collect the action figures; he loves when I make time to play with the action figures with him. I think that is something we do that he will remember forever."
Image Source: Courtesy of Barry Farmer
While being a father to three growing boys doesn't sound easy, Barry says it's been more than worth it and that he's definitely grown into his role as a father. "I'm glad I could be there for my sons at a critical time in their lives," Barry said. "No matter what race they are, I would still have welcomed them with open arms, as any decent human being should . . . I take the role of father as a privilege, and I don't take the responsibility lightly. I'm very protective of my boys — call me Papa Bear."
As for what he's learned from being a father to children in the foster care system after growing up as one of those children himself? Barry believes it's important to remember that the priority should always be the child, and that older children up for adoption should not be forgotten. "Anyone considering foster care adoption should understand it's a very emotional journey, not only for the child but for you as the parent. You basically come to each other as strangers and somewhere, somehow a bond is built . . . I always say our children in [foster] care are like diamonds in the rough: Even when you find a diamond in the dirt, it still has value. Once you take that same diamond and polish it and put it in a safe space, you begin to see how beautiful it is."