Student's Yearbook Quote Causes Controversy
Student's Senior Quote Could Keep Her From Graduating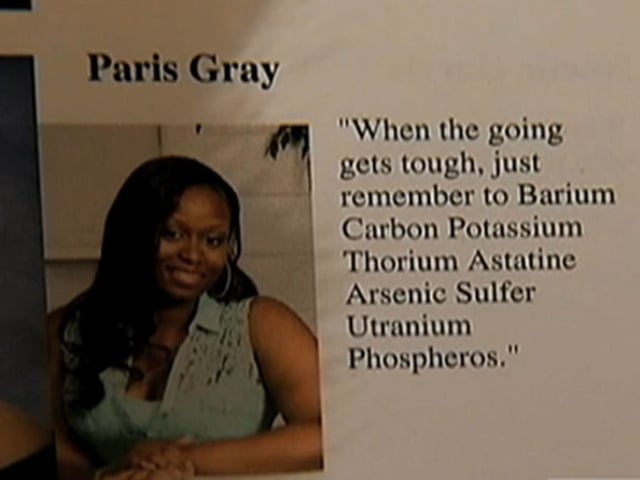 When Paris Gray submitted her senior quote for her school's yearbook, she probably thought she would get some confused looks and a few laughs from her peers. Instead, the class vice-president and Beta Club member's wise words may keep her from walking at graduation. The following message, which was approved by the student and faculty on the yearbook staff, appeared alongside Gray's photo:
"When the going gets tough just remember to Barium, Carbon, Potassium, Thorium, Astatine, Arsenic, Sulfur, Uranium, Phosphorus."
At first glance, Gray's quote seems harmless and even a bit nerdy. When broken down by the elements' symbols, however, the quote reads, "when the going gets tough just remember to back that *ss up." School officials are upset over the quote's use of profanity and its hidden message. Gray, however, says there is no inappropriate meaning to her quote.
"Basically, it was me just saying start all over again," she tells a local news station. Gray was slated to speak at the ceremony next week, but the faculty removed her from the lineup. As for whether or not she will be allowed to walk with her peers, school officials say they will make a decision once the superintendent and principal meet with Gray's mother.
What do you think the school should do? Weigh in through our poll and in the comment section!
Source: ABC News