Swimsuits For Moms From Raising Wild
These 2 Moms Hated Their Swimsuit Options — Here's What They Did About It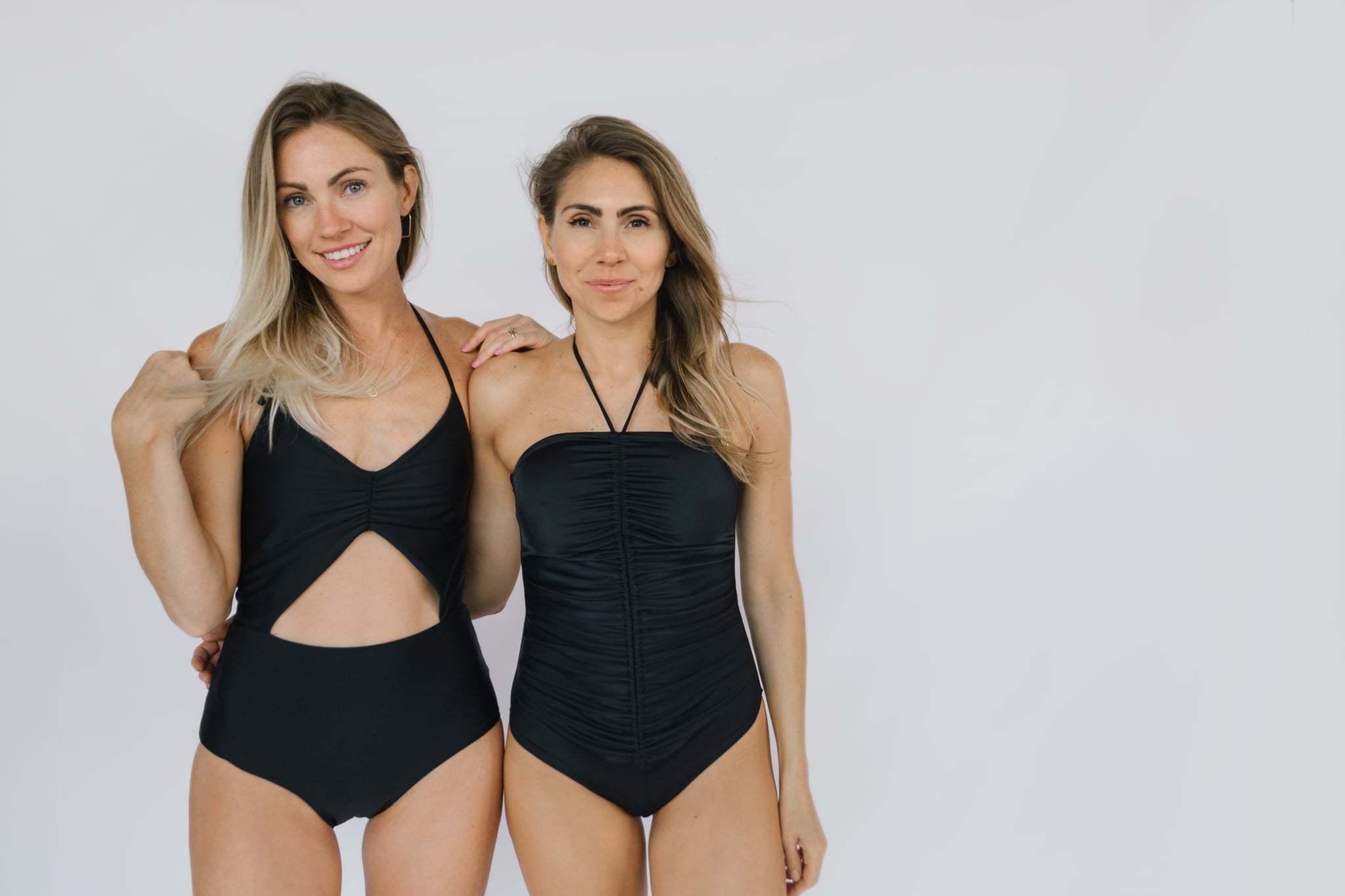 Sisters Rachelle Hyde and Kara Haught, proud "seventh generation Floridians," grew up living in their swimsuits. "We went to bed in them, woke up in them, and then jumped right back in the pool," Rachelle said. But after having four children each (now ranging in age from 3 to 11), the pair realized what they needed in those beloved swimsuits had dramatically changed.
"The days of sitting around and looking pretty in a swimsuit are over," Kara said. "I want to be involved in my kids' adventures, not just sitting on a chair watching them. But one day at the beach, I bent down to pick up my little boy, and by the time I stood up, my boobs were hanging out and it looked like I was wearing a thong. I grabbed my sister and said, 'Screw it; let's start making our own swimsuits.'"
The result is Raising Wild, a swimsuit brand designed to be as functional as it is fashionable. "Moms have never been more stylish than now," Kara said, "but we have to be able to get up and move. You're never going to see a girl on the beach looking sexy in any of our branding. While looking great is important to us, it's even more important how you feel in our suits." With that goal in mind, the sisters have worked tirelessly with fabric companies and pattern makers to create a line that will make their customers feel confident and ready for adventure. "We are constantly trying to perfect this baby of ours," Rachelle said.
That hard work and singular vision paid off when, less than a year after selling their first swimsuit, they were tapped to compete on Shark Tank, scoring a deal with Barbara Corcoran and a legion of new fans. POPSUGAR Moms sat down with the sisters to talk about their swimsuit vision, making swimwear with a shark, and growing a company and their families at the same time.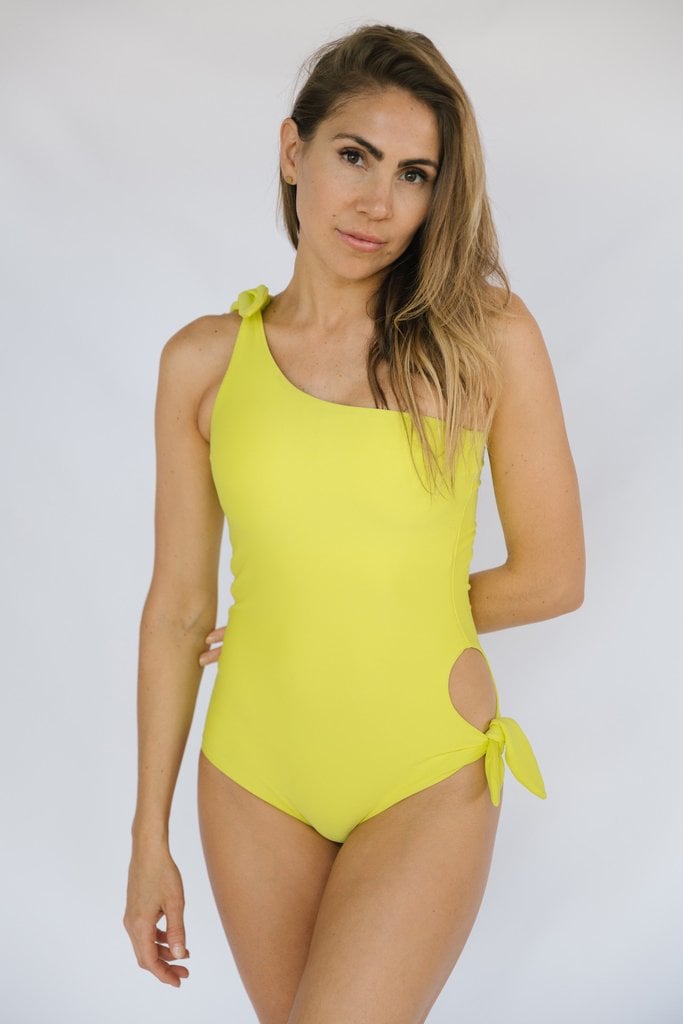 Raising Wild's Lucy suit in lime ($118)
POPSUGAR: Let's talk about why it's so hard to find a great swimsuit when you're a mom.
Kara Haught: I know! I just bought a really expensive suit from another brand and was feeling great in it. Then I bent over to get my pool bag, and suddenly my booty was completely out. That's all it took for me to go from feeling good to feeling like crap, but if you put a suit on and know what you can expect — that there aren't going to be any surprises — you can also feel confident. That's what we're aiming for with Raising Wild.
PS: So how do you achieve that?
Rachelle Hyde: We go back and back to our pattern makers to make sure our suits have enough length in the body and a big enough booty so you can stay covered up and comfortable. We make sure the finishing around the legs has a snug hold without cutting into you. We've also taken into account that our skin isn't as tight as used to be, so we want fabric that holds everything in. We're also really lenient with return policy because we're truly in business to find your perfect swimsuit; if it's not ours (and if you're a G cup, it probably isn't), we'll direct you to a place that might work better for you.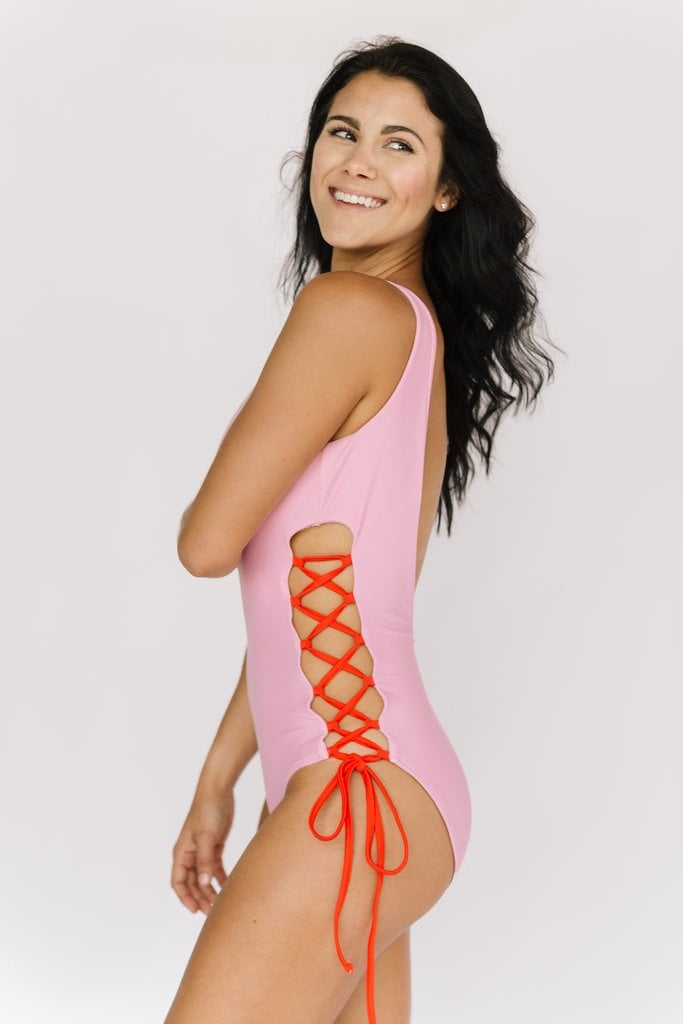 Raising Wild's Leah suit in grapefruit ($138)
PS: You guys were awesome on Shark Tank. How has getting that deal changed your business?
KH: My husband and I were such fans of the show that just being part of it has been a dream come true. Barbara is an incredible mentor; we actually just got back from this amazing retreat at her house with five of her other "all-star" companies and we learned so much, but the real selling point of that deal for us was that the company is still ours and we make the final calls. She doesn't insert herself when it's not appropriate, but anytime we need advice or have a question, her team is more than willing to help and guide us.
PS: Right now you only sell on your own website. Any plans to add retail?
RH: We've had talks with Nordstrom and Anthropologie, and both those brands are a dream, but we can hardly keep stock in just from our online sales. We also like the flexibility of ecommerce and being able to deliver a high-quality product at a lower price point, and adding retail might affect that.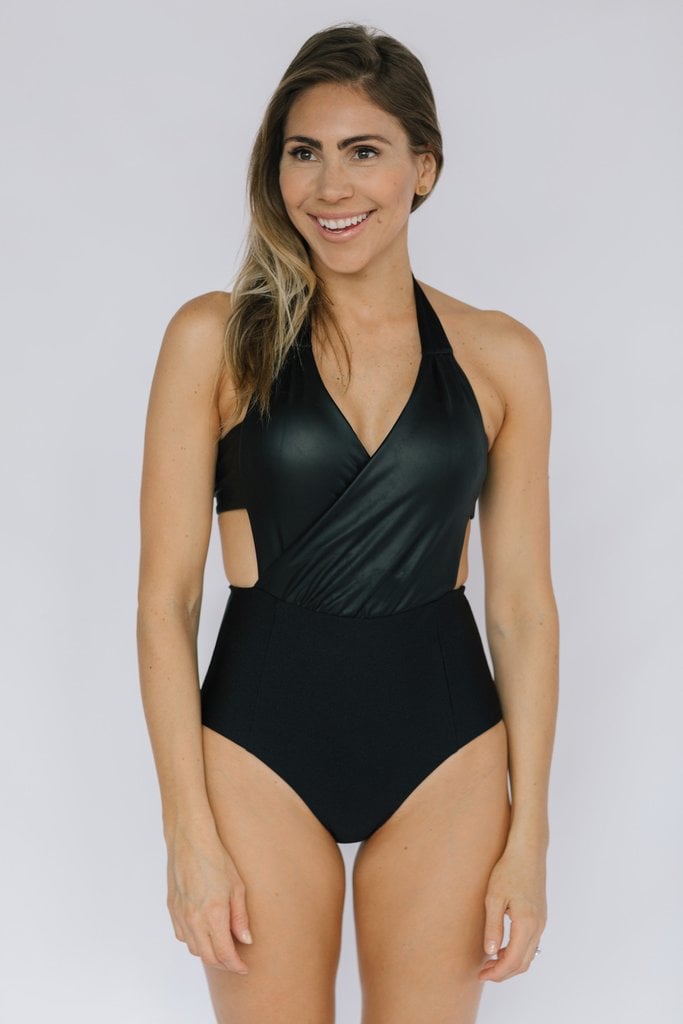 Raising Wild's Vanessa suit in onyx ($138)
PS: Not only have you guys built a business that speaks to moms, but you've done it while raising eight tiny people between you. How does that work for you?
KH: We are two of 12 siblings, and our mom was a major problem-solver and a seamstress — she'd make us all matching Easter dresses Friday night for Sunday — so we were raised to do this. We're both balancing a lot, but the times we see our daughters FaceTiming each other, talking about what color suit they're going to send Taylor Swift, it's like "Yeah!" They know that they can do whatever they want. I'm a stay-at-home mom, I don't have a college degree, but if you want Taylor Swift in your swimsuit, you go for it.
PS: Besides those adorable mini matching suits for kids, do you have any plans to expand your brand?
RH: I cannot resist matching with our girls, and I swear, it's like Christmas when I open our Instagram and see a photo of a mom and a mini in our suits. The kids' suits were a no-brainer; it's like a little accessory. We've also been getting some feedback from people who don't necessarily feel comfortable in a swimsuit but are embracing the vision of Raising Wild and are enjoying life's adventures and moments without being in a swimsuit, so we're planning on coming out with sunglasses, bags, and blankets that allow people to feel part of the movement.