Target Gets Rid of Kid-Sized Shopping Carts After Complaints
Are Those Kiddie Shopping Carts at Target Really "Vehicles of Mass Destruction?"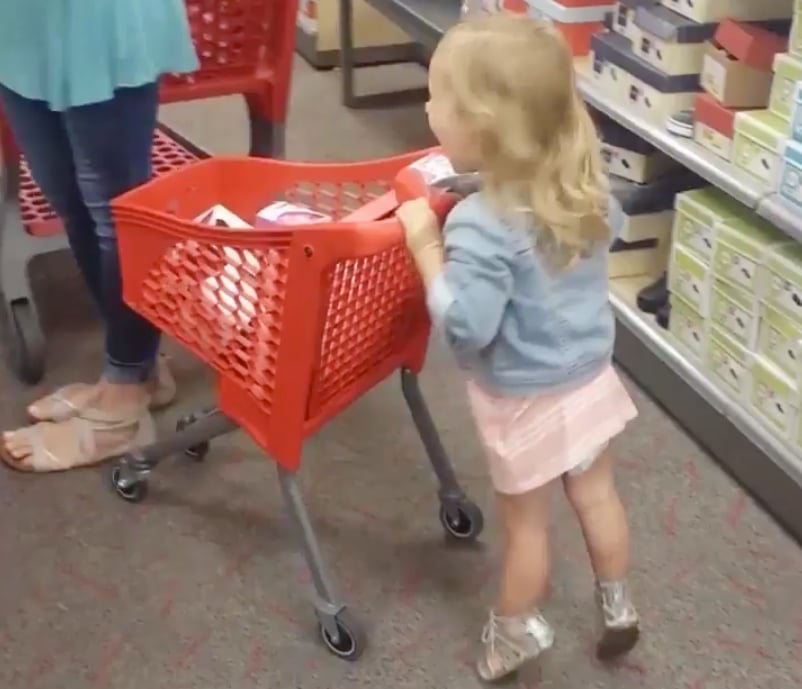 When it comes to making its shoppers happy, Target gets a lot right. Remember when their refreshingly progressive policy on breastfeeding went viral? Or, we bet you can recall the day you found out the stores give free cookies and fruit to kids while you shop? The retail chain is so beloved by families that a boy even celebrated his birthday party there!
But, when Target gets something wrong, well, leave it to those same moms to call them out on it. En masse.
That's what happened when Target introduced miniature shopping carts for children in its stores nationwide in August to the horror of parents and non-parents alike.
What's so terrible about giving kids — who likely could use something to keep occupied — a pint-sized shopping cart?
To one mom, who started an unofficial organization called MASTC, or "Mothers Against Stupid Tiny Carts," the carts were tantamount to "vehicles of mass destruction." She admitted that for the first 10 seconds, watching her child push the small red cart was "the cutest thing I have ever seen," but it soon devolved into an epic battle that included being rammed in the shin multiple times, apologizing when her child would collide with someone else's cart (or ankle), and having to deal with the ensuing tantrum when she refused to purchase any of the toys he put into his little cart.
And she wasn't alone:
What have you done, @Target?!? Kids carts???? Worst idea.

— Kathryn Oklobzija (@kathoklobzija) September 17, 2016
Liv is obsessed with the little carts at @Target 😂👌 pic.twitter.com/NG4si4p2Tz

— Lil Jonesy (@keepinupwjonesy) September 7, 2016
Might be time for @target to offer people free beer to enjoy while they shop if they are going to give kids mini carts. Not pleasant!

— Tucker Pearce (@pearceweb) September 18, 2016
Dear @Target re: kids carts - LOSE THEM or lose me as a customer.

— J.C. (@jcline35) September 17, 2016
Following such complaints, the retailer pulled the plug on the pilot program just a few weeks after the "kiddie carts" were introduced to 72 Target locations.
"At Target, our guests are at the center of everything we do, and we value their feedback," Kristy Welker, a Target spokesperson, said in a statement. "After reviewing guest feedback, we have made the decision to stop the test."
So, now that the powers that be have relegated all those once-adorable mini-carts to back rooms and storage closets, is all right in the Target world? Not quite . . .
My girls BEG me to take them shopping at @Target so they can "shop" like mom with their own cart... and now the carts are gone. #targetfail

— Kari Stroud (@KariStroud10) September 22, 2016
@Target my target never had the kiddie carts, but I am a big supporter of them. Pushing my own cart was my favorite thing growing up!!

— Valerie Adcock (@Dramaqueen8981) September 25, 2016
With guidance @Target, these carts were amazing. Patience is 🔑. 👎🏾 to #mastc pic.twitter.com/BsnCu30wFX

— Ms. TT (@VirgoTeaz) September 23, 2016
Where do you stand on this heated debate? Are kid-sized shopping carts truly the root of all retail evil, or are a few bruises to the leg a small price to pay so your kid can pretend to run errands while they still think it's fun?
What Do You Think of Kiddie Shopping Carts?
Hate them and am glad they're gone for good!
Loved those – it's a shame they got rid of them.