Things Dads Lie About in Online Dating Profiles
5 Things Dads Might Lie About in Their Online Dating Profiles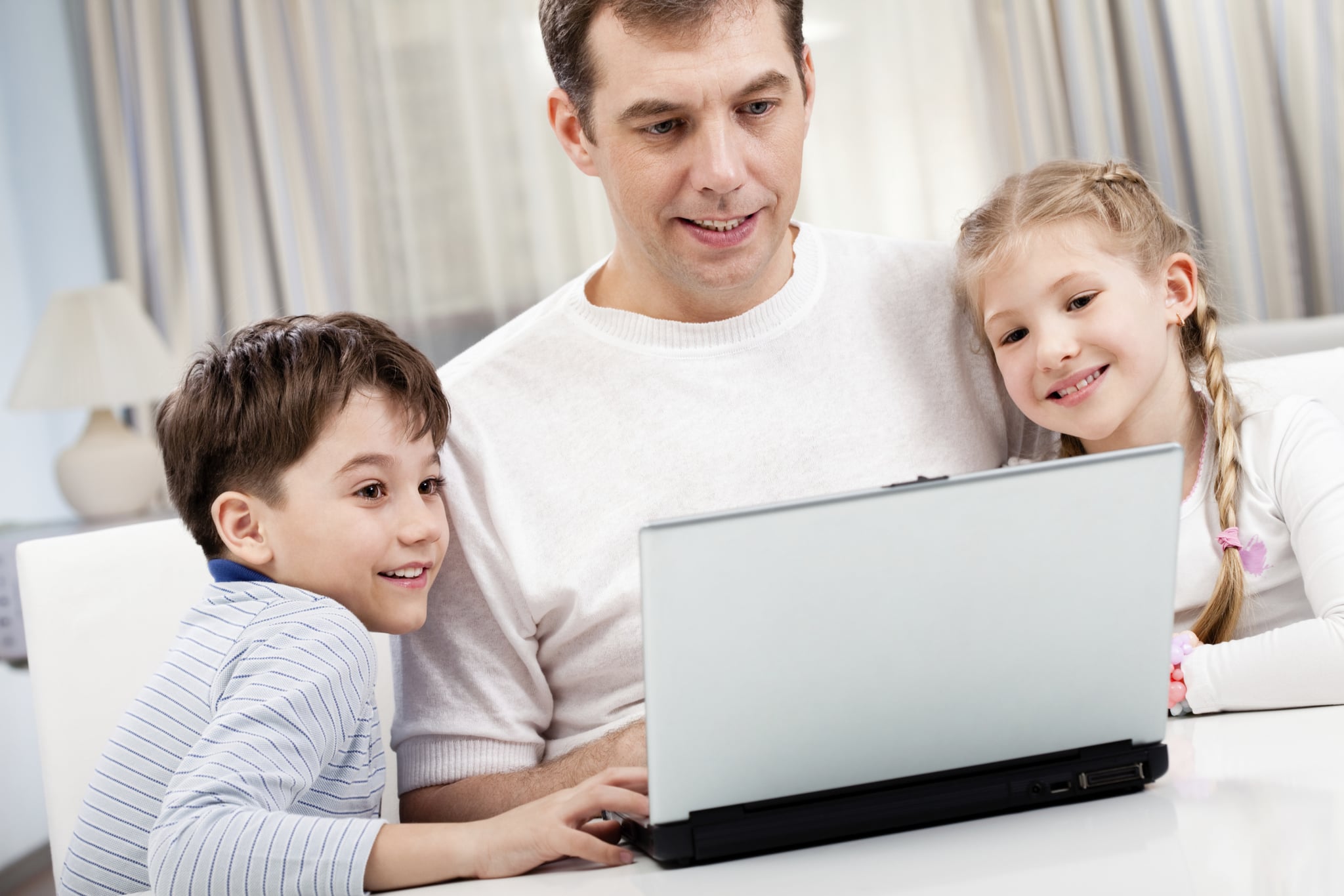 There you are, back in the dating world, a single mom or a divorced single mom. Whatever the case may be, you're back in the saddle, ready to mingle with the big boys. Hopefully, of course, they're men and not boys. If you wanted another kid, you would go make one. When you hopped online to make your profile, you probably filled out the profile with all the best intentions. You didn't forget to, you know, mention one of your kids. And while women lie on their profiles and selectively choose their best moments and photos, let's talk frankly about some of the things dads might lie about in their online profiles.
Number of Kids
Eek! I know. For the most, part 99 percent of the men you come across will be honest about the little ducklings they've made with someone else across the pond, but I knew a dude or two who simply forgot to write down the accurate number of kids. A friend of mine had an ex who neglected to write down that "second kid," and it's probably because he has kids with more than one woman, and that is not exactly the biggest turn-on (I hope). Why would some guy just go, "Oopsie, I forgot a kid?" Well, maybe he's worried that the more kids he comes with, the more baggage in your eyes. He probably feels it's a hindrance to meeting women, and that perhaps once he gets to know you, you'll be open to a man with many children. For the guy who has many "baby mamas," he probably knows full well that that's not just some small baggage — that's a boulder on your shoulder, darling. And will you be open to Mister "I forgot to tell you but . . . I've got more kids"?
Repeat after me: Hell. No.
That's one lie you cannot stand to swallow. And If you want to give a guy a chance who has kids with more than one woman, well perhaps he truly did his best to keep those relationships alive — there are moms who have children from more than one marriage or man, but just be very cautious.
And if a man has been married multiple times . . . well, you can guess my thoughts on that.
I'm a Dad — But You Didn't Know It!
That guy you just winked at or swiped right to "like"? Guess what girlfriend? He's got progeny! One guy I found on OkCupid had a photo of his daughter up . . . but forgot to write that it was his daughter. He also failed to mention, under the section where it states "kids," that he has one. Another one of my old schoolmates conveniently forgot to mention he is a dad. And why would anyone neglect to mention their fatherhood? Perhaps because they want to attract younger women . . . or perhaps they don't have a stable custody situation or the relationship with the mother is messy. Who cares why: the fact is, if you find out a dude is lying about being a dad, don't make a second date with that clown!
Income/Job
Hands down, men have it way harder when it comes to money. Many women will bypass a man's profile because of how much money he makes. While some guys (I have seen it firsthand) will request women in a certain income bracket, a lot of guys aren't using income as one of the "deal breaker" factors with a woman. A guy may up his income slightly in order to appear more stable, or worse (yes, I just said that), he will write, "I will tell you later," or have no response under the income section. I give the most kudos to the men who are honest about a small income, because let's face it — women judge.
Then let's not forget the men who call themselves "entrepreneurs" and leave it at that. If you're truly an entrepreneur, give us some details in your profile about what your current daily life and job or tasks are. That entrepreneur vague stuff drives me crazy. It sounds like the guy is simply trying to impress fellow dates (tough crowd, Bub — better luck next time) or has no direction in life and thinks that sounds fancy enough to impress.
But the worst offenders are the men who simply leave "other" in the job category and don't expand on that. He could be a clown act or a stripper for all you know. Be transparent, Dads, so we have an idea of what your everyday life is like!
Living Situation
Some dads will state that they're separated but . . . oh drats! They forget to mention they're still married, and well, the wife . . . she knows nothing about the separation . . . yet! Of course, the majority of dads online aren't going to lie like that. If you think that way, you'll never meet anyone . . . but he might lie about where he is living.
Why?
Well, if a man is living with his family, it could feel really terrible to admit that. It's hard for my ex, who is living with his family during our divorce process. Personally, I think if a man has his stuff together and is a good person, you should overlook this for a while. Divorce is financially shattering, and if a man has a good support system to help him transition from family dad and husband to single dad, stick with him as long as he's working toward a place of his own and is responsible — that's key. The most important thing a man can offer you is kindness and stability, not a big house. A home can be built, but a good heart can't be made. If those are his priorities, he's worth that second date!
His Last Marriage
Sometimes a man will wax poetic about his ex-wife on his online dating profile, and my first thought is "is this real, or is he just trying to make things look übersmooth?"
Hey, it's never a good sign when a man trashes his ex-wife, and it's most likely a decent indicator if the man speaks well about her, but if a guy pontificates about his ex, I have to wonder if he's over her or trying to cover up something. My hopes are that he's being honest, and if so, that's great for you. I wouldn't count it as a red flag.
But what if his last marriage was an absolute sh*t show? You won't know it from his profile. No one wants to publicly post that he is in an all-out war with his ex-wife, or that the relationship was severely toxic. You wouldn't advertise that either, and let's face it, online dating profiles are advertisements of our best selves.
Well, then what is a warning sign? If he trashes his ex, don't go out with him. Not once, not twice, not ever. If you show up to the date, and the man talks about his ex-wife for the majority of the date (it happened to me, ladies!), then don't bother with another date, even if he's handsome. Why do you have to deny him? Because someone that goes on and on about his ex when he should be interested in getting to know you is not ready to let go, and that's OK. Just don't subject yourself to that!
The Single Dad For You
No matter what, remember that, just like you, the men you meet in cyberspace are looking for a fresh start — well most are. Some are just looking for sex, but to each his own. Dating profiles are an advertisement, and most folks don't know how to really represent who they are in their heart of hearts in little tiny boxes on a web page form. If the person is actively pursuing spending time with you and makes you feel good when you're around him, it's worth giving it another shot. You can't give up on love just because it didn't work the last time. Get in the game, and swing at that ball! Eventually, you'll hit a home run!