Tips For Traveling Without Baby
What I Learned When I Left My Breastfed Baby For a Week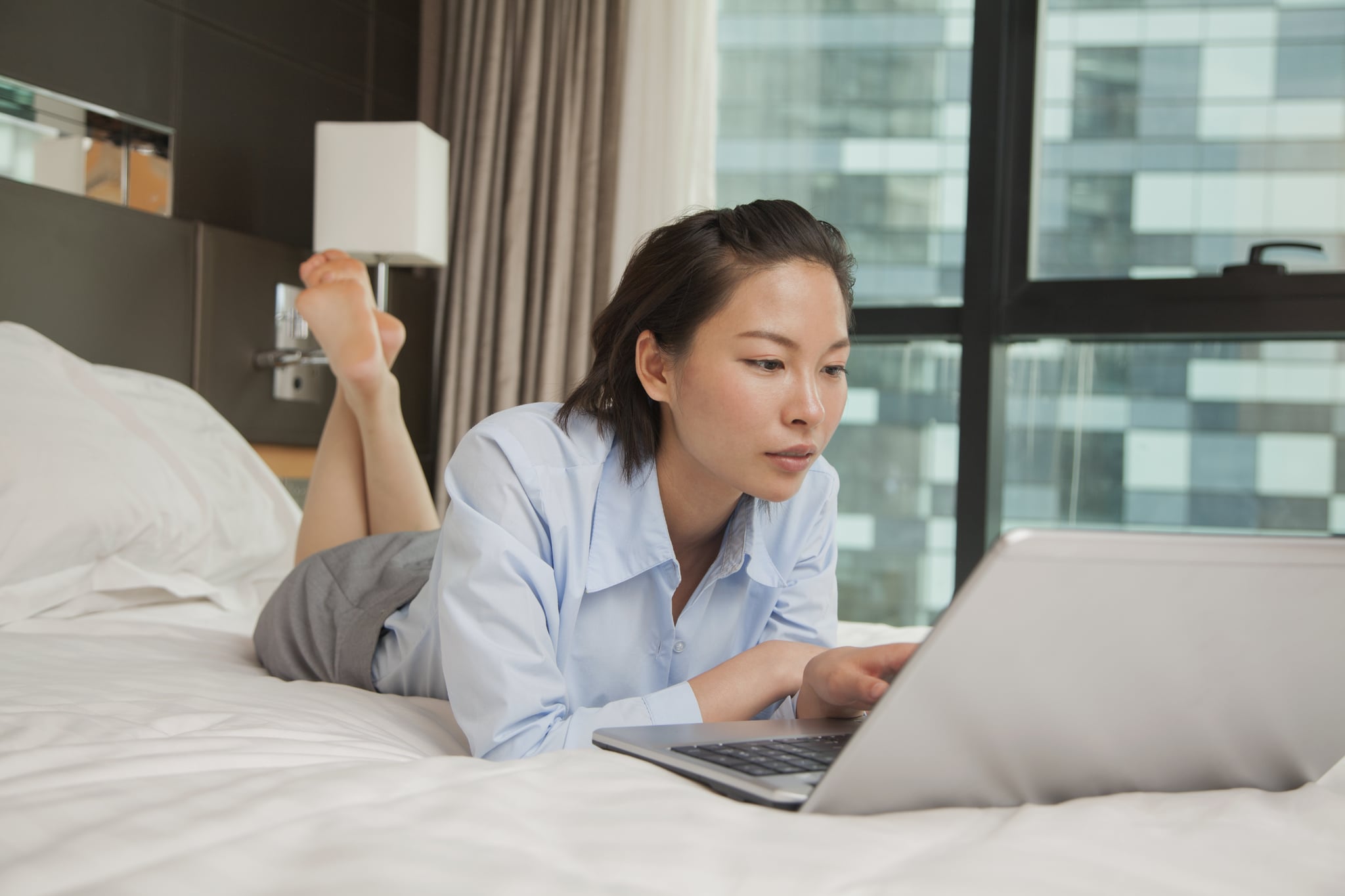 When my baby was 7 months old, I had to leave her for a solid week while I was on a business trip. At that point, I hadn't even spent a single night away from her. So to go to an eight-day, seven-night stint with not so much as a cuddle was one of the hardest things I've ever had to do. It was also one of the most eye-opening learning experiences I've had as a new parent.
Here, the nine things I discovered about being a mom when I was off the clock.
1. Don't let anyone make you feel guilty.
When I confided in a group of mom friends about my upcoming trip, I was hoping for some moral support to boost my worried spirit. Turns out, no matter what anyone said, nearly every sentiment made me feel worse.
"She's going to miss you so much!"
"Don't worry — she's still young enough that she won't even know you're gone."
"I wish I could take a week off!"
"I don't know how you do it — I could never."
Whether the comments were intentionally underhanded or not, they all cut me in different ways. One simple piece of advice that did help came from a mom I know who travels quite frequently: "Don't pack guilt."
She was right. I'd already agreed to the trip, I'd already booked my flight. I was going, so there was no point in wasting valuable time and energy I still had at home with my baby by feeling guilty. And there was certainly no sense in carrying the guilt along with me as I traveled.
2. It's OK if you look forward to the time away.
Because I was determined not to feel guilty, I decided to own my true feelings, too. I work from home, so there was a major part of me that was looking forward to a week of actually going into an office, spending time with other adult humans, eating dinners out in which I only fed myself, and not having to change a single diaper or spend all of my free time on my hands and knees pretending to enjoy the terrible jingles ("WELCOME TO THE LEARNING FARM WE'VE GOT LOTS TO SHOW YOU SHAPES AND COLORS MUSIC TOO THERE'S SO MUCH TO DO") coming from her brightly colored toys.
3. Accept that you might miss a milestone or two.
Working moms often have to deal with hearing from a day-care worker or their nanny that their baby did something breathtakingly new. The week leading up to my departure, it was clear my baby was on the verge of crawling. Every spare moment, I was like a demanding coach, pushing her to get those little legs moving. The night before I left, she did it — she miraculously army-crawled to a toy placed well out of reach — and I couldn't have been more relieved.
Although I got to see this milestone firsthand, the steps that followed were all slightly pixelated, second-hand viewings from my iPhone — not the same. And as the week went on, I noticed her pick up speed and begin to lift her belly as she shuffled around the floor. "Push her over," I'd mumble to my husband. I was only half-joking. I, of course, want my baby to progress, but I wanted to be the one she crawled to that week. Well, I wasn't.
4. There's no such thing as being too prepared, especially when it comes to breast milk.
Thankfully, I had several months' notice for my trip so that — because I was breastfeeding — I could store up a supply of breast milk for while I was away. I researched how much milk a 7-month-old baby would need, on average, every day, and I created not just one big 300-ounce goal but daily targets as well. I calculated that I had to pump and freeze 5 ounces each day to reach the finish line, so I would take every spare opportunity I had to pump.
At first it was easy, but after a few weeks, getting just a few extra ounces was taking hours. So, when my baby began sleeping a solid 10-hour stretch, I found that it was easier for me to still wake up for what was once her middle-of-the-night feeding and pump then instead.
It was a form of torture to be sure, having to set a 3 a.m. alarm. Although my husband kept telling me that I didn't need to keep it up — that we could supplement with formula if we needed to or figure out a way to ship milk home overnight from my trip (I'd already looked into that, and the process was as complicated as it was expensive) — I resisted the urge to give up.
And when fellow moms assured me I was banking too much, that I had more than enough milk saved up already, I stuck to my calculations. Sure, after I returned from the trip, I had a good 50 or so ounces still jamming up my freezer space, but it kept me from having to ration with my hungry baby from 2,000 miles away.
5. No one is going to do it like you'd do it.
My daughter's nanny sent me frequent status reports while I was away. One such update mentioned that my baby's diaper rash was starting to go away. "She has diaper rash?!" I shouted to no one. The nanny might as well have said she had full-blown measles. I went on a tailspin and called my husband, angry that he neglected to mention it to me. He said he thought that it was a nonissue, that they were taking care of it, and that it would be needless to worry me about it. That might have been true, but when I asked how he was treating it, I realized he wasn't using the "good" diaper cream.
"If I had been there . . . " I kept saying to anyone who'd listen. Although the rash cleared up in no time, I continued to beat myself up about it the rest of the week.
6. FaceTime isn't even close to the real thing.
The two-hour time difference between my family in Chicago and my work trip in San Francisco never seemed like that big of a deal before, but then again, I never had a baby on a sleep schedule. Finding spare minutes to FaceTime was surprisingly difficult — when the first two days went by without a successful video call with my baby (she was napping, I was at an event . . . ), I decided to get up early, like 5 a.m. early, so that I could catch her when she woke up in the mornings. The first day, my husband didn't hear his phone, and the third day, I stupidly (yet gloriously) overslept.
The reality paled in comparison to the Apple commercial version: I'd had these visions of adorable video calls, my baby cooing at me as I read her the board book I'd packed in my carry-on. Instead there were a lot of poor connections, a lot of "can we do this later?" sign-offs, and a lot of tears (on my part . . . well, and hers too).
7. Enjoy the break.
One of the most devastating parts of being away from my baby while breastfeeding was having to pump and dump. Filling a 4-ounce jar of milk only to pour it down the sink was like a dull knife to the heart. Such a waste. So, I decided to make it my mission to be far more hedonistic than anyone should be on a work trip. Whenever there was wine, I was drinking it — determined to have good reason for chucking that "liquid gold." I ate junk food, I drank copious amounts of coffee . . . aside from, you know, hard drugs, I indulged in everything you shouldn't while nursing.
My determination to destroy the quality of my dumped breast milk had a surprising effect — I was far more relaxed and had a much better time than I expected. Plus, our annual company party was a lot more fun when I wasn't trying to be the straight-laced, two-drink-maximum employee. I connected to people I otherwise wouldn't have said two words to, and I even did something I swore I'd never do . . . karaoke in front of co-workers.
8. Don't count on a Hallmark-worthy homecoming.
Maybe it's that new-mom documentarian itch, but I asked my husband to take video of my reunion with my daughter. I wasn't expecting some viral hit — like the tear-jerking ones you see when soldiers return home to their beloved dogs — but I did want to capture the moment when my baby girl saw me for the first time after what might be the longest stretch we'd go apart.
I walked in the door and saw my little girl, in the arms of her nanny. I shouted her name in excitement and rushed to her. She looked confused, then darted her eyes around the room before burying her head in her shoulder. Not the welcoming I'd envisioned.
9. The next day, it'll feel like you never left.
After a solid 24 hours back in my routine at home, she was nursing like a champ (after a very stressful 10 minutes of refusing to latch) and giggling at my goofy faces. It felt as if I'd never gone away, for better or worse. What extra sleep I'd had in my quiet hotel room couldn't be stockpiled, and my mommy exhaustion set right in. I was back to changing diapers, tuning out terrible toy jingles, and having my baby serve as my early morning alarm clock.
And, you know what? Thank God for that.