Top Moments From Golden Globes
The Best Parenting Moments From the Golden Globes
The fashion may have stolen the show, but it was a handful of sweet (and one tart!) parenting callouts that got our attention. Yes, every parent who wins is practically required to thank their kids while accepting their award, but it's how they actually do it that counts. From heartfelt declarations of love and complaints about the terrible twos to a funny skit about fatherhood, we've rounded up our favorite parenting moments from this year's Golden Globes show.
When the Producer of Brooklyn Nine-Nine Spoke About the Terrible Twos
Every winner thanks his family, but there's something about seeing Matthew McConaughey, who won the award for best actor in a motion picture, drama, call out to his three little ones with a twinkle in his eye, "Kids Levi, Vida, Mr. Stone — love you all!"
There's been much speculation about Kerry Washington's pregnancy, but the Scandal star had kept mum until last night. While walking the red carpet, Washington told Ryan Seacrest, "I also feel like I have the best date of the night, my little accessory here," pointing to her 6-month baby belly. Between her killer Balenciaga gown and the obvious pregnancy glow, it was definitely this expectant mom's night.
When Julianna Margulies Gave Motherly Words of Advice to Kerry Washington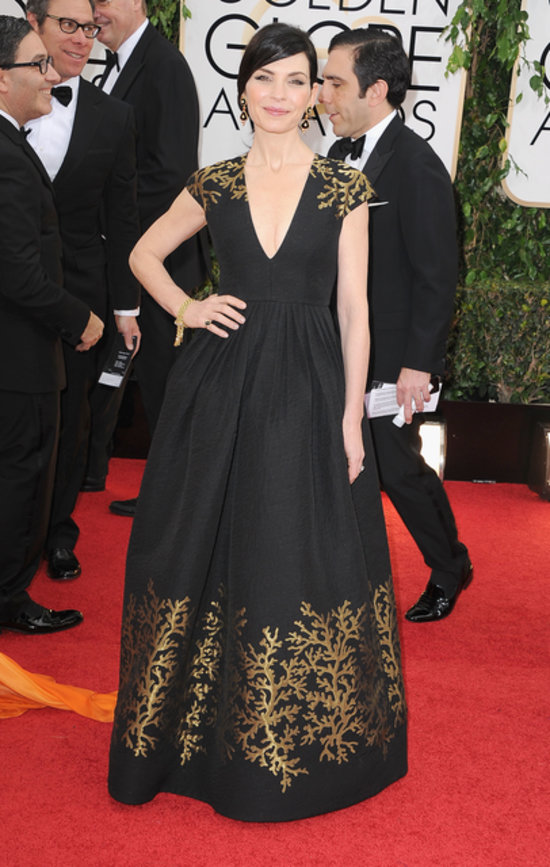 Every mother can use some words of encouragement, but when they come from someone who you admire in your field they feel even more encouraging. As Kerry Washington finished up her interview with Ryan Seacrest and Julianna Margulies stepped in, the two drama stars exchanged pleasantries. Afterward, Seacrest asked Margulies what she said, and The Good Wife star said, "I said it's the best thing I ever did, having a baby. She's stunning."
When Amy Adams Wouldn't Let the Music Stop Her From Thanking Her Daughter
Though it will probably be a few years until Amy Adams's daughter, Aviana, is allowed to see American Hustle, she'll want to replay her mom's acceptance speech for winning the award for best actress in a motion picture, musical or comedy, for the movie again and again. When the orchestra began to play their wrap-up music, Adams proudly said, "And most of all, you cannot play me out of talking about my daughter. My daughter Aviana who's not old enough to understand this — but I love you so much . . . thank you for teaching me to accept joy and let go of fear."
When Amy Poehler (as Tina Fey's "son" Randy) Thought Harvey Weinstein Was His Father
We expect nothing less than funny antics from Golden Globes hosts Tina Fey and Amy Poehler. But their skit about Tina Fey's awkward son, "Randy," and his quest to find his real dad in the Golden Globes audience, was hysterical.