Truffle Mac 'n' Cheese Burger
Truffle Mac 'n' Cheese Burger
Truffle Mac 'n' Cheese Burger
From POPSUGAR Food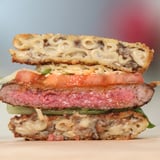 Ingredients
For the macaroni and cheese burger buns:
1/2 pound elbow pasta
4 tablespoons salted butter, divided
3 cups cremini mushrooms, cleaned and sliced
2 cups whole milk
4 sheets of gelatin
2 tablespoons truffle butter
1/4 cup all-purpose flour
3/4 cup gruyère, grated
1/2 pound brie, rind removed, coarsely chopped
1/2 cup all-purpose flour
1/2 cup panko bread crumbs
Salt
Freshly cracked black pepper
1 egg, beaten
1/4 cup vegetable oil
For the burgers:
2 tablespoons ketchup
1 tablespoon Sriracha
3 romaine lettuce leaves
3 beef burger patties
3 thick slices of tomato
3 tablespoons scallion, thinly sliced on the bias
3 tablespoons grated parmesan cheese
Directions
For the macaroni and cheese burger buns: Line a baking sheet with parchment paper; spray the paper and sides of the pan with cooking spray.
In a large stockpot, bring water to a boil. Generously salt the water, then add the pasta and cook until it's al dente, about 5-7 minutes. Strain and rinse with cold water to stop the cooking process. Set pasta aside. Wipe stockpot clean.
In the same stock pot, set over medium-high heat, melt 2 tablespoons butter. Once butter begins to look foamy, add the mushrooms, and cook for 6 minutes, flipping mushrooms once, until mushrooms appear wilted and lightly browned. Transfer mushrooms to a small bowl, and set aside. Wipe stockpot clean.
In a small saucepan, heat the milk over low heat until small bubbles begin to form, about 7-10 minutes. Turn off the flame immediately, but keep the pan on the stove for later use.
Meanwhile, hydrate the gelatin sheets by covering them with cold water until bloomed.
In the stock pot, heat 2 tablespoons truffle butter and 2 tablespoons salted butter over low heat. Add flour, and whisk constantly for 2 minutes, until a smooth paste forms. Slowly stir in milk in 1/4 cup increments. Be careful as it will bubble. Stir with each addition of milk, so no clumps form in the sauce. Continue to stir and cook 1-2 minutes more, until it thickens and is smooth.
Drain the water from the bloomed gelatin, wringing excess water off. Add the gelatin to the sauce, and whisk until completely incorporated and smooth. Add the brie and gruyère, and whisk until the cheese melts completely into the sauce. Stir in the cooked mushrooms, mushroom juices, and pasta. Continue cooking until mixture is heated through and simmering. Season with salt and pepper to taste.
Pour the prepared truffle macaroni and cheese onto the prepared baking sheet and spread it out evenly; cover with another piece of parchment paper. Place a second baking sheet on top, and place a few soup cans on top to press and weigh it down. Place the tray in the fridge until fully chilled and set, at least 3 hours.
Once ready to fry the burger buns, whisk the egg in a wide, shallow bowl. In another bowl, whisk together the flour, 1/4 teaspoon salt, and 1/4 teaspoon pepper. Add the bread crumbs, 1/4 teaspoon salt, and 1/4 teaspoon pepper to a third bowl.
Remove the truffle macaroni and cheese from the fridge. Using a 3-1/4-inch round biscuit cutter, cut out 6 macaroni and cheese buns. Dredge each bun in the flour, eggs, and breadcrumbs, and place on a baking sheet.
In a large skillet, heat oil over medium-high heat. When the oil is hot, fry the discs in batches, turning gently, until golden, about 2 minutes per side. Remove and drain on paper towels. Keep the buns warm in a 200°F oven.
For the burgers: Whisk together the Sriracha and ketchup in a small bowl. Season the hamburger patties with salt, and cook them over medium-high heat until medium rare or to your preferred degree of doneness.
For each burger, layer in this order: a macaroni and cheese bun, a romaine lettuce leaf, a burger patty, 1 tablespoon ketchup, a slice of tomato, 1 tablespoon scallions, 1 tablespoon parmesan cheese, and the second macaroni and cheese bun. Serve immediately.
Information
Category

Main Dishes, Sandwiches

Cuisine

North American

Yield

3 burgers