Turning 40
20 Realities of Being 40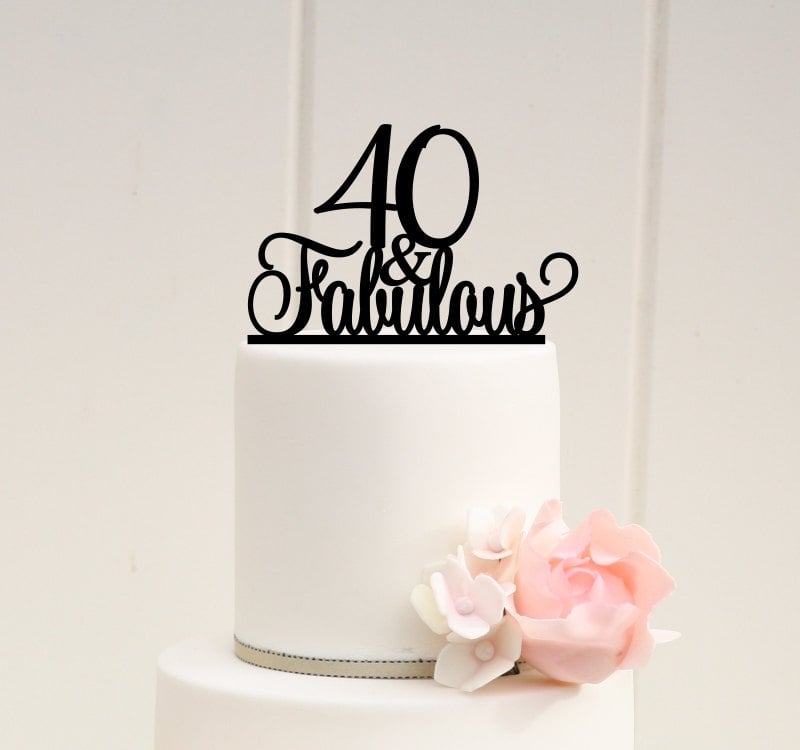 I have vivid memories of my mother turning 40. She seemed strong and confident and appeared to float through the routines of motherhood, marriage, and friendship with ease. I hadn't thought much about approaching the milestone birthday myself until last year, when all of my friends — I mean ALL of them — started sharing Allison Slater Tate's "This Is 39" essay. It felt like she had crawled inside my head and put my thoughts on paper.
It's not that I didn't realize I was aging — 20-year high school reunions and the like will do that for you — but somehow, since I had my first son, I've simply forgotten how old I am. In my mind, the numbers just kind of stopped at 30 when I gave birth to him. In fact, when figuring out my age, I often figure out his first. I'm not saying I've been faking this whole parenting thing for the past nine years, but in many instances, it hasn't exactly felt real. It's almost felt like I've been a player in a sitcom acting out the role of my parents — a 29-year-old playing the role of a responsible adult.
But here I am today surrounded by cards and a Facebook news feed full of reminders that today I am in fact 40. So here's what 40 is to me today.
40 is finally admitting that those few gray hairs on my head are actually more like 50 and it's time to do something about them.
40 is realizing that the sidelines of a little league game are more like junior high than junior high ever was — and realizing how unimportant it is.
40 is being stronger and healthier than I've ever been in my life. It's running half marathons, something I couldn't conceive of in my 20s.
40 is being referred to as my kids' mom more than my own name.
40 is watching way too many of my friends bury their parents and having to deal with insidious diseases.
40 is being grateful for the life and parenting wisdom my grandmother, mother, and mother-in-law pass on to me.
40 is being more confident in myself than I ever thought was possible.
40 is being one of the old guys in the office and feeling the need to mother these "youngsters" I see all around me.
40 is realizing that in some ways, we're all faking it — this juggling thing is impossible, and no one will ever master it.
40 is telling my kids to "turn that crap down because it's just noise, not music!" (Because it is — where did the good music go?)
40 is realizing that there's no such thing as a perfect childhood, but doing the best we can to provide it for our kids is good enough.
40 is feeling physical pain when your child is down on himself, because you recognize those feelings all to well.
40 is feeling pure joy at the idea of a date night with your partner — no kids, no friends, just you, your copilot, and a good bottle of wine.
40 is mammograms — every year from now on.
40 is watching my kids achieve new milestones and knowing that I laid the foundation for them to do so.
40 is becoming a sunscreen nut because you've either seen or experienced the dread of skin cancer and don't want your kids to go there.
40 is enjoying the TV shows I watched as a kid again with my kids on Nick at Nite and TV Land.
40 is having real, thoughtful conversations with my kids that leave me amazed at their maturity.
40 is seeing babies and feeling that tug of my uterus but valuing my sleep (and our current family dynamic) enough to know that I'm not going down that road again.
40 is knowing who your true friends are — the ones who offer to take your kids for an afternoon because they see you're stressed, the ones who can sit on a bench in the park with you and discuss their concerns about their kids, the ones who live halfway across the country but will sit on the phone with you until midnight because that's the only time you can catch up.
Forty is NOT that Paul Rudd and Leslie Mann flick that had me so depressed I actually cried on a plane. In the few hours that I've been experiencing it, it's good — damned good. My mother-in-law tells me that her 40s were her favorite decade — she felt like she had gotten the hang of this parenting thing, was financially secure enough not to be constantly worried, and just felt good about life. Forty is finally admitting you're a grown-up, but it isn't dead — 40 is fabulous!