Why Every Parent Needs a Vent Buddy
Every Parent Needs This 1 Type of Friend in Their Life — Trust Me!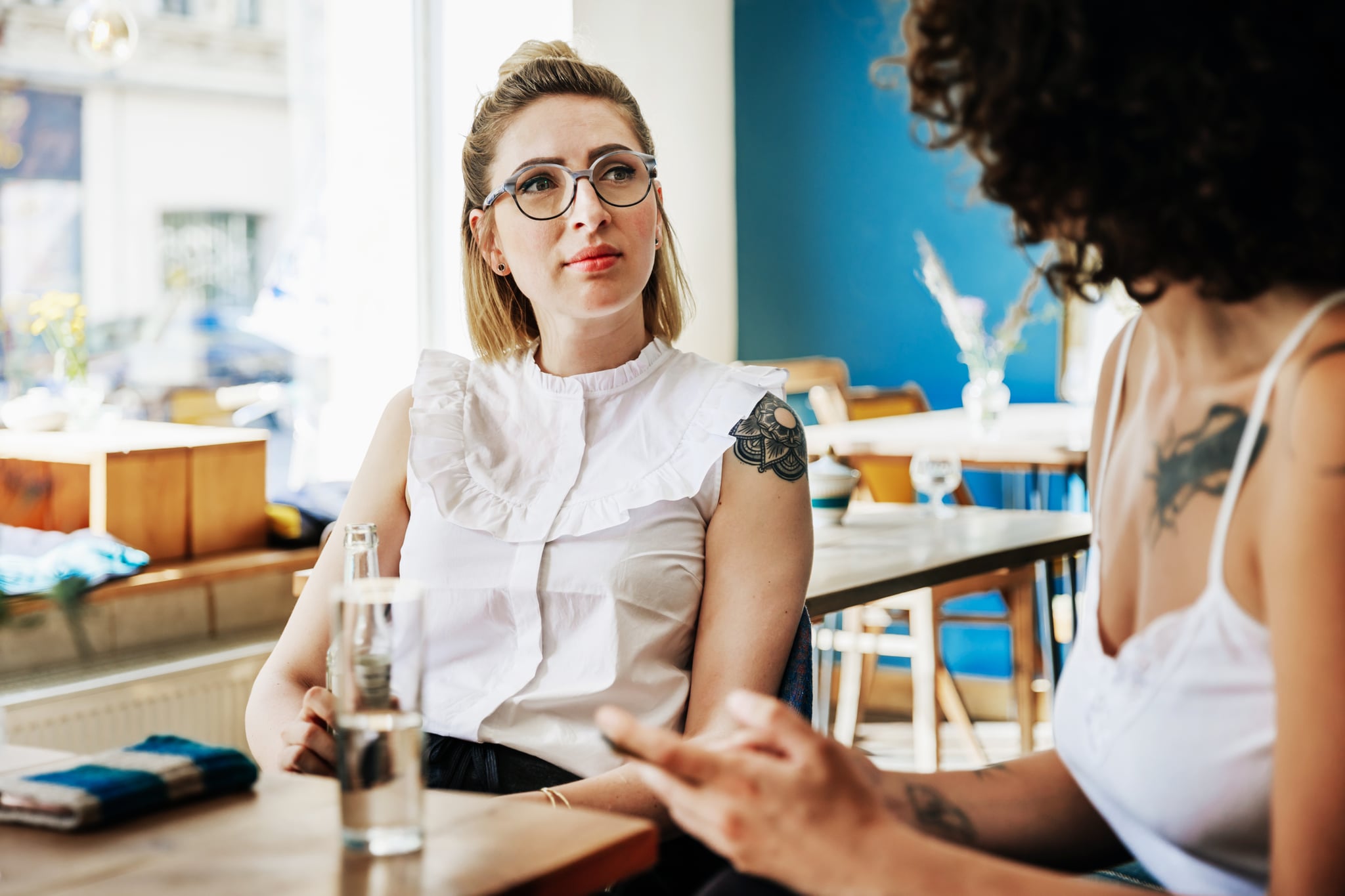 If you're a parent, you know parents need friends, people to talk to (who aren't 4 years old) who can discuss topics other than fruit snacks and firetrucks. I treasure my mom friends, from my shopping buddy — she's always up for a trip to Sephora — to the "been there, done that" parent, whose kids already had that rash or that teacher. But of all the mom friends who literally help me function as a parent, I value my vent buddy the most.
My vent buddy is a mom who lives down the street, and I know she is always there to just listen to me go off. It could be about anything, like a particularly stressful morning getting my brood ready for school, another run-in with that teen who tends to drive too fast down our block, an upsetting conversation with a relative, or potty-training troubles. My vent buddy responds to my superlong texts and picks up the phone no matter what it's about, and she's frequently up for a walk around the neighborhood, so I can vent my heart out in person.
It's a two-way street, of course. I'm totally available to listen to my vent buddy unload about her frustrations. With six kids between us, we have more than our fair share of in-the-trenches momming moments to share with one another. So if my 10-year-old is talking back all morning before school, we'll take a walk, and I'll let loose. And she'll recount a stressful situation with her kids that played out over the weekend, which may or may not have involved a candle shaped like a turtle (don't ask). If my 5-year-old won't stop with that irksome baby-talk voice I can't take for another second, I'm texting my friend to just get it out of my system. And if her little one is not in the mood to listen to, well, anyone about anything, I'm responding to her messages with sympathetic emoji.
Yes, I'm married, and my husband and I have a nightly powwow about what's happening with the kids when he gets home from work, and, sure, my mom's great at hearing me out about parenting dilemmas big and small, but there's just something about relating to another mom on the front lines of dealing with lice, homework, discipline, diapers, meal planning, grocery store meltdowns, a virus vs. an infection, whatever.
She simply listens, because as a parent, sometimes, you want to get something off your chest.
And the best part? She never judges. She simply listens, because as a parent, sometimes, you want to get something off your chest. Of course, there are times you're desperate for advice, but in many cases, you want to word vomit it all out, then move on. So if someone can say, "I get it," and not try to solve the problem or respond with any kind of bias, it's gold. This is the vital role a vent buddy plays.
In the end, let's face it: there are always more parenting challenges right around the corner. We can count on another kid starting up with a cough, or having a conflict with a kid at recess, or slamming a door if they're mad even though you've told them 80 times it's unacceptable. Likewise, you can count on being judged for some of your parenting choices. That's why I find having my vent buddy, who's nodding along and always on hand to let me know it's normal to feel overwhelmed or guilty or too tired to care, makes parenting a lot easier. I am so grateful for her impartial and empathetic ears and heart. And I'm pretty sure I couldn't do this whole mom thing without her always being a text, call, or quick walk away, to hear me out and help me heal in time to take on the next obstacle. Sending you a mental prayer hand emoji, Mama!