Why I Felt Awkward at My Baby Shower
I Had a "Traditional" Baby Shower. Here's What I Wish I Had Done Instead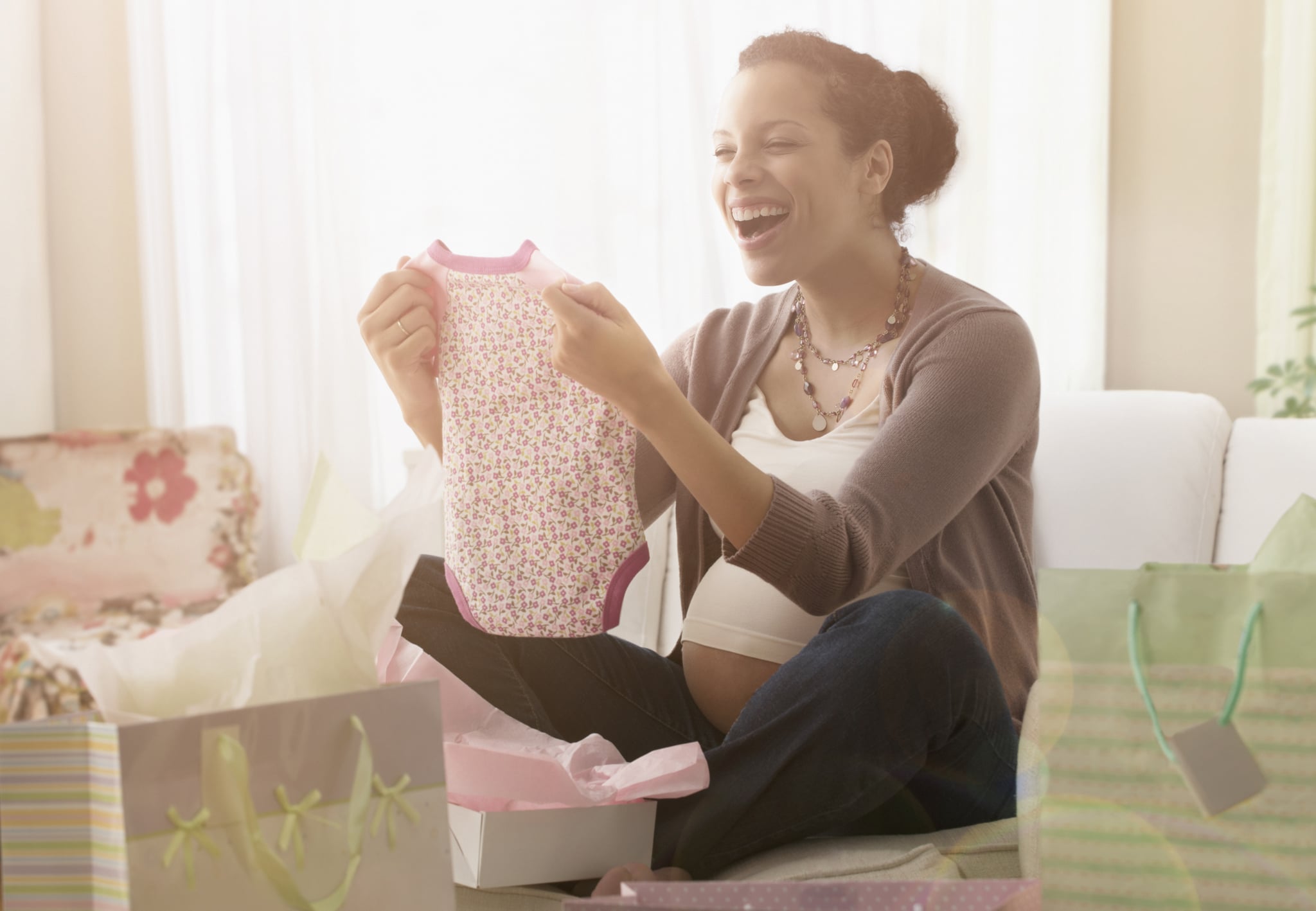 After years of attending various bridal and baby showers, my turn to be the guest of honor finally came exactly one month before my daughter was born. Since I never had a bridal shower, my mom wanted to make sure that my baby shower was perfect, and as far as baby showers go, it was. She hosted a traditional ladies-only Sunday brunch at a swanky waterfront inn, complete with floral centerpieces and a massive pink cake topped with a gold crown. I couldn't wait to celebrate my daughter's impending arrival, but on the big day, as Champagne flowed and gifts piled up, I found myself feeling more anxious than excited. Funny, but who would have thought that being the center of attention is not my thing?
Sure, the whole purpose of these gatherings is to "shower" the mother-to-be with love, but being at the center of it all only made me feel self-conscious and even a little guilty about taking up their entire Sunday on top of asking for gifts. Even though it was mostly family and close friends, my face burned as I walked from table to table greeting my guests. When it was time to open gifts, I straight up panicked. Of course I was genuinely grateful for every gift that I received, but opening them in front of my guests was nerve wracking: If I put an opened gift down too quickly, will they think I hate it? Does my smile look fake? OMG, this is cash. Do I hold it up? How about these nursing pads and milk storage bags? All of the thoughts that ran through my head were enough to make it explode by the end of the day.
At the time, I was unaware that different types of showers even existed. Clearly, I was living under a rock which is likely why I hadn't heard of a sip and see or known that co-ed showers were actually a thing. In fact, I didn't learn about co-ed showers until my husband and I attended one almost three years later, and it turns out they are (in my opinion) the best kind of shower.
Our friends were thrown a backyard barbecue pool party in honor of their first baby. At first, my husband was wary about attending a baby shower, and I just didn't know what to expect. But soon after we arrived all I could think was, why didn't we have a shower like this!? It was the first shower I had ever been to where every single person (besides the mother-to-be) genuinely seemed to be enjoying themselves. And while it wasn't at a fancy restaurant or catered by a trendy company, the selection of homemade food, desserts, and cocktails was incredible. As for entertainment, there was everything from an in-ground pool to ladder ball to traditional baby shower games scattered throughout the yard for guests to enjoy at their leisure. The parents-to-be opted not to spend an hour opening gifts, and instead spent the afternoon casually mingling with friends and family at their own pace. It was absolutely perfect.
When I was pregnant with my twins, I politely declined a second shower. But if I had decided to do it all over again, a casual, co-ed shower would have been my choice. Becoming parents can be a stressful adventure, but a party celebrating that adventure should be anything but. So here's my advice: Make sure you have the party you want to have. If a ladies only brunch is your speed — go all out! If you'd rather lounge pool side — do it! Once the baby comes, you'll be kissing those party days goodbye for a while, so you might as well go out with a bang that you enjoy.