Why the Statistic 1 in 4 Is Important For Moms
This Woman Confirms How Prevalent Losing a Child Is With a Heartbreaking Post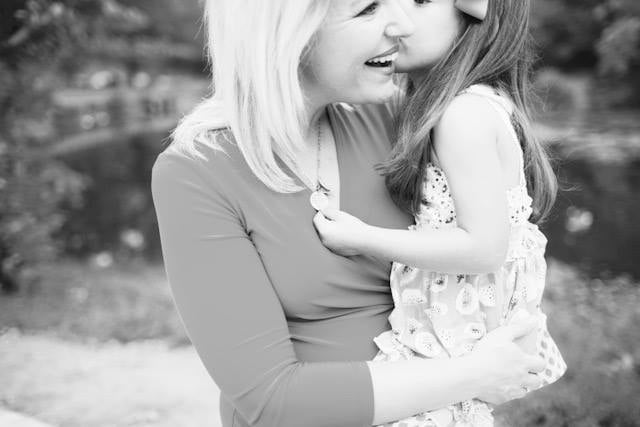 Stacey Skrysak knows that a big smile and a black and white filter can mask feelings of profound sadness, and that's exactly why she shared a photo to Facebook that shows a tender mother-daughter moment at first pass. But when Skrysak looks at the picture, all she sees is loss.
"I am 1 in 4. With a quick glance, you see a special bond between a mother and her daughter. Happiness shines as a precious little girl kisses her 'mommy.' But this picture-perfect moment is far from perfect," wrote Skrysak. "Only one child appears in this photo, but I am a mother to three children . . . one triplet on earth and two in heaven."
She also elaborates on how much is really going on behind that hug because a mom can never forget the loss of a child, no matter how much society pressures her to slap on a happy face:
What you don't see in this photo is the pain. The pain of holding a child as she takes her final breath. The pain of planning a funeral, instead of decorating a nursery. The pain that lingers, years after that final goodbye. Grief doesn't go away. There will always be a piece of my heart, shattered without two of my triplets. But over time, I have learned how to manage the grief, even tuck that pain away, so it's not visible on the surface. Because that's what society expects us to do. People don't want to see me cry. Many people don't even want to acknowledge a loss. For decades, pregnancy and child loss has been a taboo topic, something that makes people cringe and uncomfortable.
But she wants to emphasize that just because women don't regularly open up about child loss on a daily basis, it doesn't mean it doesn't happen. In fact, she wants people to know it's more common than you think. "1 in 4 women experiences a loss — whether it be through miscarriage, stillbirth, or infant loss."
And mothers aren't the only people affected. Skrysak explains that her daughter will carry some level of heartbreak with her, although she never got to meet her brother and sister. "What you don't see is the special bond that child shares with her siblings. That necklace my daughter is admiring holds the initials of her siblings, Parker and Abby," she said. "She may not get to play with them at home, or walk side-by-side with them at school, but she knows all about her brother and sister. They will always be part of our lives."
Skrysak signs off by saying that she's definitely not the only one struggling with grief that's often invisible to the naked eye: "You may only see one child with me, but I am the mother of three beautiful triplets. I am 1 in 4. And I am not alone."