Angela Kinsey Shares What At-Home Learning Has Been Like
Angela Kinsey on How At-Home Learning Is Going: "I Just Really Miss Our Teachers So Much"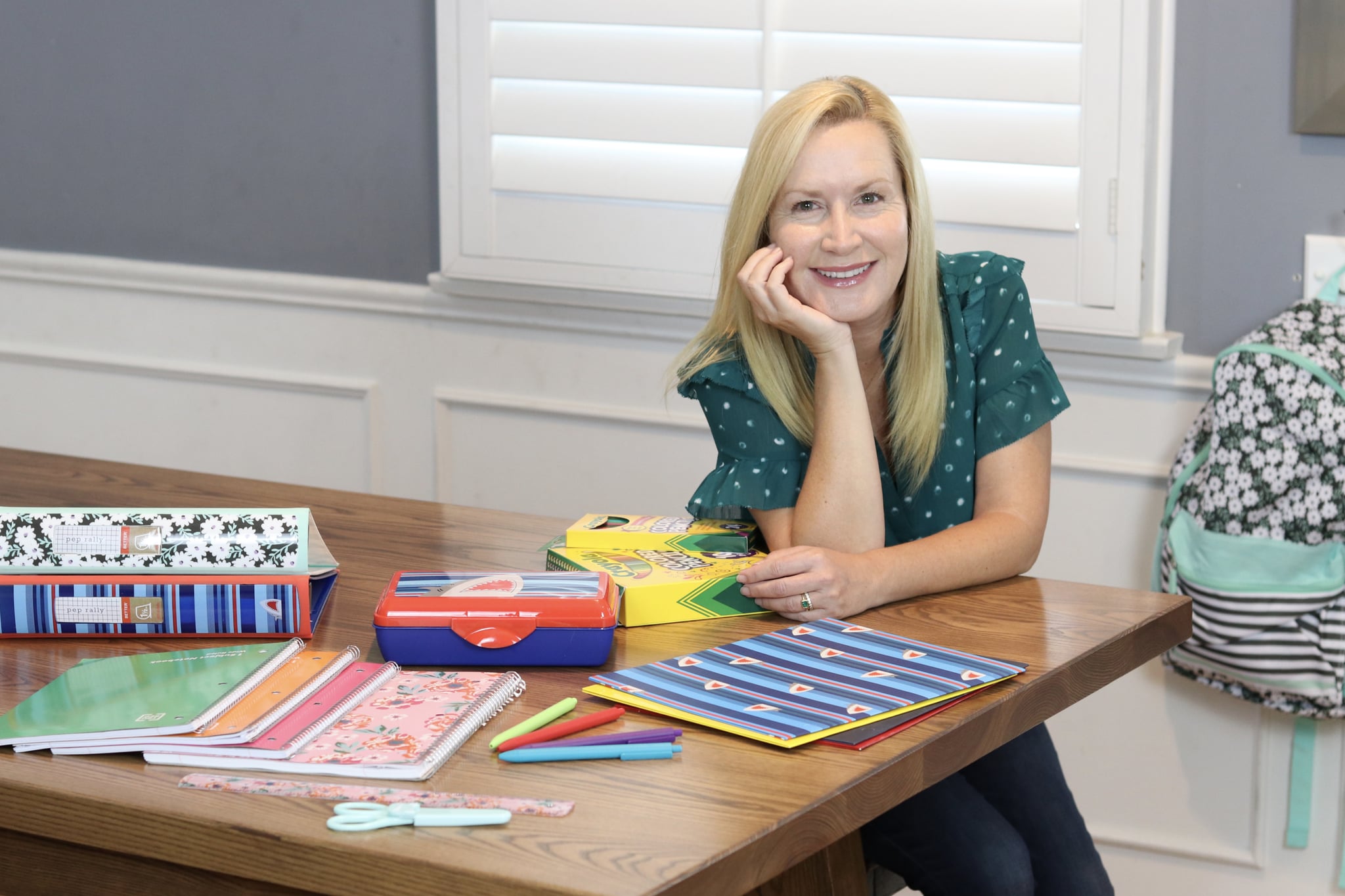 Actress Angela Kinsey has always admired the hard work educators do. Ever since she was young, Angela's older sister has been a teacher, so she knows first-hand just how trying the profession can be. Recently, Angela partnered with Staples for its "Thank a Teacher" contest, which awards 20 deserving educators with a $5,000 Staples gift card to stock their classrooms for the coming school year.
"Some of my earliest memories are of my sister being a teacher and helping her cut out things for the classroom," Angela told POPSUGAR. "My mom and I would help her cut out class decorations while sitting around the fireplace in the winter. She always goes above and beyond for our students. She always goes out of pocket every year to buy things for her classroom. So when I heard that Staples was doing the contest, I just thought it was really wonderful because our teachers need our support."
Now that Angela has been home with her 12-year-old daughter, Isabel, and her husband Joshua Snyder's two children — Cade, 12, and Jack, 10 — she's more grateful for teachers than ever.
On the challenges of at-home learning . . .
Adapting to learning from home takes time, especially when you have children of different ages. "All three of our kids learn differently. I just really miss our teachers so much during this time because of their ability to keep them focused and engaged. I have a new appreciation for [them]," she said, noting that learning at home definitely has its challenges. "I feel like our oldest son was able to stay focused in the morning. He loved that time, but the afternoon was harder. And there was one day when [Jack] had a two-hour Zoom session. That is a long time, even for an adult."
Because the children were virtually learning from their teachers, Angela and Joshua took it upon themselves to become the official family assistants by bringing the kids snacks. "Our teachers did all the work. They were doing all the lesson plans, my husband and I were just there to be the assistants," she shared. "I think every day was its own challenge. I felt like some days we were better at it than others. One of the things we learned early on is that we had to separate the kids because of their different lesson plans and teachers. Also, with all the students on a Zoom call, it's important to teach them to hit that mute button!"
On being the laid-back parent while the kids are home . . .
Angela is the first person to admit when it comes to parenting, she's as cool as a cucumber. "I am not the strict parent!" she said. "I think my husband and I are a good team because he's super, super great about structure even within his own life. I'm more laid-back. I remember my daughter saying, 'Oh. Mom, I have a PE Zoom. Can I do it outside?' I was like, 'Oh. Yeah. Sure. Let's figure it out.'"
Moreover, her parenting setup has allowed Angela to get creative with the kids' assignments. "I was in charge of things like art class," she said. "For example, I found a bunch of TV trays in our shed and I set them all up outside with an umbrella. I then made a little art place outside and I made everyone a Slushie."
On how her family lets loose during the day . . .
Being cooped up for days on end with the family often leads to tensions running high, but Angela found the perfect way for her family to de-stress: belting out songs from Hamilton. "We just play music and sing at the top of our lungs," said Angela with a laugh. "The other day, we were belting out the song from Hamilton that the king sings. It was just a really fun sing-along where we sang superloud in the kitchen. I don't know why everything happens in the kitchen, but that's my house!"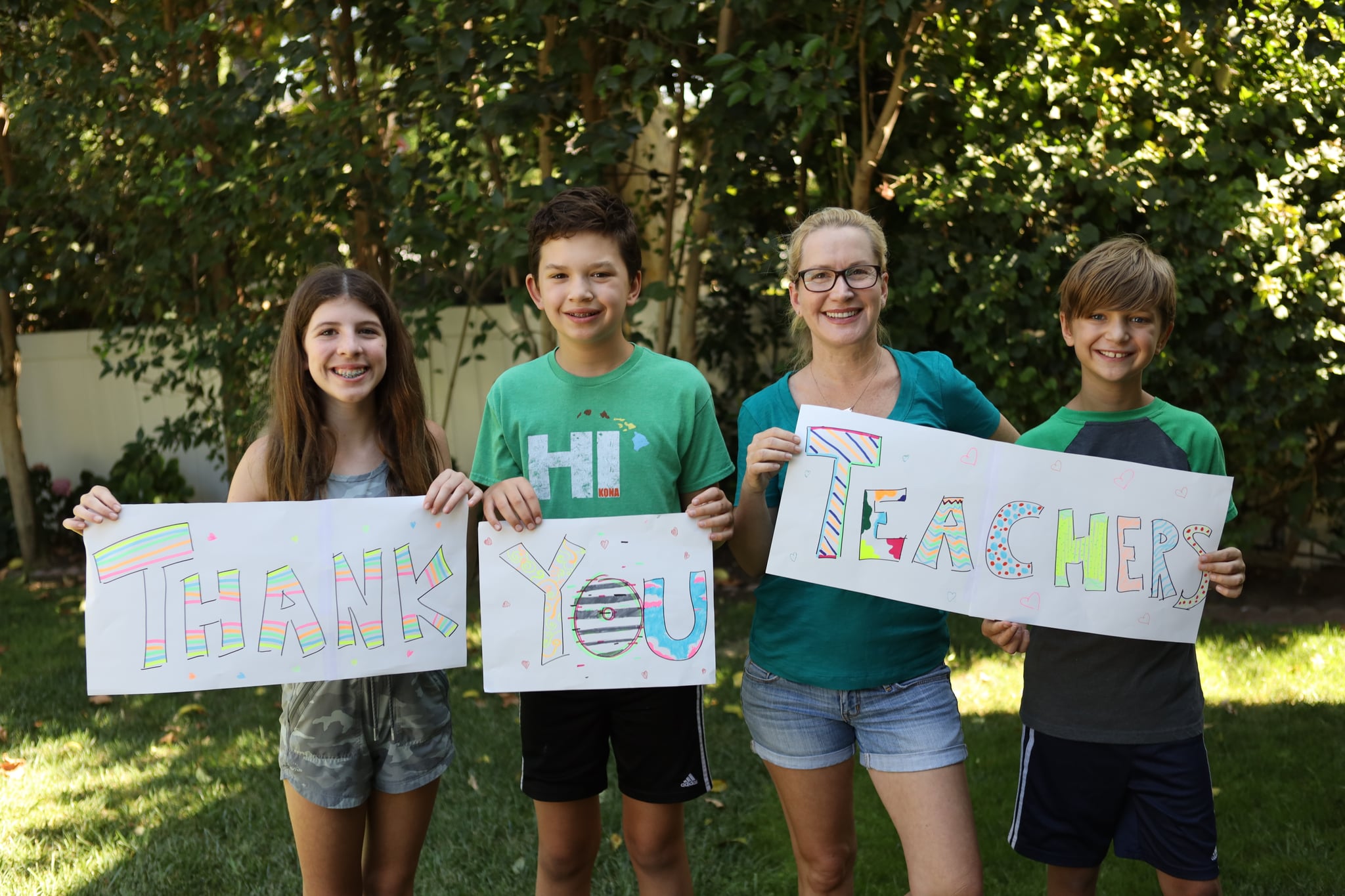 On how she works self-care into her schedule . . .
Like most parents, carving out time for yourself isn't easy right now, but Angela manages to take a few moments to recenter every morning. "It's really simple, every morning I make myself a cup of tea and I sit on the back porch," she explained. "I just sit there in the morning and it's my reset for the day. Sometimes the kids join me, sometimes they don't. But I enjoy the 15 minutes of sipping my tea."
On the silver lining of learning at home . . .
While learning from home comes with a slew of hardships, Angela is trying to make the most of any extra time her kids have by encouraging them to pursue passions they might not have the chance to study in school.
"One of the things we've been trying to do is lean into any special interests the kids have," she explained. "Our oldest son loves animation, so we went online and found books about animation — like a detailed book about The Simpsons — for example. He devoured it and has even been taking online classes on it. Over the course of the school year, we would have tried to facilitate his interest in animation, but because we're home right now, we can focus on it in a way that might have been harder in the busyness of a school day and shuffle of after-school activities."
On what she wants teachers to know ahead of the new school year . . .
Given how important the teaching profession is to Angela, she wants educators to know that she has their backs during this uncertain time. "I would hope they know that they have our support, love, and gratitude, that we want them to be safe," she said. "We want them to feel the support of their communities."