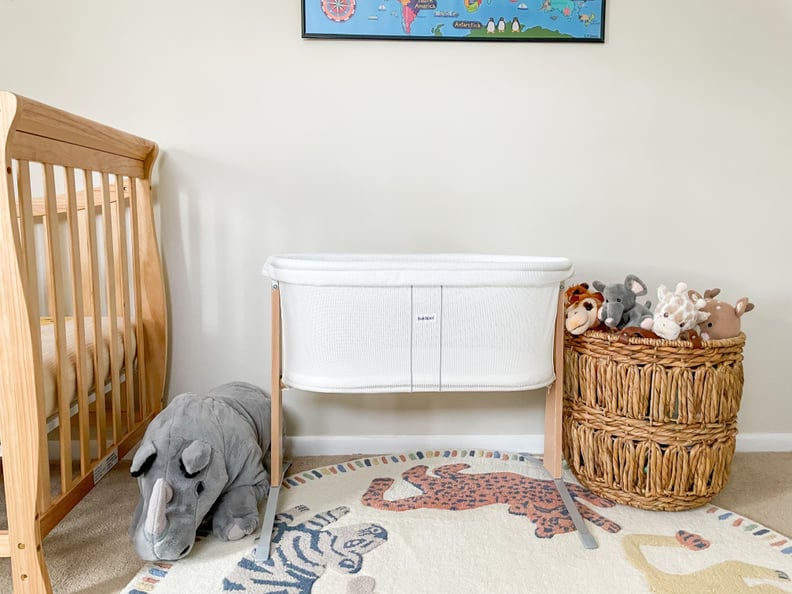 Emilee Janitz
Emilee Janitz
As POPSUGAR editors, we independently select and write about stuff we love and think you'll like too. If you buy a product we have recommended, we may receive affiliate commission, which in turn supports our work.
When my husband and I were prepping to bring our son home from the hospital, we knew as first-time parents that there were a lot of items we had to purchase to be baby-ready: a crib, a stroller, clothes, and more. But one of the items we knew was most important was a bassinet for our little bundle of joy to sleep in for the first months of his life. In my eager new-mom shopping, I quickly came to realize that there are many, many bassinets to choose from. I also realized that they tended to be either affordable or stylish, rarely both. Thankfully, I found the Baby Bjorn Baby Cradle ($350), which did, in fact, check off both of these line items.
At 3 months old, my son has now outgrown his Baby Bjorn cradle (full disclosure: my child is very, very long), but my husband and I really enjoyed using it for the first few months of his life. We left the hospital feeling good knowing we had the perfect safe space for him to sleep (a necessity that medical staff reminded us of constantly before sending us home), and we went to bed each night content after looking across our bedroom to see him nestled in. Plus, as I mentioned, the style of this bassinet also made me quite happy. Here are some of the more specific reasons I love it.
A Sleek, Gender-Neutral Design
With the classic look of white cloth and natural wood, the Baby Bjorn's simple Scandinavian style is truly perfect for every baby and decor theme. I will definitely be reusing it with any future children!
The Mesh Sides Make For Easy Breathing
I really like that the sides of the bassinet are made of a mesh material. This design is intentional and ensures that any newborn who manages to roll up into the side paneling will be able to breathe through it. I hadn't thought much about this when I was shopping, admittedly, but really appreciated this feature after bringing our son home. The material also encourages air flow and better temperature regulation. I never had to worry about my son getting too hot!
It Bounces! Well, Kind Of
This bassinet is stationary, but the way the legs are designed means you can bounce and sway it ever so slightly to lull your baby to sleep. This is something I discovered out of necessity right around the time my son was 2 months old and didn't always feel like going back to sleep after his 4 a.m. bottle. Thank you, bouncy wooden legs, I love you!
The Price Won't Break Your Bank
Unlike some of the other popular bassinets on the market that boast a hefty price tag, this bassinet costs less than $400. While it's still an investment, I really appreciate that this bassinet is top quality (peace of mind as a new parent is so, so, so important) but didn't require me to take out a small loan to afford it.
It's Small
This little bassinet is perfectly sized for the newborn you'll be placing in it. I liked how my 8-pound, 10-ounce baby had plenty of room to sleep and stretch without completely swimming in it. Its small footprint also fit perfectly in our bedroom and — I imagine — just about any parent's bedroom or baby nursery.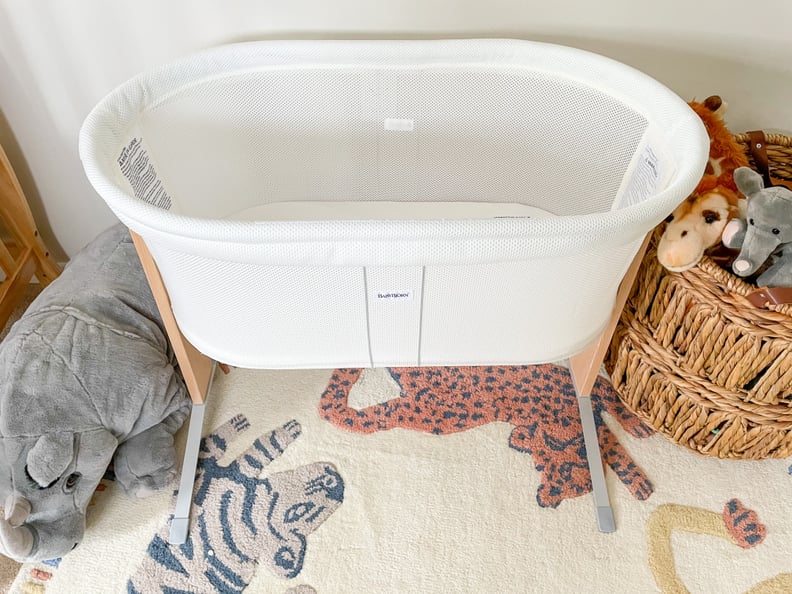 If you're a new parent looking to buy a bassinet or perhaps an experienced parent looking to upgrade your current cradle, I highly recommend this bassinet from Baby Bjorn. It's stylish, reasonably affordable, and designed to give you utmost peace of mind when you and your little one close your eyes for the night. What more could you ask for?