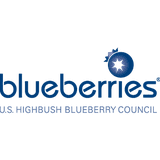 We've partnered with the U.S. Highbush Blueberry Council to highlight a few simple ways to keep the whole family entertained at home with blueberries, the kitchen staple that inspires endless possibilities.
Now that we're all spending so much time at home, demand for activities to keep the whole family entertained has never been higher. There are only so many games of Go Fish you can play, after all!
With puzzles and board games on backorder at seemingly every retailer, you've got to get creative when dreaming up new activities. So try out these nine recipes and crafts together. Of course, this isn't the time to run out to the store for one hard-to-find ingredient, so any DIYs have to rely on common household staples. One of the most versatile? The humble blueberry. You probably already have some fresh or frozen in the kitchen, and they add a punch of fruit flavor and vibrant color to everything from baked goods to art projects to drinks. Try any one of these fun, kid-friendly projects today to see for yourself.