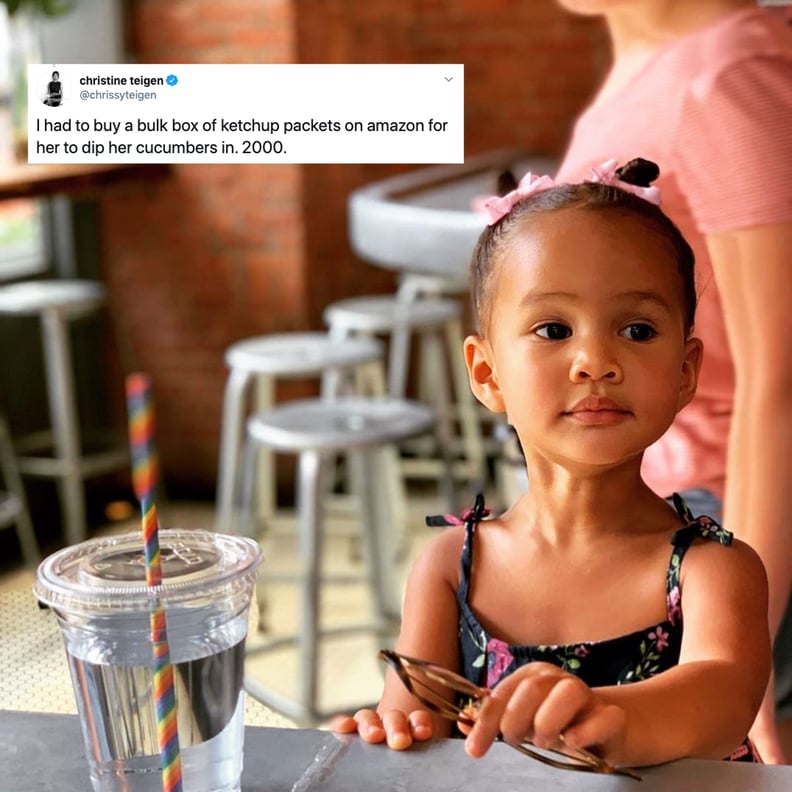 As POPSUGAR editors, we independently select and write about stuff we love and think you'll like too. If you buy a product we have recommended, we may receive affiliate commission, which in turn supports our work.
Chrissy Teigen has been sharing the effort she puts into feeding her kids for a while now — take Luna's laminated "menu" that she created in December 2018 — and like many moms before her, Chrissy has given into her toddler's weird food preferences, because eating something is better than nothing, right? According to Chrissy, she's been trying to find good meals to put in Luna's bento lunch box now that the little lady is in her second year of preschool, but apparently, like most kids, the 3-year-old's main food group is ketchup.
"I've been looking up good lunches to put in my kid's bento lunch box and while everyone's lunches look cute, my kid will never eat this sh*t without me bribing, in person. Everyone's stuffed olive tapenade pita cat faces can suck it, say hello to pizza bagel," the mom of two wrote on Twitter. She added: "Blueberry pasta salad? I'm scared for her teachers if she opens that. If your kid eats this stuff THAT IS AWESOME stay blessed. I had to buy a bulk box of ketchup packets on Amazon for her to dip her cucumbers in. 2000."
We're going to assume that the 2,000 indicates the number of packets in the box, and if Luna's anything like Julian/Frankenstein from Big Daddy, eating "30 packets of ketchup" for lunch, that'll last her a solid 13 weeks of lunches. Even Heinz commented on Chrissy's hilariously relatable tweet, writing: "She's going to be the Kween of Lunch. We spelled it with a 'K' because of Ketchup."
Keep reading to see all of Chrissy's hysterical tweets. We can't wait to hear more about how Luna single-handedly keeps Heinz in business in the future.
Chrissy's Twitter Thread About Packing Luna Good Bento Box Lunches
Luna, Eyeing Her Food at a Restaurant, Ready to Ask For a Healthy Side of Ketchup, Probably
Luna, Looking at Her Khao Man Gai and Wishing That Dip Were Ketchup For the Cucumbers, Probably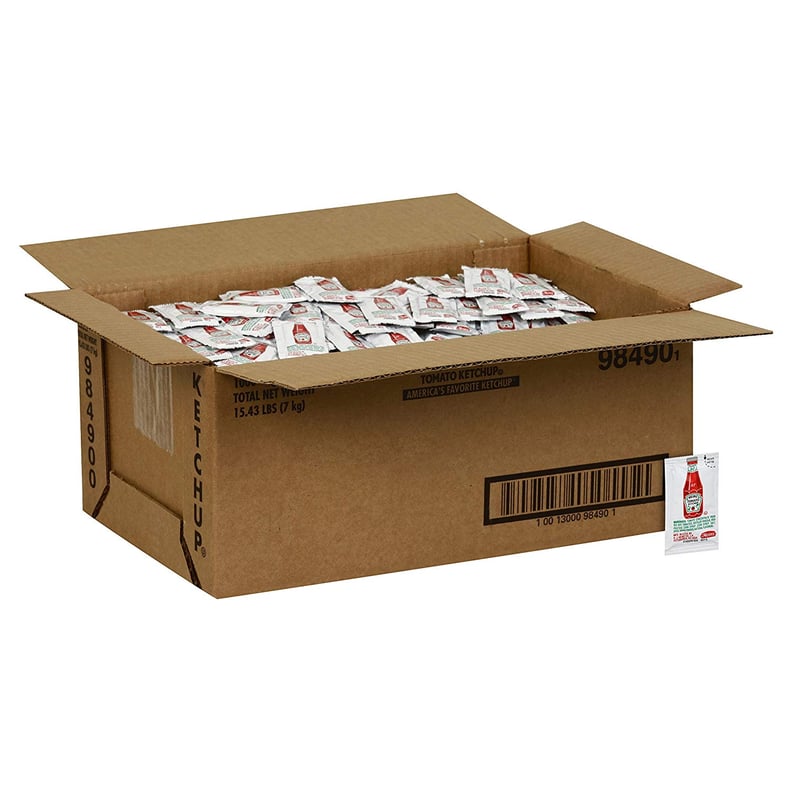 Heinz Single Serve Ketchup Packets
And if your kids are ketchup-fiends as well, here's a pack of 1,000 Heinz Single Serve Ketchup Packets ($40) for their own lunch boxes. Happy drinking dipping, weirdos kids.