It's hard to believe it was almost a year ago that Ciara and Russell Wilson welcomed their adorable son, Win, to the world. Win — or "Winnie the Pooh" as the mom of three has nicknamed him — is what she calls a super baby. "I know when he starts moving, it's going to be, 'Look out world, look out house. Win is on the loose,'" Ciara, who's also mom to Sienna, 4, and Future, 7, tells POPSUGAR in a recent interview.
The singer and NFL player have partnered with All Good on the brand's #NewOriginals social initiative, which aims to donate up to 10 million diapers to families in need by the end of 2021. This new mission is an addition to the brand's ongoing commitment to provide a day's worth of diapers to families in need for every box of All Good diapers purchased at Walmart.
"There's nothing better than knowing that you're giving back, but also good when you think about the babies and just how precious they are," Ciara shared. In honor of the partnership, the singer opened up to POPSUGAR about how she's adjusted to life with three kids, how they've gotten creative throughout the past year, and how she and Russell keep the romance alive in their relationship.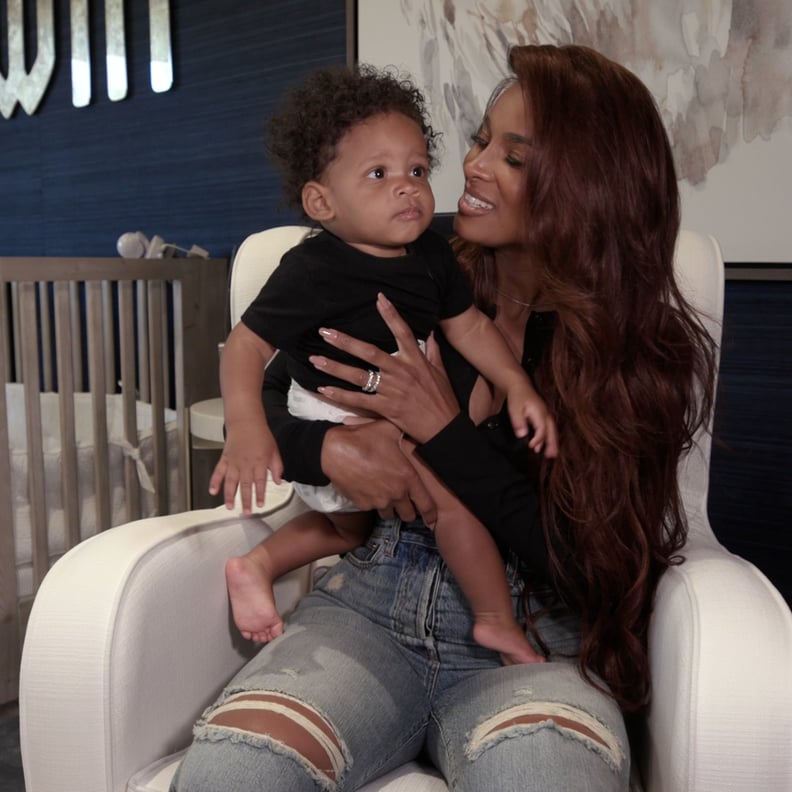 On transitioning from two to three kids
"From day one, of course, I always wanted to love my babies as best as I can; that never changes," Ciara said. "But I will say, I do think when you have baby number one, you're so particular about everything. You're like, 'Oh, you dropped that, I got to rinse it like crazy," and now it's like, 'Alright, we got the five second rule.'"
That same mindset applies to her kids' bedtime routines. Every night before bed, she and Russell have "book time" and read to the kids, and while they usually pick out three (four, if they're lucky) books a night, with three kids, they decided they needed a better game plan. "Future's seven, Sienna's four, so their books are a little different. Win, obviously, his books are different. So I'm like, Win is just going to just be reading some big kid books, because we're going to have to tag team. Everybody's going to be reading the same book and if you don't understand it, you're just going to get better," she joked.
On raising her kids during an unpredictable year
While her family had to "adjust big time" to virtual school and staying at home, Ciara said it's been amazing to see how strong her kids are. "I think kids are way more resilient and have way more fight than we even know," she said. "They really adapted well. When President Joe Biden and Kamala Harris came into office, I remember Sienna saying, 'The COVID's over!' Just the cute little jokes and things that they made of it. They have been able to bring a lot of light in the midst of the storm and that's been a blessing."
Though the pandemic impacted Future and Siena's daily lives, as an infant, Win wasn't affected as much. "I think probably we'll see when we come out of this, just the true impact that may happen to him. But for now, he's rolling. The love that he gets from his brother and sister, from the house, our team, everyone . . . it's going all right. I can't complain."
On dancing with her family on TikTok
TikTok certainly gave Ciara and her family fun things to do together during lockdown, though wrangling her kids and teaching them a dance for a video was no easy feat. "Sometimes it's like herding cats when you're trying to get kids to do a TikTok and focus," she said. Yet they managed to pull together some seriously impressive videos and entertain themselves. "My 'Got Me Good' song was also one of the first TikTok songs that was really starting to build up and go viral on TikTok, and Sienna the other day said, 'My back is aching and my bra too tight' in the car. That was cute."
On sharing her music with her kids
"I knew 'Level Up' was a hit from my kids' reactions," Ciara shared. "I knew that was their favorite. They asked for it over and over." Though she isn't a fan of listening to her own music, she loves seeing her kids jam out to her songs. "It's cute when they know it's me. They're like, 'That's Mommy,'" she said.
She even joins in on duets sometimes. "SiSi [Sienna] likes singing Nicki Minaj's part, she says, 'Mommy, can you do that peach tree? Let me show you how to do it.' She starts rapping Nicki's part. She asks me to play that song. She doesn't call it 'I'm Out,' but she starts saying Nicki Minaj's lyrics and we do sing-along together. It's really fun."
On celebrating Russell on Father's Day
Though Ciara is tight-lipped about what she has in store for Russell, she is getting creative and planning something "he's really not expecting." "I just always want him to feel as loved as he makes me feel," she said. "And for him to really feel proud of himself on that day, but not just that day, every day really. Because he's an incredible father day in and day out."
On her weekly date nights with Russell
Friday date nights have always been a staple for the couple, even when they were spending all of their time together at home. Whether it was setting up a drive-in movie theater on their lawn or creating their "own little restaurant" somewhere in the house, they got creative and found ways to make things fun and romantic. "Days got long, but I think the greatest thing is knowing that, if you can make it through COVID, you're good," Ciara said. "There's so many challenges and curve balls that are thrown your way and I feel like COVID made us stronger together. We still found ways to miss each other, even though we were in the same roof 24/7. He still had work, I had work. It was like looking forward to the end of our workday."
On practicing self-care
Taking care of her skin and body, as well as finding ways to be creative are all forms of self-care for Ciara. Recently, she's taken up pickle ball. "It's been a unique way for me to sweat, but also just have a good time and really love myself. I think when the world slows down, it's good to slow down too, sometimes. Step back and reevaluate. I've been able to do a little bit of that too, and prepare my game plan for all the things that I want to accomplish next."