Marvel Fans, Assemble For a Sneak Peek at Disneyland's Avengers Campus, Opening in June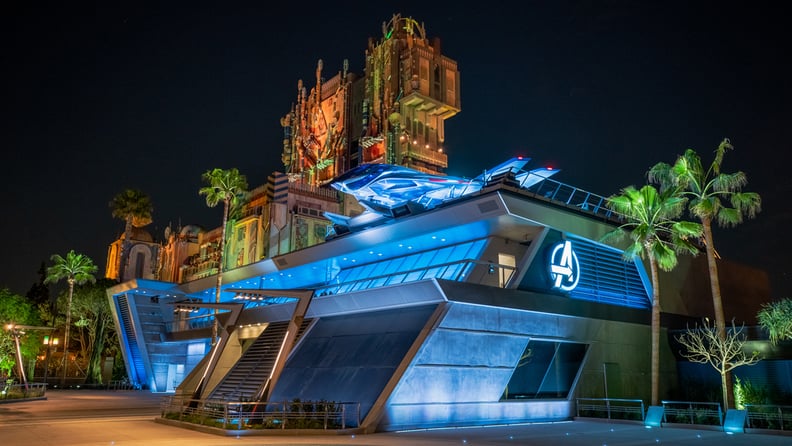 You know that moment in Avengers: Endgame when all the heroes come together toward the end to defeat Thanos, the camera pans across all the iconic characters only to stop on Captain America catching Thor's hammer, Mjolnir, as he (finally) proclaims, "Avengers, assemble," and the whole movie theater loses their minds? Yes, that is the feeling the Disney imagineering team sought to achieve while dreaming up Avengers Campus, a new land created to bring all your comic book and movie dreams to life.
I'm a huge Marvel fan myself, so from the moment I received an invitation to take a first look at Disney California Adventure's newest land, Avengers Campus, my Spidey sense started tingling and I got that good old-fashioned feeling of pure joy that only Disney can inspire. As Nick Fury once told Tony Stark, "You've become part of a bigger universe, you just don't know it yet." Well, get ready, Disney and Marvel fans, you're about to be in the know.
Avengers Campus is opening June 4 inside Disney California Adventure where Bug's Life previously existed. But don't worry, bug-lovers — Spider-Man, Black Widow, Ant-Man, and the Wasp will find themselves right at home! This new land invites parkgoers to find the hero within; you won't just be a fan passing through, you'll be fully immersed in the Marvel Universe as though it were living and breathing before your eyes.
Allow me to share with you everything I saw, learned, played with, and, yes, even tasted at this exclusive preview.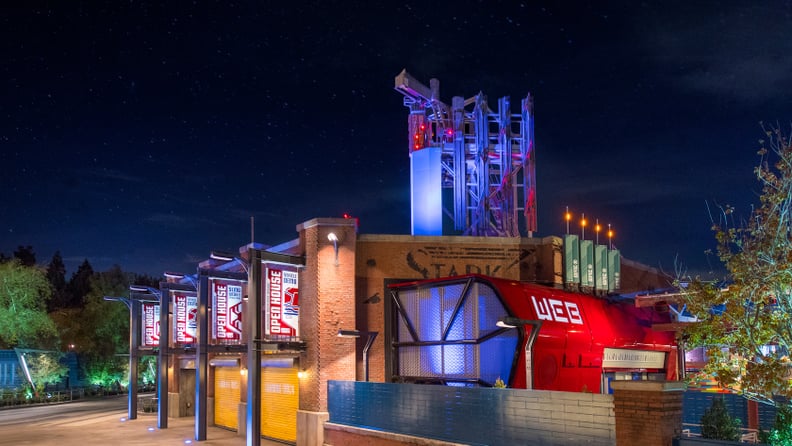 The New Attraction: WEB SLINGERS: A Spider-Man Adventure
While Guardians of the Galaxy — Mission: BREAKOUT! already exists and will be part of Avengers Campus, the newest attraction revolves around everyone's favorite friendly neighborhood superhero, Spider-Man. And just like how the film actors reprise their roles during virtual environments for Guardians of the Galaxy — Mission: BREAKOUT!, so will Tom Holland for WEB SLINGERS: A Spider-Man Adventure. This attraction is part of a new address Disney imagineers created in the Marvel Universe called WEB (Worldwide Engineering Brigade). Here, Peter Parker invites aspiring inventors to come check out their latest invention. The twist? It's not quite as well-funded as, let's say, something by Tony Stark. So Spidey runs into some issues that only parkgoers can help him solve. Cute, right?
In this new attraction, you get to team up with Spider-Man to help capture his out-of-control Spider-Bots before they wreak havoc on the Campus. The best part? This ride experience gives you the powers of Spidey. Blending physical sets and virtual environments, you'll board a Web-Slinger vehicle (in groups of four), put on 3D glasses, and then BAM! You now have the ability to sling webs by making the same motions with your arms as you see Peter Parker doing in the movies. Each individual will get a score at the end of the ride and there will also be a team score. On top of that, Avengers Campus will display an overall scoreboard, so guests can team up and try to beat the park's high score! Basically, get ready to ride this attraction a lot.
Planning ahead: There is no height requirement for WEB SLINGERS: A Spider-Man Adventure, and small children are permitted to sit on a lap while slingin' their superpowers.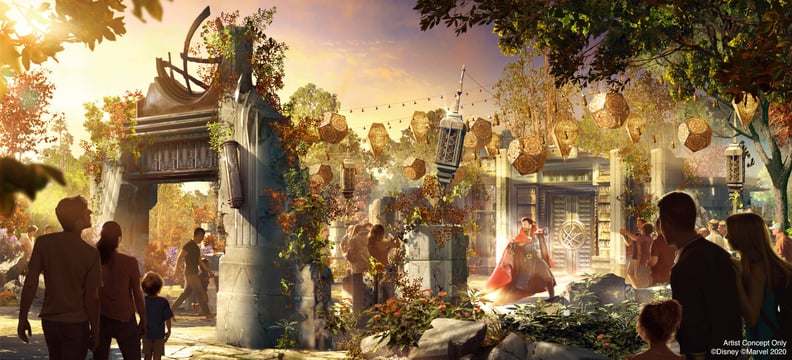 Superhero Encounters
Avengers Campus (which, by the way, stands for Centralized Assembly Mobilized to Prepare, Unite and Safeguard) will be an immersive experience, and much of that will be thanks to Earth's Mightiest Heroes roaming around and hanging out between all their world-saving. You'll see a real-life Spider-Man swinging high above the WEB building, performing gravity-defying stunts while also talking to guests as they walk by. Thor will wander around looking to see who is worthy enough to lift his hammer, as Loki will surely be plotting his mischief nearby.
Families and friends can also train with Black Panther, General Okoye, and Wakanda's elite guards, the Dora Milaje, and even walk into the overgrown ruins of The Sanctum, where Doctor Strange is demonstrating and training new recruits in the mystic arts. But the center of the Campus is the Avengers Headquarters, where you'll find all your favorite heroes living and strolling through the land: Black Widow, Ant-Man and The Wasp, Captain America, Captain Marvel, the Guardians of the Galaxy, Iron Man, and even a big baddie from an upcoming film. That's right, Taskmaster, the villain from Marvel's Black Widow, will be causing trouble around Campus. Look for some awesome fight sequences set high on the Headquarters (choreographed by Black Widow's fight coordinators) during random times throughout the day.
Planning ahead: There is no schedule of superhero appearances as their presence is meant to feel natural and authentic, but The Sanctum is going to be particularly incredible at night as it glows more vividly with mystic energy. Do not miss!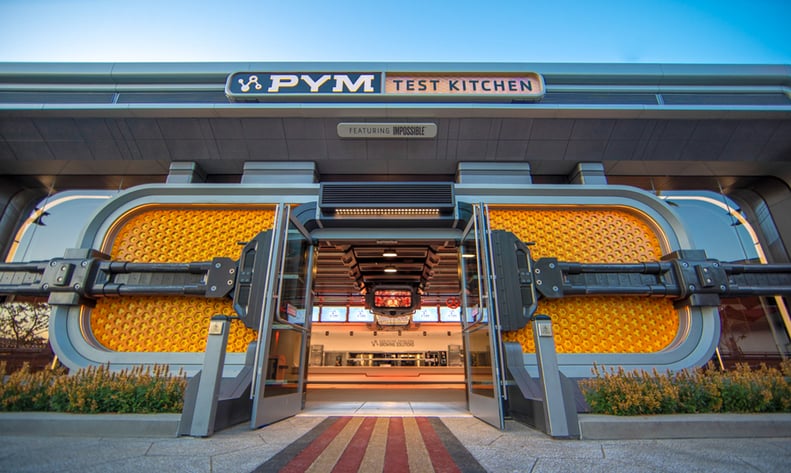 Playing With Food
Did someone ask for Shawarma? Because of course Avengers Campus will have Tony Stark's favorite craving available for all to chow down on after a heroic day. There will be plenty of dining options, so let's get down to each stop you absolutely need to make.
The Shawarma Palace cart pays homage to our favorite Avengers hangout, the original Shawarma Palace in NYC, where our heroes took a breather after the Battle of New York in The Avengers. This food cart will offer two savory options: a chicken shawarma wrap or an Impossible plant-based falafel wrap.
Terran Treats cart will, naturally, be located near Guardians of the Galaxy — Mission: BREAKOUT! and will satisfy your sweet tooth with an eclectic offering that only Taneleer Tivan can possibly curate. Here you can enjoy a Sweet Spiral Ration (a colorful churro spiral) or a Cosmic Cream Orb (a pastry puff with a delicious raspberry cheesecake mousse filling). I got to taste the Orb and it is out of this world delicious, and looks suspiciously like an Infinity Stone, so beware of the power!
PYM Test Kitchen is the main eatery in the land and OMG is it going to be a blast! Designed like a giant quantum tunnel, this science lab-turned-kitchen tells a story in itself. Based off Ant-Man and The Wasp, you'll see food shrinking and growing as you wait in line, gigantic soda cans and condiment bottles acting as usable dispensers, and normal foods served at unusual scales as the kitchen continues to work out their "tests." You'll have so much fun eating the Not So Little Chicken Sandwich, an oversized chicken filet on a tiny bun (This was my favorite to taste: it's crispy with a pickled cabbage slaw on top. YUM!), or the Impossible Spoonful, featuring a plant-based large meatball served with small pasta in a reusable giant spoon with a tiny fork. Yep, you read that right. And the "meat" ball is so flavorful, you would never know it's not the real thing. My suggestion is to go for the PYM-ini, a super long panini that tastes a lot like pizza and is perfect for sharing with family and friends (but also available by the slice).
Finally, PYM Tasting Lab is an outdoor seated area adjacent to PYM Test Kitchen where grown up guests can order beverage tastings at an oversized beer can. I particularly enjoyed their X-Periment cocktail, made with tequila, lime juice, habanero, and mango syrup, garnished with mango flavored popping pearls. As nearly an exclusive wine drinker, even I loved this concoction and will be coming back for another.
Planning ahead: Mobile ordering is available at PYM Test Kitchen through the Disneyland app, and for any diehard Avenger fans, try the Pingo Doce and get one of the collectible dispensers.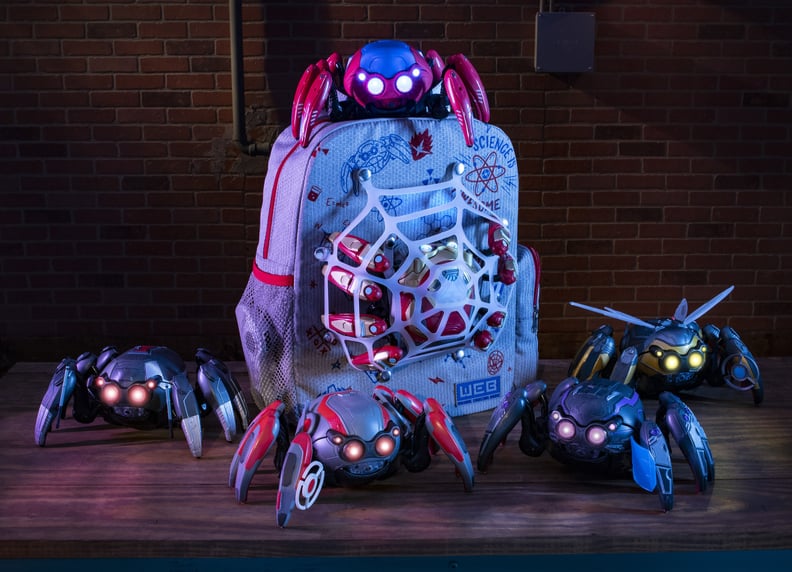 Merch, Merch, Merch!
WEB Suppliers is where aspiring new WEB members can stock up on swag or find something new and awesome to tinker with at home, like a spider web-making kit. But there are two new gadgets that particularly caught my eye: Spider-Man light goggles and the Spider-Bot.
Spider-Man goggles are exactly what they sound like. Much like how you wear swimming goggles, this high-tech eyewear digitally mimics 17 of Spidey's unique expressions, and, yes, you can still see through them! Powered by batteries, these goggles aren't priced yet but they are sure to fly off the shelves faster than Iron Man can say, "Underoos!" Personally, I can't wait to see people wearing them at night as a bunch of Spidey eyes roam around the parks.
And then there's the Spider-Bot. Yep, those same little crazy things that you slinged webs at on WEB SLINGERS: A Spider-Man Adventure. But this time, you can bring a friendly one home as your very own sidekick. Powered by a remote control, each Spider-Bot has eight legs that moves it forward and backward, and side to side. Press the right buttons and you can even make it crouch and turn. You can customize your Spider-Bot to match the powers and style of your favorite superheroes, such as Black Panther, Iron Man, Black Widow, Ant-Man, and The Wasp. Black Widow's tactical upgrade comes with her famous batons and The Wasp's has wings (*insert "shut up and take my money" meme here*).
You think I'm done? Nope. Get this, you can also battle your Spider-Bot with your friends' Spider-Bots. I tried this out at the preview and, as someone who is not great at video games, even I was able to smash buttons enough to beat my opponent, which is indicated when the Spider-Bot's top pops off. You'll also want to get the specially designed backpack that has a carrying case for the Spider-Bot. Seriously, Disney thinks of everything.
Besides WEB Suppliers, The Campus Supply Pod is where you can stock up on all your Avengers Campus gear. Here you'll find apparel classics like t-shirts, hoodies, drinkware, pins, keychains, notebooks, you name it.
Planning Ahead: WEB Suppliers is conveniently located right across from the exit of WEB SLINGERS: A Spider-Man Adventure ride (it's like they planned it that way!). There is no pricing information for these items yet, so stay tuned!
So there you have it! After 80 years of comic books, and more than 10 years of movies, Marvel fans will not only have the opportunity to meet their favorite superheroes, but they'll also be empowered to become superheroes themselves when Avengers Campus opens later this year. Keep scrolling for even more pictures and images from our sneak preview!