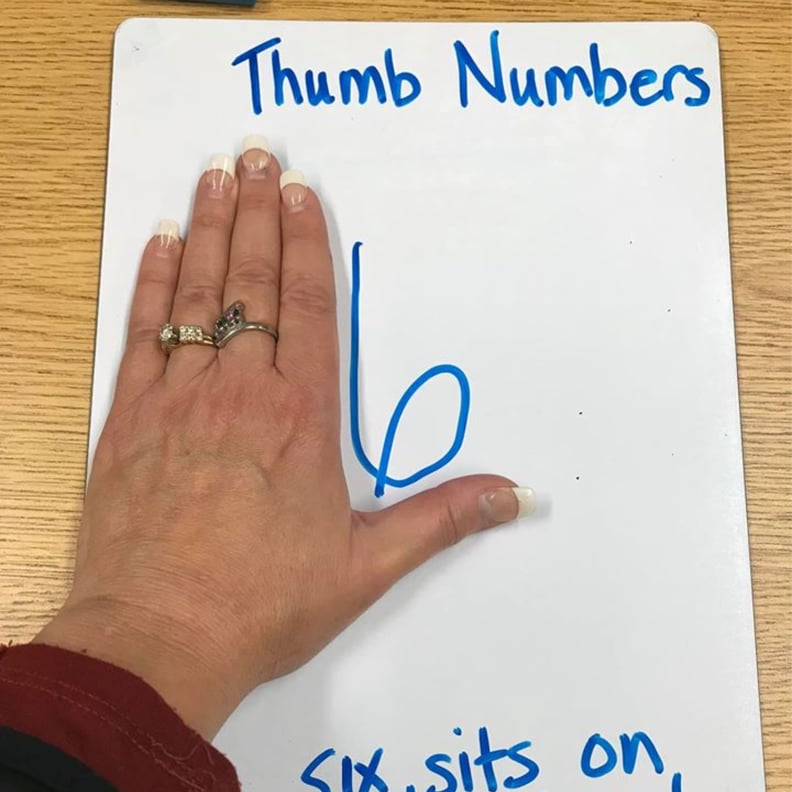 As POPSUGAR editors, we independently select and write about stuff we love and think you'll like too. If you buy a product we have recommended, we may receive affiliate commission, which in turn supports our work.
Teaching your kids how to write can definitely be tough, and while it may sometimes be frustrating, there's no denying it's an important skill! Recently, Delores Koster, an occupational therapist, shared a creative yet simple way for teaching kids how to properly write out numbers using their thumb as a guide, and it's pretty clever.
"Years ago, I had a teacher approach me regarding a student that was getting so frustrated with writing numbers incorrectly," she shared. "As an Occupational Therapy Assistant, I love problem solving. Here is a strategy that I made up and that I use quite often with children that have difficulty with writing numbers . . . and [have] had a lot of success."
Fortunately, Delores demonstrated her process on social media and shared how you can start with big numbers and eventually scale it down once your child has grasped the concepts. "The first pictures I use white boards, chalkboard, paper and washable markers. I then scaled it down for paper and pencil with using a spacer," she explained. After a parent asked her how to use this method with left-handed students, she tapped her daughter Kyndall, who is a leftie, for advice. Fortunately, she had an easy hack: "Simple, just flip your hand over!!!"
Read ahead to see Delores's step-by-step method of teaching kids to write numbers correctly, no tears involved! And if you're looking for the helpful green spacer to get your little ones started, you can grab the Starting Blocks Plus One Finger Spacer Handwriting Tool ($19) on Amazon.
How to Write a 1 Using Your Thumb
How to Write a 2 Using Your Thumb
How to Write a 3 Using Your Thumb
How to Write a 4 Using Your Thumb
How to Write a 6 Using Your Thumb
How to Write a 7 Using Your Thumb
How to Write a 8 Using Your Thumb
How to Write a 9 Using Your Thumb
How to Write a 10 Using Your Thumb
How to Write a 2 Using a Handwriting Tool
How to Write a 3 Using a Handwriting Tool
How to Write a 4 Using a Handwriting Tool
How to Write a 5 Using a Handwriting Tool
Left-Handed Writing Demonstration Video, Number 2
Left-Handed Writing Demonstration Video, Number 3