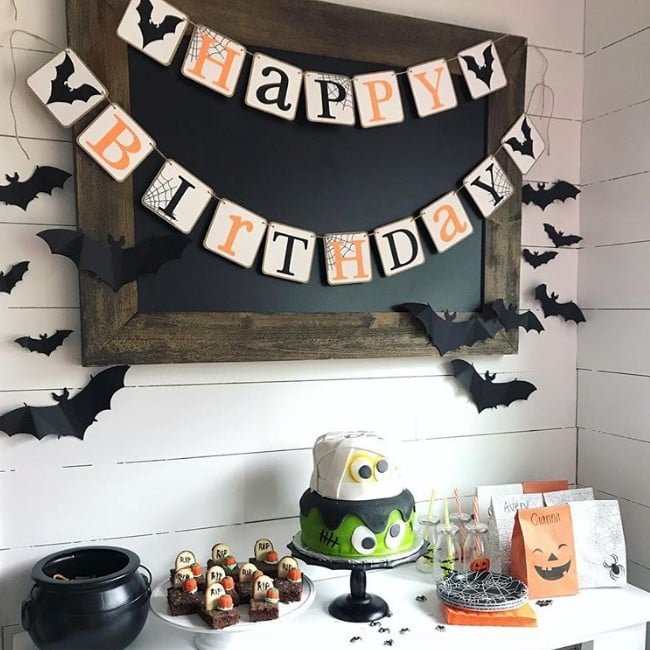 Halloween may only be one day, but that doesn't mean the spooky and fun aspects of it can't still be celebrated all year round. Fun costumes, free candy, and plenty of trickery — what's not to love? If you have an Autumn baby (or a kid who just lives for dress-up), check out these 14 Halloween-inspired birthday party themes. From a classic orange-and-black bash to a more detailed haunted house party, there's something for every little pumpkin in your house. And bonus points if you can get your kid to agree to wear the same costume for both Halloween and their birthday!
01
Hocus Pocus Party
Serve up mozzarella sticks and marinara dipping sauce for "dead man toes," hand out witch hats for all of your guests to wear, and — of course — keep Hocus Pocus playing in the background for entertainment.
02
Nightmare Before Christmas Party
Turn your living room into a Tim Burton-inspired Halloween Town by having plenty of Jack, Sally, and Oogie Boogie decor (and by playing the supercreepy Nightmare Before Christmas soundtrack).
03
Pirate Party
Send your guests on a scavenger hunt for treasure, and make sure everyone gets his or her own eye patch and temporary skull tattoo.
04
Mad Scientist Party
Set up different stations for science experiments, making each one as silly, gross, or actually educational as you'd like.
05
Superheroes and Villains Party
Assign party guests the role of either hero or villain ahead of time and have them dress as their favorite, then arrange a series of games for the two teams to compete in to see whether good or evil triumphs.
06
Alien Invasion Party
Make your own laser tag course with laser pointers, blackout curtains, and glow-in-the-dark party decor.
07
Monster Mash Party
Have your guests make their own monster party hats, handing out plastic cone hats and letting them decorate with googly eyes, cotton balls, pipe cleaners, and felt.
08
Harry Potter Party
Serve your guests Polyjuice Potion punch, butterbeer fudge, chocolate frogs, and Bertie Bott's Every Flavor (Jelly)Beans.
09
Pumpkin Painting Party
Allow your party guests to pick out their own pumpkin to decorate with silly or scary painted faces (which is a whole lot easier and safer than carving).
10
Classic Halloween Party
Black cats, bats, ghosts, and ghouls — decorate your house with spiderwebs and cauldrons for a Halloween party that will never go out of style.
11
Haunted House Party
Turn your garage or basement into a haunted house, and recruit some volunteers to pop out of hidden spots for extra scares.
12
Orange and Black Party
This party is all black (and orange) everything with yummy black and orange snacks and party decor.
13
Trick-or-Treat Party
Set up different stations throughout your house for a mini trick-or-treat route, and allow your guests to decorate their own trick-or-treat bags.
14
Alice in Wonderland Party
Host your guests for a wacky tea party and play a game of giant chess or croquet on the lawn.
15