How I Stay Connected With My Kids as a Working Mom
Every Morning Before I Leave For Work, I Let My Kids Know I'm Thinking About Them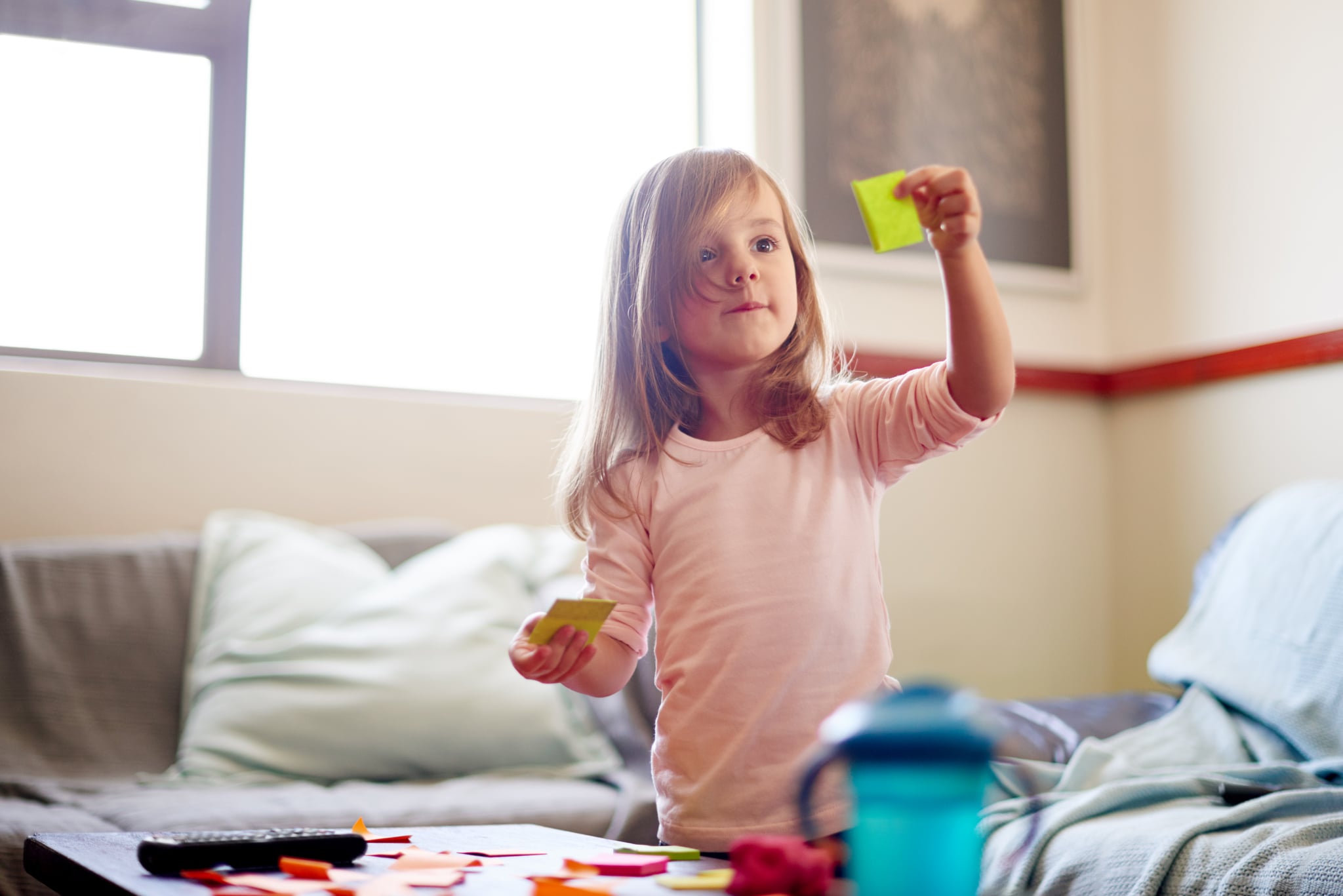 As a working mom, I have to leave the house before anyone else wakes up a couple of days a week, which can be tough. If my son has a spelling test, I can't wish him good luck. If my younger daughter has a fussy morning, I can't give her hugs — or help my husband prep either of them for the day, for that matter. There are times I feel guilty that I can't connect with my family before everyone starts their day. So, I decided to come up with a simple way to make these mornings a little easier without mom.
The best way I found? Sticky notes! I use these simple slips of paper to stay connected with my kids on days when I'm out of the house well before the sun rises. I grab some brightly colored sticky notes and write down silly poems, funny jokes, fictitious stories, or draw pictures for the little one. My kids are predictable; each and every morning they climb into their "spot" where they eat, color, and even do homework before school, so I stick the notes right in front of their seat so they know that it's just for them.
My son can't get enough of the silly "Roses are red, violets are blue" type poems. I like to add some silly potty humor like "take the dog outside so he can go poo poo!" for the punch line. This not only starts my son's day off with a giggle, but it lets him know that mom is not only around to nag him to clear his plate and finish his homework. When those kinds of notes get stale, I take to Google and research some jokes. One of my son's favorites so far? "Two pickles fell out of a jar onto the floor. What did one say to the other?" My son reads the note, pauses, and then asks his father for the answer (which is also fun because it gets him involved, too). After a minute, my husband answers, "Dill with it." Cue thunderous laughter erupting in our kitchen. I mean, what better way for your family to start their day than with a good belly laugh?!
My daughter is a little trickier because at only 5 years old, she's still learning to read. I tend to make hers sweeter than my son's, because that's how she rolls. I'll write easy words that I know she can understand like, "Mom loves you," but swapping the word "love" for a heart. I've also been known to do some pretty serious stick figure art on her notes. I'll draw myself and then a tiny version of her, with lots of little floating hearts between them. She ends up calling them "kisses" — I melt at that. She'll talk about them for days after, and it's pretty freaking adorable.
We all look forward to these notes. And as a working mom, they've been so helpful in keeping me connected with my kids. Not only does it remind them that I'm thinking of them even when I'm not there, but I've found that it starts our days off right. Are there mornings where my husband still reports massive meltdowns while getting everyone out the door? Of course. No parent hack is perfect. But in the end, my kids know that I'm thinking about them and my morning dose of motherly guilt lessens, because I know that feeling guilty won't solve anything. This simple act, which takes no time at all, has truly done wonders for our relationships, and in the end, I've also earned some pretty stellar brownie points.