How Mobile Maternal Care Units Are Helping Pregnant People
How Mobile Maternity Care Units Are Helping Pregnant People Get Free Prenatal Healthcare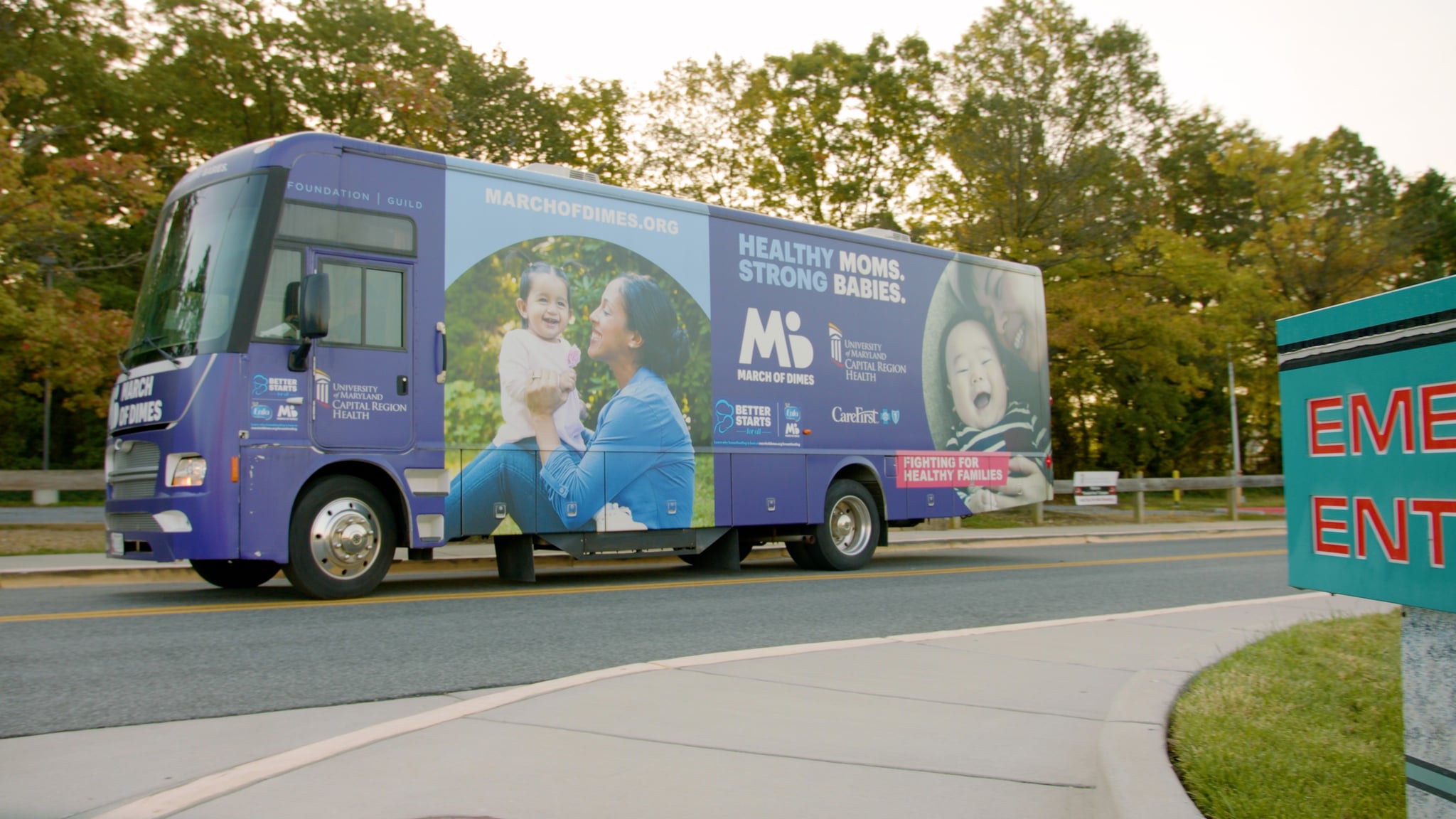 Having access to the proper maternal care is critical for a healthy delivery. Unfortunately, many soon-to-be-parents live in maternity care deserts, or areas that don't have sufficient access to OBGYNs, midwives, or hospitals with an obstetric wing. In fact, 7 million women of childbearing age in the US live in counties without access or with limited access to childbearing care.
Better Starts for All, an organization dedicated to getting pregnant people the pre- and postnatal care they need, is hoping to change that. Together with its partners, March For Dimes and Enfa, it's using two maternity care buses in Washington D.C. and Ohio to improve the lives of expectant parents.
"The US is the most dangerous place in the developed world for women to give birth and access to care is likely an important factor," Mallory Mpare-Quarles, the D.C. Mission Lead for Betters Starts For All, told POPSUGAR. "Women in both cities and rural areas are not able to easily access the quality health care they need. In particular, some women are not able to receive the necessary prenatal care that we know is important to ensure a healthy pregnancy."
Because 35 percent of counties across the country have been designated as maternal care deserts, and considering the maternal mortality rate is rising in the US (26.4 deaths per 100,000 births, according to Better Starts for All's website), giving expectant parents access to quality care is more important than ever.
"There are many reasons that we encourage women to be in touch with their providers regularly throughout their pregnancy," explained Abra Greenberg, a nurse with more than 10 years of education and curriculum development, who works on the mobile unit in Ohio. "First, providers can identify issues in pregnancy that may need to be addressed, treated, or closely monitored before a baby is born. Additionally, providers can help ensure that their patients have referrals to resources to ensure the best start. So access to prenatal care is not only about diagnosing. It is also about prevention and planning ahead."
"Through Better Starts For All, we are able to expand these services and communicate to people that there are resources available to support them through pregnancy and beyond."
As the mobile units are able to cater to pregnant people who don't have health insurance or speak English as a second language — March of Dimes, for example, provides literature in Spanish and has bilingual medical assistants on staff — the news about their existence has been spreading quickly via word of mouth.
"The mobile health unit offers a convenient alternative to care for women who have not yet been able to identify a provider in their community that they trust to see them through their reproductive health journey, including through pregnancies," said Billie Hamilton-Powell, a certified nurse-midwife and the business director for the Better Starts for All mobile health clinic in Washington, D.C. "It also fills an important gap, seeing patients who are uninsured or underinsured. That's why a bus is so important. Through Better Starts for All, we are able to expand these services and communicate to people that there are resources available to support them through pregnancy and beyond."
On an average day in Washington D.C., health providers in the mobile care unit see 12 patients per day. If they attend a health fair, they'll treat up to 25 patients per day. In Ohio, the need is just as great. Twenty percent of the population in 10 counties in the southeast region of the state is considered rural with lower access to care and decreased levels of insurance coverage, according to Abra.
"This lack of access to basic prenatal care often results in missed or delayed diagnoses, and it increases the risk of poor health outcomes including pregnancy-related death," explained Abra. "Transportation is a big issue as these counties are very rural and require extended travel to reach existing providers/sites. There is no good public transportation infrastructure and lack of a vehicle or money for gas are common barriers to care."
"This lack of access to basic prenatal care often results in missed or delayed diagnoses."
The type of care the mobile units offer truly runs the gamut. Patients can get everything from a prenatal checkup to a breast examination. "Pregnant women will be able to receive pre- and postnatal care from the mobile units," said Billie. "These units also offer other women's health and reproductive health services including pap smears and blood work, STI testing, ultrasounds, birth control prescriptions, and breast examinations."
Over the next three years, Better Starts For All plans to expand its programming to reach as many underserved pregnant people as possible through the following initiatives:
Mobile Health Services: continue to operate a mobile health vehicle that provides prenatal care and related maternal health services in areas where access to services is limited
Supportive Pregnancy Care (SPC): implement a group prenatal care model that provides clinical care, education, and support in a group setting
Virtual Moderated Education: provide online prenatal education for moderated groups
Community Coalition: develop a coalition of community members that will implement innovative strategies to increase access to care in maternity care deserts
Virtual Supportive Pregnancy Care: provide fully-functional telemedicine solution to virtualize obstetrician care in hard-to-reach communities
The goal of these projects is to get patients the medical help they need without any stigma attached. "What we are currently witnessing is a national crisis in maternal and infant health," explained Mallory. "It is not focused on urban vs. rural areas. Critically, while it is important that the care itself is high quality, it is equally important what the experience is like for women receiving care — is it free from implicit bias and stigma? Do patients feel like they have enough information and prenatal education to be strong advocates for themselves?"
Ultimately, Better Starts For All's mission is simple: to give underserved populations the help they need. "Preventive health is a key solution to solving so many health-related problems faced in these areas," underscored Abra. "Being able to bring healthcare directly to the community increases compliance, patient engagement, patient satisfaction, and reduces potential risk for medical complications."