I Asked Friends to Film Themselves Reading, and Now Story Time Is a Bright Spot For My Son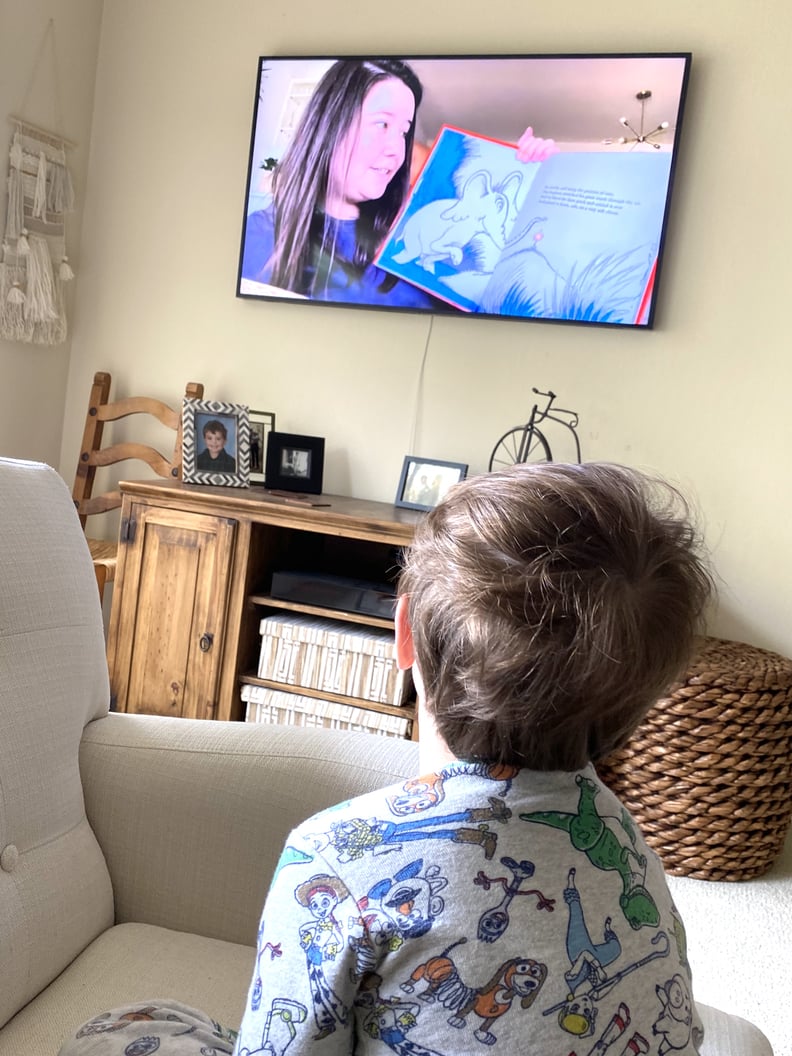 A few weeks into social distancing, my social butterfly of a son wasn't himself, and I knew I needed to get creative. He's an extrovert, the kid we jokingly call "the mayor" of his school because he has to talk to everyone in the building to say hi each morning and goodbye before he leaves at the end of the day. (Yes, pickup and dropoff are An Experience.) The only thing he loves as much as connecting with people? Books. So, a couple weeks after my son's school closed, I reached out to friends and family members to help us make story time the most special part of his day.
In various group texts and email chains, I told loved ones that my son was having a difficult time, and that I wanted to "surprise" him each day with appearances from some of his favorite faces. I asked people to film themselves reading a children's book — or, if they didn't have one on hand, to just say hi and share something about their day.
Within a week I'd collected nearly 20 videos, which were sent to me across multiple mediums. Most friends were able to text me their videos, but since some files were large, other friends sent clips as email attachments while others joined a Shared Album on iCloud to pop in their videos.
That first day, I told my son that we'd be having some special guests joining us for story time over the next few weeks, and his eyes lit up. "Mickey Mouse?" he asked. "Buzz Lightyear?" Uh, no, not quite, I told him, but I assured him he'd be very excited.
That's been, for me, the best surprise of all: my son getting to know people I care about in such a sweet, special, unexpected way.
He was. He really, really was. Every weekday for the last month, I've had a new video to share with him during story time, and I've used AirPlay so that we can watch the videos on our TV and he can see his favorite faces up close. He's gotten to see his grandparents, his aunts and uncles, cousins, godparents, lifelong friends, my coworkers, and even some friends of friends. It's been a mix of people my son knows well and some he's only met a couple times. In both cases, he's been thrilled, excited to hear from "new" people. That's been, for me, the best surprise of all: my son getting to know people I care about in such a sweet, special, unexpected way.
There have been a handful of days when, upon seeing someone he loves, my son's face falls. I can see it hitting him: he misses them. He's 3 years old, and he wants to bake cookies with grandma, and he's confused. I just look at him and nod. During this strange period, seeing a familiar face can feel oddly bittersweet. I hug him a little tighter.
Still, despite the sadness that occasionally slips into our experience, the story time cameos have helped to keep my son feeling grounded, connected, and loved. It's reminded me that "the village," so to speak, is always there for him. And for me, too.