All Dwayne Johnson's 3-Year-Old Wanted For Her Birthday Was to Meet Aquaman, So Jason Momoa Delivered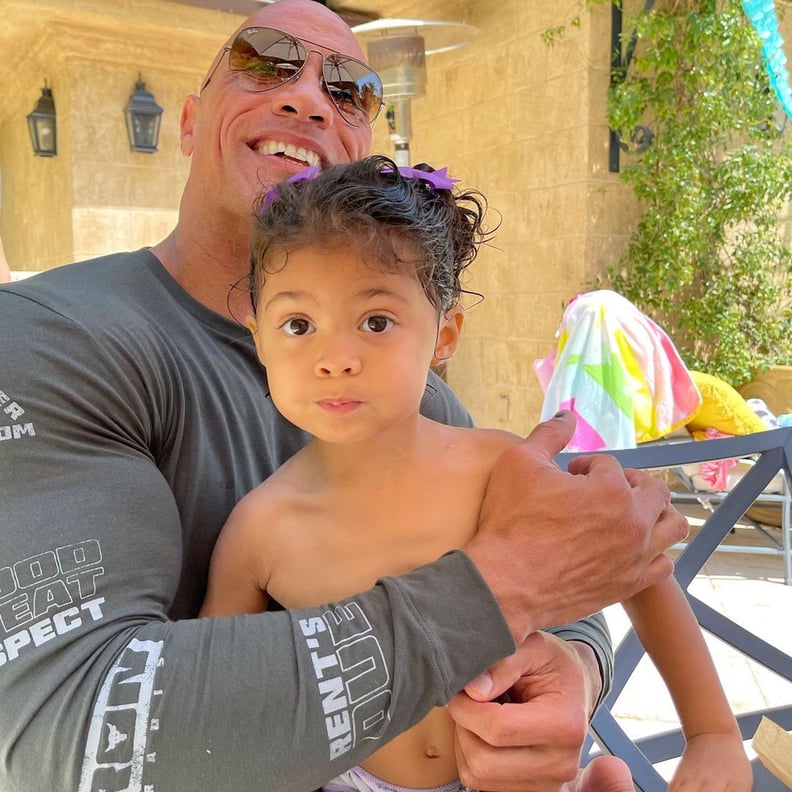 On April 18, Dwayne Johnson celebrated his daughter Tia's third birthday with a small win: she finally realized, after much confusion, that her dad is the voice of Maui in the movie Moana. But with this realization came a quick follow-up question of, "Daddy do you know AquaMan?" which then prompted a full reveal of the toddler's obsession with the aquatic superhero.
In his initial birthday post to Tia, the dad of three gushed about his youngest daughter. "Happy Birthday to my sweetest lil' Tia Giana," he wrote. "Loving, kind, tenacious and tough (like your mama;) and my greatest joy is being your daddy. I always, 'got you'." The rest of his caption goes on to share her Moana epiphany and her asking about Aquaman, which prompted his second birthday post.
"The birthday girl Tia is OBSESSED with @prideofgypsies!!" Dwayne wrote in the caption of a video of himself and Tia watching Aquaman, starring Jason Momoa. In the video, as they watch the movie, Dwayne starts to ask Tia, "Who's cooler, Daddy . . . " and before he can add "or Aquaman," Tia's already responded. "She didn't even wait til I finished the question, before answering definitively, 'AquaMan' 🤣🤦🏽‍♂️The irony here just makes my soul laugh and heart smile," Dwayne wrote.
The irony, of course, is that not only does Jason play Tia's favorite superhero, Aquaman, but her dad is also set to play a DC comic book hero in the upcoming 2022 film, Black Adam.
Dwayne refers to this character in a third birthday post in which he continues to share how deep Tia's love for Aquaman runs with a photo of his daughter smiling at a drawing he did of the superhero. "Now this is getting ridiculous...😠 For Tia's birthday she insisted AquaMan join us for breakfast — and then after we eat, she asked daddy to draw AquaMan so she can FRAME IT and hang it up in her room," he wrote in the caption. "Black Adam's gonna hand out a fresh Aqua Ass Whuppin' if this disrespect keeps up."
Finally, Dwayne gave in and called his pal Jason — who had been commenting on each of these birthday posts, mind you! — to see if he could make Tia's birthday dreams come true. Jason filmed a short video for Tia, wishing the little one a happy birthday and telling her that maybe one day they can get together and their families can play. After his sign off, Tia jumps up and down in excitement, and it's honestly one of the cutest things ever.
"I can't thank my brother @prideofgypsies enough for making this adoring 3yr old's birthday the best EVER. Her reaction is priceless and what it's all about," Dwyane captioned the video. He added, speaking to Jason directly: "I love you back, uso and this kind of stuff will ALWAYS be the best part of our fame."
Keep reading to see each of Dwyane's birthday posts for Tia, as well as a clip of Jason's birthday message to the toddler.
Dwayne Johnson's Happy Birthday Message to His 3-Year-Old Daughter, Tia
Jason commented "happy birthday tia" on the post along with a string of red heart and laughing emoji.
Dwayne Johnson Watching Aquaman With His 3-Year-Old Daughter Tia
Alongside another line of heart and laughing emoji, Jason commented on this post, "beautiful ohana."
Dwayne Johnson's Drawing of Aquaman For Tia's Birthday
As the Aquaman obsession continued to escalate in this post, Jason sweetly commented to both Tia and Dwayne: "happy birthday baby tia. all my aloha my braddah. beautiful ohana."
Jason Momoa's Birthday Message to Dwayne Johnson's Daughter, Tia
Jason also commented on Dwayne's final birthday post for Tia, writing: "what an honour. we do it for our babies. for the next generation. happy birthday baby tia see u [in] hawaii."