Joe Biden and Kamala Harris's Plan For Paid Leave
How Joe Biden Plans to Make 12 Weeks of Paid Leave a Reality For American Families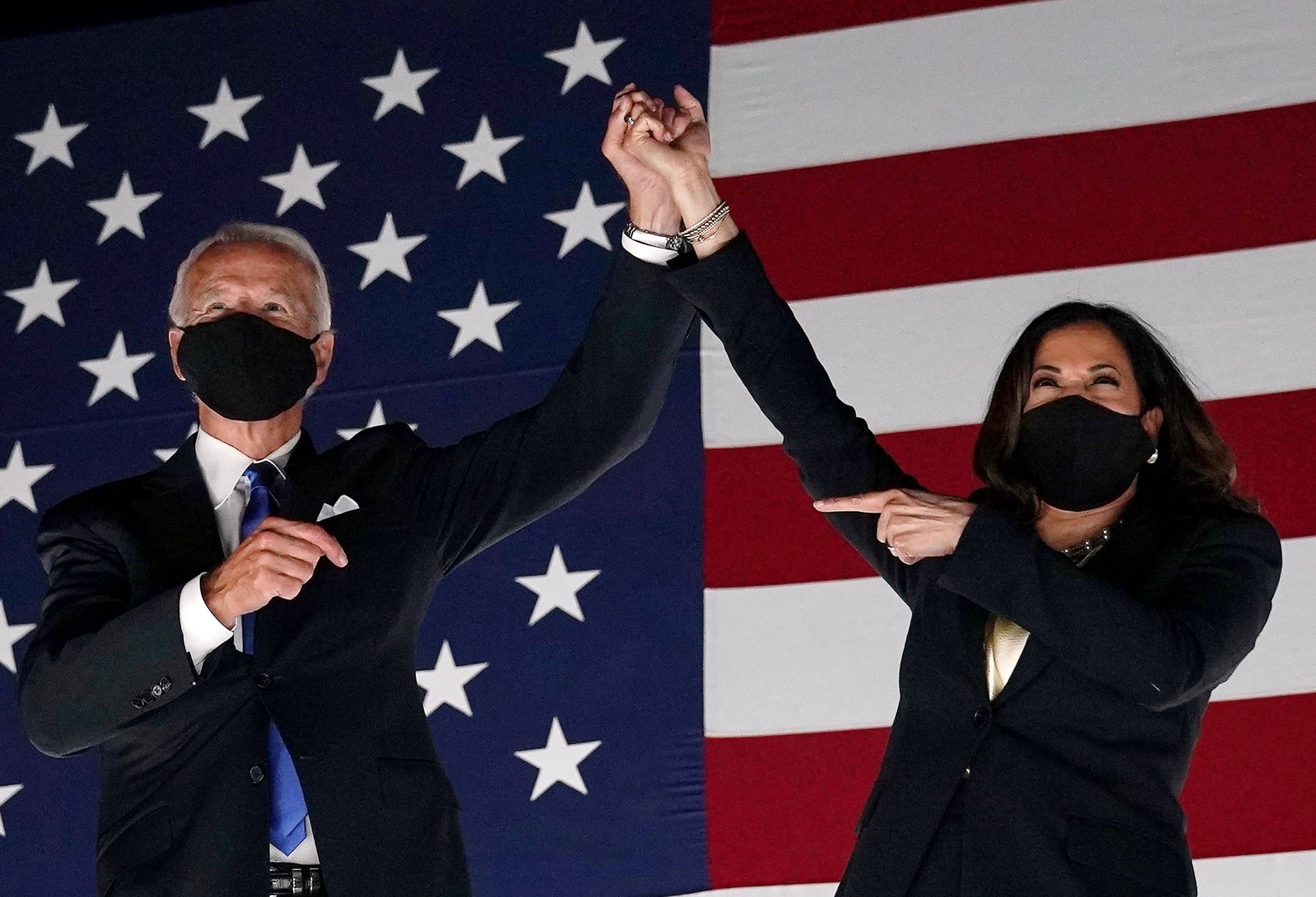 In the last few months, the Biden-Harris campaign has rolled out multiple policy plans to address some of the biggest hurdles facing American families today. In addition to outlining plans for making affordable childcare more accessible and reopening schools safely, Joe Biden and Kamala Harris have gone on the record in support of "passing legislation that will provide 12 weeks of paid leave for all workers for their own or a family member's serious health condition."
Recently, members of PL+US Action, a national campaign to pass high-quality paid family and medical leave for every person by 2022, hosted a "Conversations On Care" Facebook Live event with POPSUGAR featuring Harris's husband, Doug Emhoff, and several members of the Biden-Harris campaign to discuss how 12 weeks of paid leave would benefit American families.
An issue that clearly affects American families as a whole, rather than solely women, the pandemic has shed light on how desperately policies surrounding paid leave need to change. "This pandemic has revealed now to everyone what us working women have known for generations, which is that we have all struggled on our own to try to figure out how to balance caring for our kids or our spouse or loved one or caring for ourselves when we need to and work," Tina Tchen, the former executive director of the White House Council of Women and Girls, explained in the Facebook Live event.
Tchen matter-of-factly pointed out that the US is lagging behind the rest of the world when it comes to this matter. "The notion that we entered this pandemic in the United States as the only industrialized nation in the world without a national paid leave policy and without even a national sick leave policy [is ridiculous]," she said, adding, "All of a sudden, everyone realized, how can we enter into a pandemic without workers knowing they can stay home if they are ill?"
"We are entering the caregiving crisis, where we are about to undo several generations of progress in women entering the workforce."
According to Tchen, the American people are in serious jeopardy of entering a caregiving crisis brought on by COVID-19. "I keep saying we are in a fourth crisis," she said. "We have a healthcare crisis, [an] economic crisis, [a] racial-justice crisis. We are entering the caregiving crisis, where we are about to undo several generations of progress in women entering the workforce and being able to stay in the workforce."
She continued, noting that the ongoing issues brought on by the coronavirus have led working parents to make impossible choices. "Now women who are shouldering 80 percent of the caregiving responsibilities at home are confronted with the challenges of schools [not being] open [and] child-care centers are closing," she said. "Friends and family are getting ill. People are getting ill themselves, and they have to choose between the workforce and staying home."
Additionally, Glynda Carr, the president and CEO of Higher Heights for America — an organization dedicated to building the political power and leadership for Black women — explained that extending paid leave will have a positive effect on Black women in the US.
"Black women have not only been our essential workers, the foundation to keeping this country going all the time and particularly keeping this country going during a pandemic while managing their homes [and] taking care of children," Carr said. "Many of us are taking care of someone else outside of our extended family and potentially our parents or grandparents."
Although the panelists who participated in the "Conversations On Care" event agree that we have come far in terms of policy surrounding paid leave, we still have a long way to go regarding legislation.
How Joe Biden Has Supported Paid Leave in the Past
Throughout his political career, Biden has actively supported measures to extend paid leave for families. As a senator, he backed the 1993 Family and Medical Leave Act, which mandated that companies with more than 50 employees offer 12 weeks of unpaid leave to workers.
In 2015, Biden also supported President Barack Obama in his efforts to enact an executive order "requiring federal contractors to offer paid sick days to their employees and pressed Congress to pass legislation that would provide family and medical leave to private-sector workers," according to The Wall Street Journal. Tchen, who worked closely with Biden while he served as vice president, agreed that he tried to make paid leave a reality for all Americans at the time.
"Now is the time to elect the Biden/Harris administration to get this sick leave for the first time."
"I was there with President Biden when we tried to extend paid leave," Tchen explained. "We did it for the people who worked for the president. That was as far as we could go. We needed Congress to act on the rest. Now is the time to elect the Biden/Harris administration to get this sick leave for the first time."
For Biden, the matter is deeply personal. During a 2016 rally in New York for Governor Andrew Cuomo, the former vice president shared his experience losing his 46-year-old son, Beau, to brain cancer in May of the same year.
"How do you choose between leaving the bedside of your dying son or daughter who doesn't want you to leave, who just want you to hang on, to go to work?" Biden said. "Because if you don't go to work, you don't go to work for a while, you might not be able to turn the lights on in that apartment or that house where that child is."