Katherine Schwarzenegger Pratt Talks New Children's Book
Katherine Schwarzenegger Pratt Loves Matching Outfits, Birth-Order Theory, and Bedtime Routines
As POPSUGAR editors, we independently select and write about stuff we love and think you'll like too. If you buy a product we have recommended, we may receive affiliate commission, which in turn supports our work.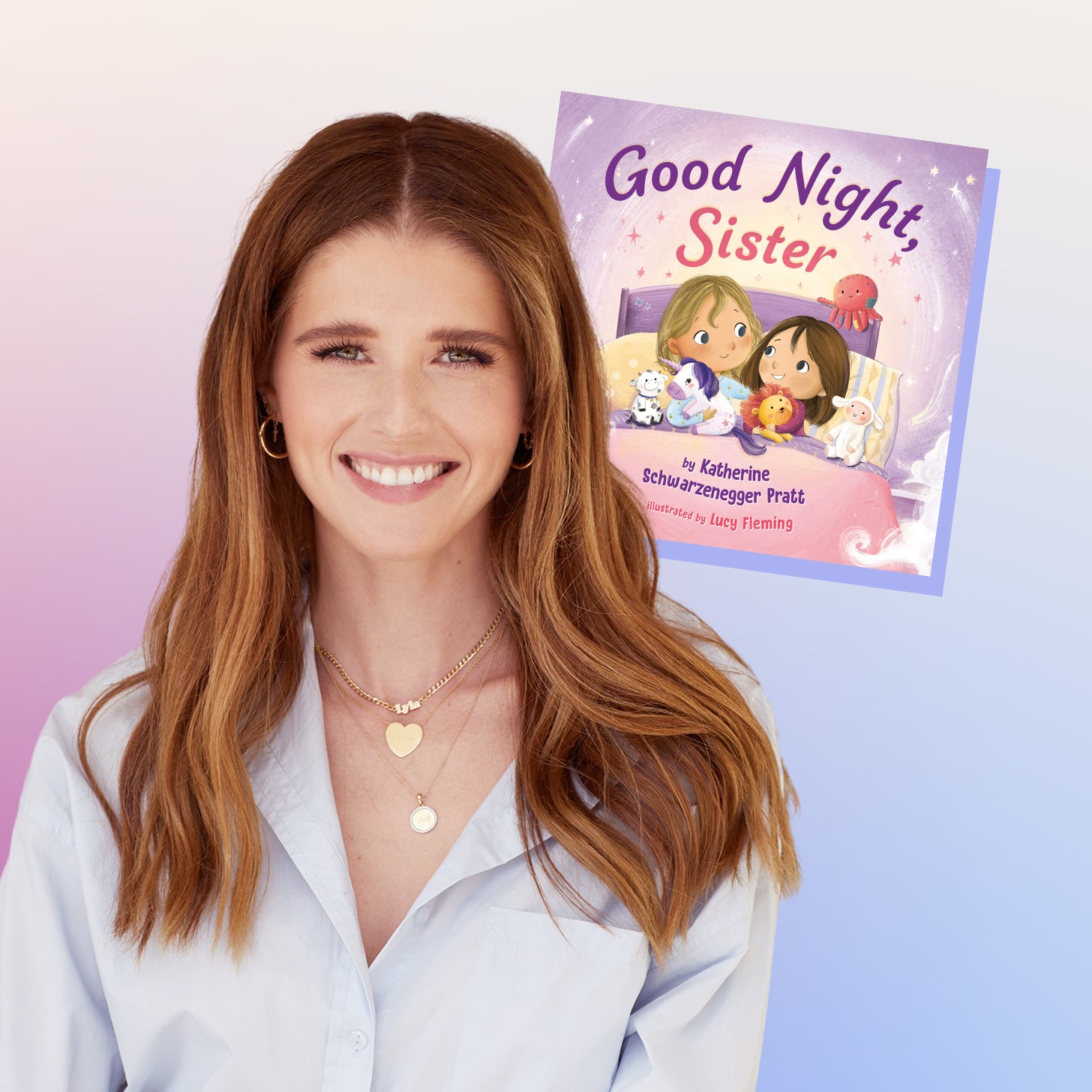 Image Source: Photography by Cindy Gold; Design by Michelle Alfonso; Illustration courtesy of Penguin Random House
Katherine Schwarzenegger Pratt started writing her new book, "Good Night, Sister," about two sisters setting out to sleep in their own rooms for the first time, just weeks after giving birth to her first daughter, Lyla.
Now, more than two years later, she finds herself in New York launching the children's book with a toddler and 8-month-old Eloise in tow. POPSUGAR spoke with Schwarzenegger Pratt the day her new book launched, and she was beaming with excitement.
"To write a children's book with being an actual mom myself is amazing," she tells POPSUGAR. She wrote her first children's book, "Maverick and Me," in 2017. "I've taken a lot of notes being a parent myself, of what the attention span is like, what words resonate with young children, what images really capture a child's eye or capture my daughter's eye."
While her new book is aimed at ages 3 to 7, it hasn't stopped Lyla from showing interest. "I had it out on the counter in the kitchen, and she was like, 'Mommy, can I read that book?' So I grabbed it and I started reading it with her," Schwarzenegger Pratt shares, pointing out how "the stuffys" in the pictures are based on the ones Lyla has in her crib. "And then at the end of it I was like, 'So what did you think? Did you like it?' And she's like, 'Mommy, it's so sweet. It's really lovely.'" She says, laughing, "I was like, 'Thank you. Also, how old are you?'"
But despite raising sisters herself, the author says she actually was inspired by her own relationship with her sister, Christina. "We just did everything together growing up," she says with a smile. "And one of the things that really caught me off guard as a new mom was how often I would be reflecting on my own childhood and be having these kind of flashback memories of being a little kid, doing things with my siblings and parents."
When she was first experiencing postpartum with her daughter Lyla, Schwarzenegger Pratt spent a lot of time thinking about her own childhood. "Now I'm sitting here reading the same books that I read with my parents to my daughter," she reflects. "I was hoping that 'Good Night, Sister' could be a book that would become part of people's bedtime routines, because our bedtime routine growing up was such a big part of our day."
The dynamic between the main characters, Kat and Tina, in "Good Night, Sister" is a direct comparison to Schwarzenegger Pratt's own sister (cough, cough, just look at the names). "I was really shy and reserved as a child, and Christina was much more confident and bold and brave, and so she did everything first," she explains. From camp to horseback riding and even the monkey bars, Schwarzenegger Pratt didn't try it unless Christina did it first. "So it was a lot of leaning on her for strength and for bravery."
And though Christina is younger, Schwarzenegger Pratt says she still believes in birth-order theory — that the order in which a child is born shapes their personality. "I'm the oldest of four, and so when I was younger, I definitely had all the kind of typical oldest-sister characteristics or traits," she says, laughing. "Even to this day, I constantly remind my siblings that I'm the oldest and that I'm the boss of them — and my youngest brother is 25!"
Since launching her Instagram show "BDA Baby" ("before, during and after baby"), Schwarzenegger Pratt has spent a lot of time talking about the complexities that come with birth order and sibling relationships. "As you get older, that dynamic changes, sometimes for the better, sometimes for the worse. And so I'm very grateful to have such a great relationship with my siblings and to just always be here to remind them who's in charge, because it will forever be me," she jokes.
As for the dynamic and unique personalities of her own kids, they're still developing. And she'll enjoy it while it lasts, especially if that means still getting to dress them in matching outfits. "My mom saved all of our matching outfits for Christina and I. And so now I have two girls that are pretty much the exact same age difference as Christina and I, so I'm putting them in these matching clothes and re-creating all these pictures 33 years later," Schwarzenegger Pratt said during a recent episode of "BDA Baby" with Dr. Shefali. She hopes she still has some time left to get away with the twin look before they get older and demand separate outfits from each other, "because I have so many pictures to still take!" she said.
In her conversation with POPSUGAR, the 33-year-old also opened up about how grateful she is for how her parents, Arnold Schwarzenegger and Maria Shriver, raised her and her siblings and how they continue to be hands-on grandparents. (They both live minutes away from her home with husband Chris Pratt.) "My parents did a really good job making sure that we were celebrated for each of our unique interests and that they would allow us to feel out what we were interested in separate from one another," she says.
And that's really what the book is about: celebrating the relationships that make us feel safe. "We need to nurture and cultivate those relationships at an early age to encourage kids to find somebody that when they're scared or when they're nervous and they need a little cuddle from a friend or from a sister or a parent," Schwarzenegger Pratt says. She pauses and smiles. "And so to be able to talk about sisterhood now after reflecting on so many moments from my childhood and be best friends with my sister and have her here with me, helping me with my two girls who have sisters in each other, is really special."
Good Night, Sister ($17) is available now everywhere books are sold.