In theory, baby wearing seems like such a simple, natural thing. In practice, the art of wrapping a baby to one's chest is more a complicated science – one that most new parents have trouble mastering even if they don't want to admit it.
But, it's normal to be confounded by that one long piece of fabric or to stress over the complicated buckles and fasteners of a baby carrier. Heck, even famous parents don't always get it right the first time. Ryan Reynolds, for instance, didn't even realize he was wearing baby James incorrectly when his wife posted an Instagram of them recently.
So, with that in mind, we've rounded up the 11 most common baby-wearing mistakes, many of which are legitimate safety concerns. Before giving up — or, worse, using your wrap, sling, or carrier wrong — read on.
01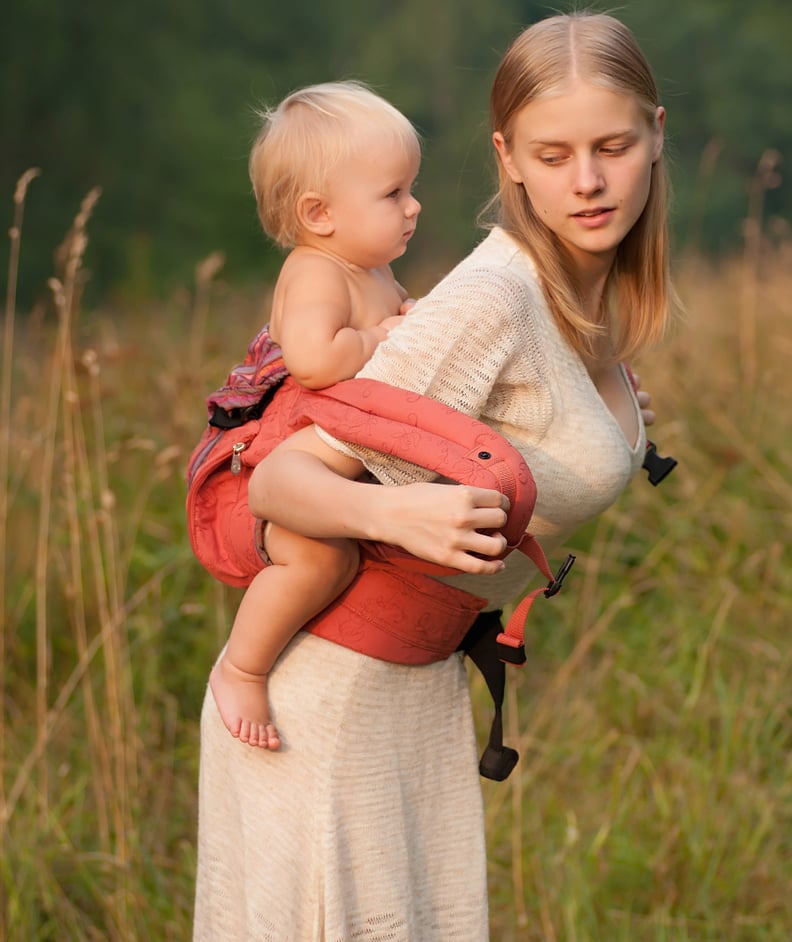 Buying the Wrong Size
One of the most common reasons parents give up on baby wearing is because their equipment wasn't the correct size. Consider the Goldilocks principle when shopping for a baby carrier, wrap, or sling: it can't be too big or too small, too loose or too tight — it has to fit just right. The best way to ensure a proper fit is to wait until you can go and try them on, ideally with your baby.
02 Not Reading the Instruction Manual
It might seem simple enough in theory, but properly wearing your baby takes plenty of practice. Don't expect to get it right on the first attempt, and give yourself plenty of time to learn the different holds, especially for wraps that are just one long piece of fabric. Thankfully, the Internet has loads of YouTube videos and step-by-step guides to help you get the hang of it.
03 Wearing the Baby Too Low
Not only is a low-hanging baby bad for him, it's painful for you. Your baby's head should be able to rest on your chest, or when carried on your back, on your shoulder. Another issue with a baby being worn too low is that he's likely also being worn too loose and thus more likely to slump. A handy trick? Press on your baby's back. If he moves toward you, the carrier isn't tight enough.
04 Having a False Sense of Being Hands-Free
Many baby-wearing parents rave about all the tasks they can accomplish with their infant strapped on, but it's important to never have a false sense of security. Babies can move, and ties can come undone. Be especially present when multitasking — especially when it involves cooking over a hot stove — so that if the need arises, you are able to protect your baby.
05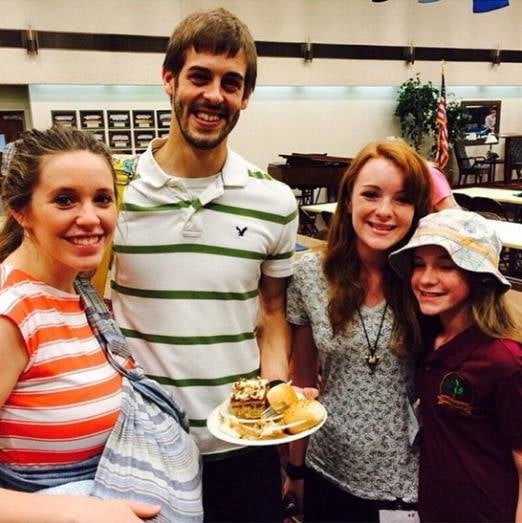 Covering the Baby's Face
Jill Duggar received lots of feedback after this photo surfaced of her carrying her baby, completely covered, in a sling. You should always be able to see your baby with a quick glance and never cover her head in fabric — a common suffocation hazard.
06 Not Giving the Baby Neck Support
In the early months, babies don't have the muscles yet to support their head, and it will literally flop backward if not held snugly in place.
07 Restricting the Baby's Airways
If you notice that your baby's chin is resting firmly on her chest, you need to readjust. Such a position can potentially cut off the baby's oxygen supply.
08
Letting the Baby's Legs Dangle Straight
Even stars like Ryan Reynolds don't get this one right. Babies aren't meant to hang perfectly straight with legs dangling, as this position puts them at risk for developing hip dysplasia. Ideally, the baby should be in a frog-like stance, with knees bent above her butt and – if in a carrier – her legs at your sides.
09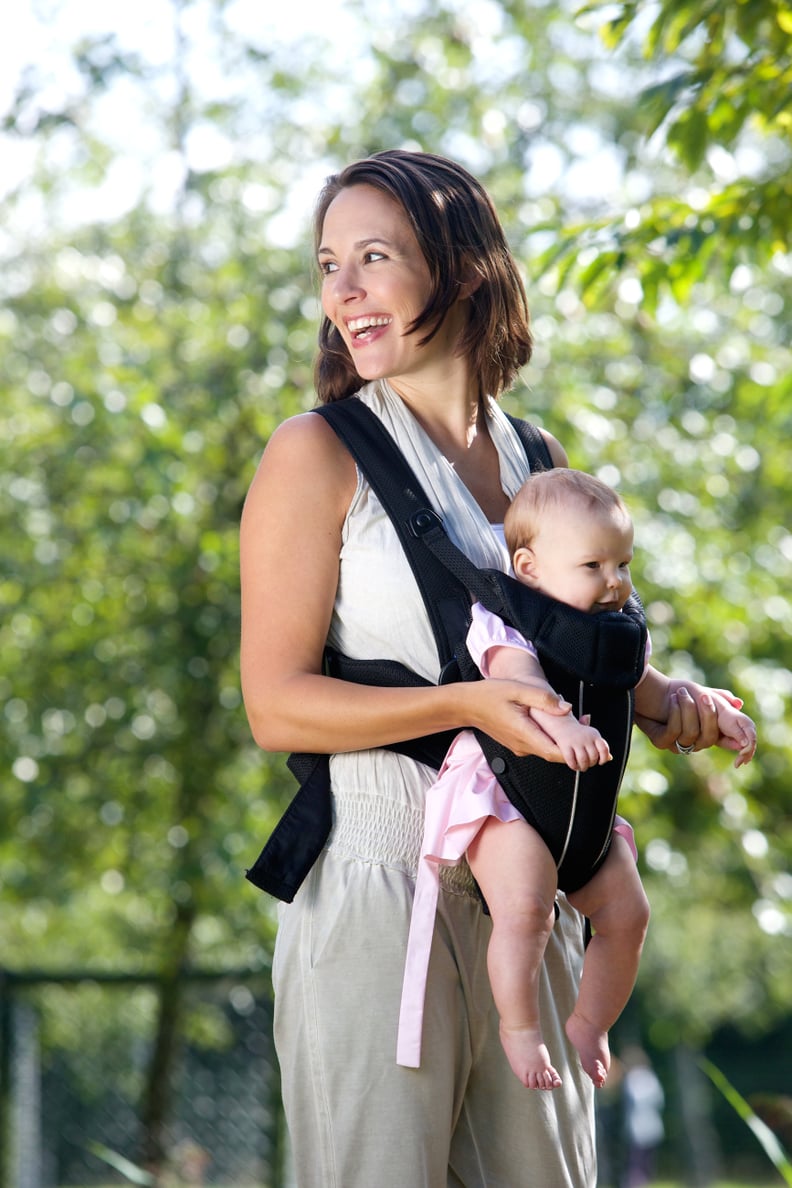 Switching to Front-Facing Too Early
Don't rush to put your baby in a front-facing carrier. Newborns need time to build up their neck strength, and an outward look at the world can be overstimulating for infants. The general recommendation is to wait until your baby can hold his head up steadily, usually at 4 to 6 months old, before turning him around.
10 Letting the Baby Overheat
In the Winter months, especially, you might err on the side of putting your baby in too many layers. All those bundles coupled with your body heat might make your infant hotter than you'd expect, so pay close attention for perspiration or other signs of overheating.
11 Not Alternating Positions
If you found a position you love, it's best you not get too used to it. Not only is it important to try out different positions to prepare for when your baby gets bigger and more mobile, but in the early months, it's vital to make sure your baby's head rests in both directions equally. Always having your baby carried with his head to the left, for instance, can propagate any muscle imbalances and flat-headedness. Just guide his head to the right or switch sides in the wrap every so often.