As POPSUGAR editors, we independently select and write about stuff we love and think you'll like too. If you buy a product we have recommended, we may receive affiliate commission, which in turn supports our work.
If there's an unsung hero in our home, it's got to be the cleaning products we rely on to whisk germs away and keep everything looking spick and span. But what are the best household cleaners — and beyond efficacy, which ones are actually safest for your family? To find out, POPSUGAR tapped an expert: Alexandra Crane, Senior Manager, Brand at Grove Collaborative, an ecommerce company that delivers natural, sustainable household products directly to your doorstep.
While it might be a stretch to say some household cleaners are on-trend, Alexandra says she's seeing a movement of shoppers becoming savvy to what's in their products. They're reading labels and opting for cleaners devoid of harsh chemicals or toxins, which can be harmful to both people and the environment. Alexandra highlighted some undeniable advances in the industry that your family — and your home — will benefit from learning about. From the best ingredients to the most desirable scents, check out the best household cleaners you can buy, ahead.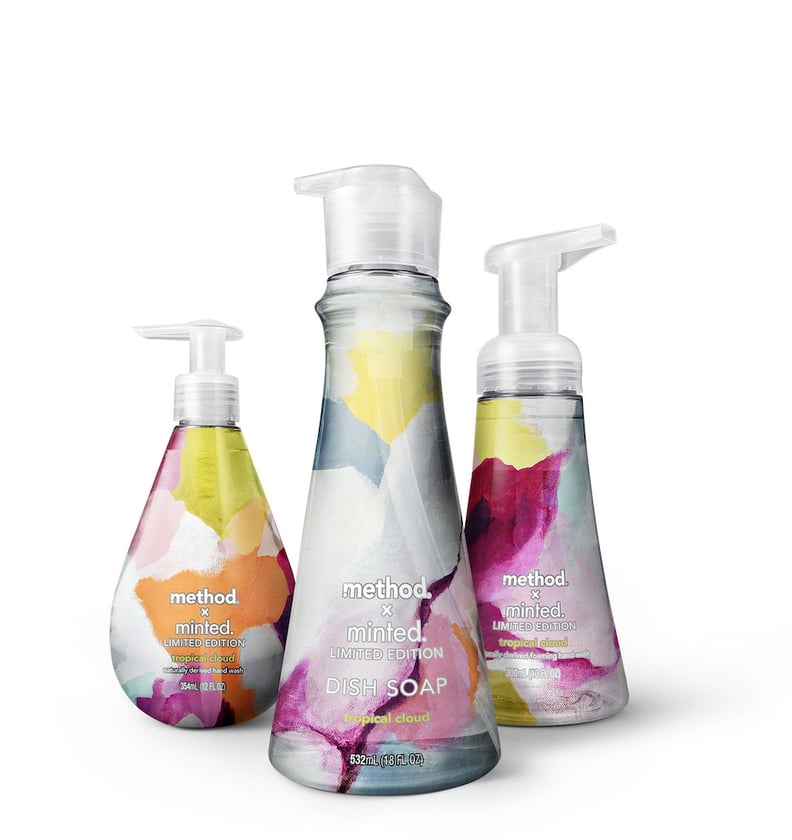 Dish Soap
One of the most common cleaning tasks is one of the most important – your dirty dishes. Never do confusing chemical names seem less ideal when they are in the bottle being used to clean surfaces off which you eat food. Thankfully, Method Dish Soap ($3) is formulated with plant-based, biodegradable ingredients and is both child- and pet-friendly. The company behind Method, in fact, is the pioneer of premium planet-friendly and design-driven personal care products, and its new collaboration with Minted – in which four artists designed the backdrop for four limited-edition fragrances – has given the trademark hand and dish soaps a creative, elevated twist that will make grime-fighting a little less icky.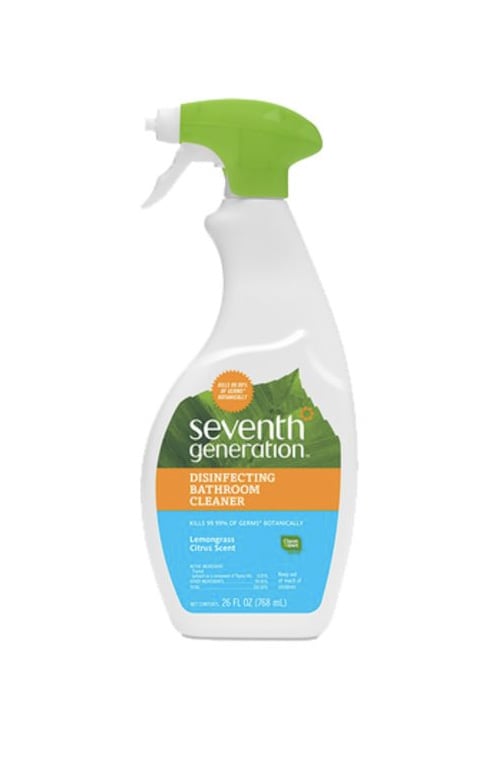 Bathroom Disinfectant
When it comes to the bathroom, you want to feel confident you're really knocking out those nasty germs — but you don't want to suffocate from toxic fumes while doing it. When you need to be sure you're killing bacteria, Alexandra recommends Seventh Generation products. "They actually disinfect, but they don't feel harsh. I like that I can clean with them without burning my hands or nose." She's a big fan of Seventh Generation's Disinfecting Bathroom Cleaner ($9), which won't overwhelm you with chemicals, even if you're cleaning in a small space. And if you want to be extra cautious — it is flu season, after all — she suggests letting the cleaner sit for 30-60 seconds before wiping it away.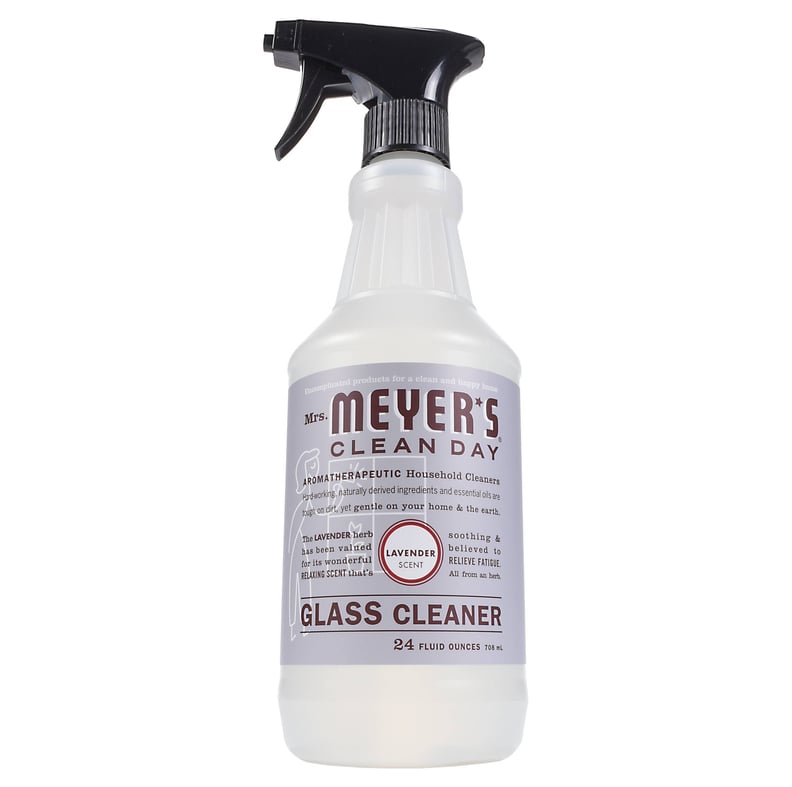 Glass Cleaner
Buh-bye, Hawaiian Sunrise and Shower Fresh fragrances (not that we knew what you actually were anyways). This year, shoppers have wizened up and are looking for authentic, nature-derived scents like mints and citruses. How can you make sure you're getting something natural? Alexandra says to check the ingredients on the label. If you see the word "fragrance," it usually means something synthetic was added, whereas if you see essential oils, you can assume it was scented naturally. For a glass cleaner, she recommends Mrs. Myers' Lavender Glass Cleaner ($5). The soothing scent is the cherry on top of the wonderful streak-free cleaning power of the product.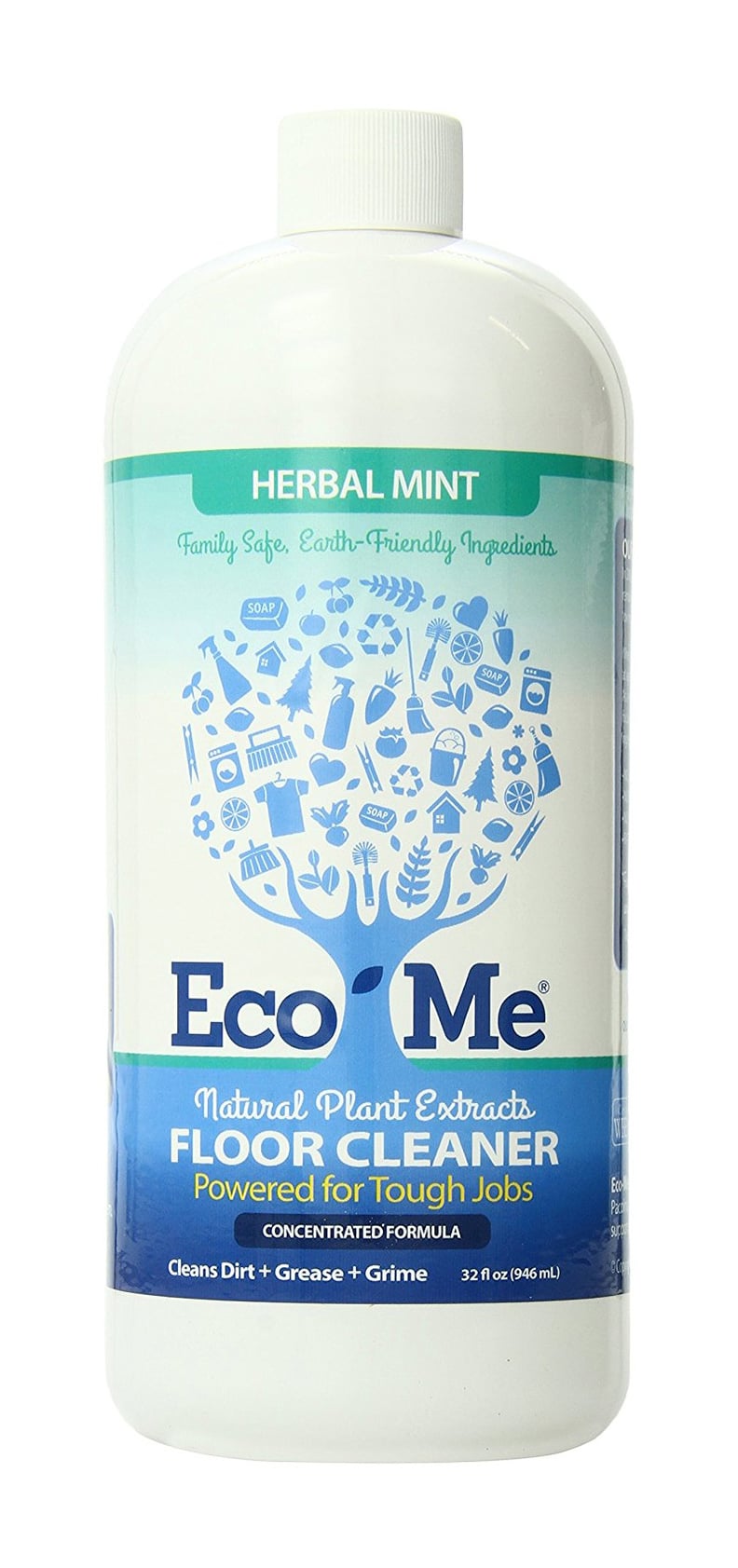 Floor Cleaner
Whether you have laminate, tile, stone, or sealed wood floors, you can make them sparkle with Eco-Me Natural Multi-Surface Floor Cleaner ($12). It smells great as it breaks down dirt, grease, and grime. We love that it's free of toxins and fumes, so you can clean it beside kids and pets without fear of causing harm.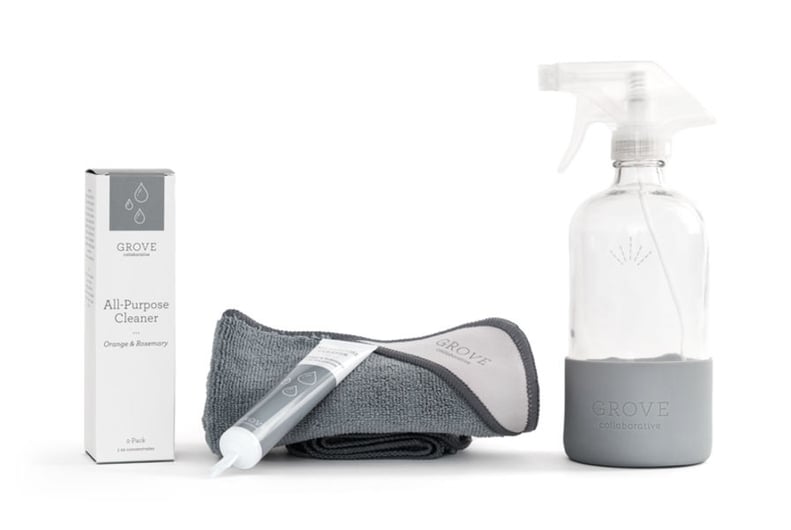 All-Purpose Cleaner
"Most cleaning products are over 95 percent water," Alex reveals. Save yourself from having to haul a water-heavy cleaner back from the grocery store while also cutting down on packaging waste by opting for Grove Collaborative's All-Purpose Concentrate Cleaning Kit ($24). Alexandra explains, "We've taken the cleaning solution and concentrated down to 1 ounce. Instead of getting a big bulky bottle that's heavy and spills, you get a neat 1 ounce tube that you dispense into a glass spray bottle and add water to, creating a standard size 16 ounce of cleaner ready to be used." We have to agree that the concentrate just makes for a nicer cleaning experience.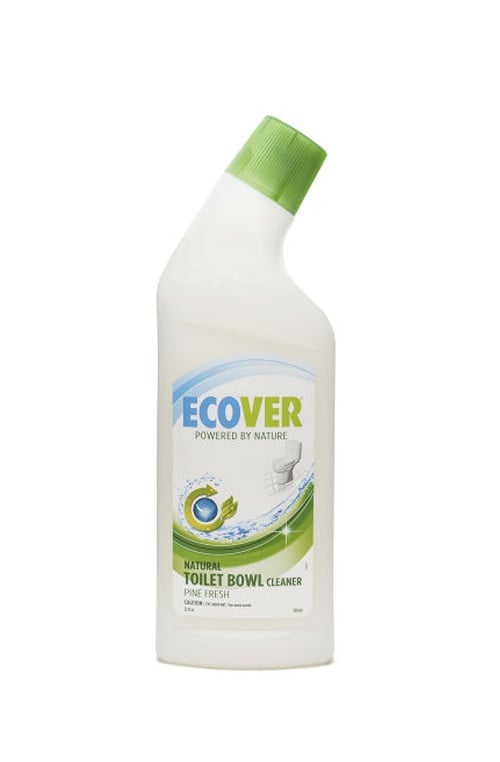 Toilet Bowl Cleaner
Cleaning up after doing your business is serious business. No wussy cleaner will do — but that doesn't mean you have to turn to harsh chemicals to get the job done. Ecover's Toilet Bowl Cleaner ($14) uses plant-based ingredients and a biodegradable formula to clean, decalcify, and freshen.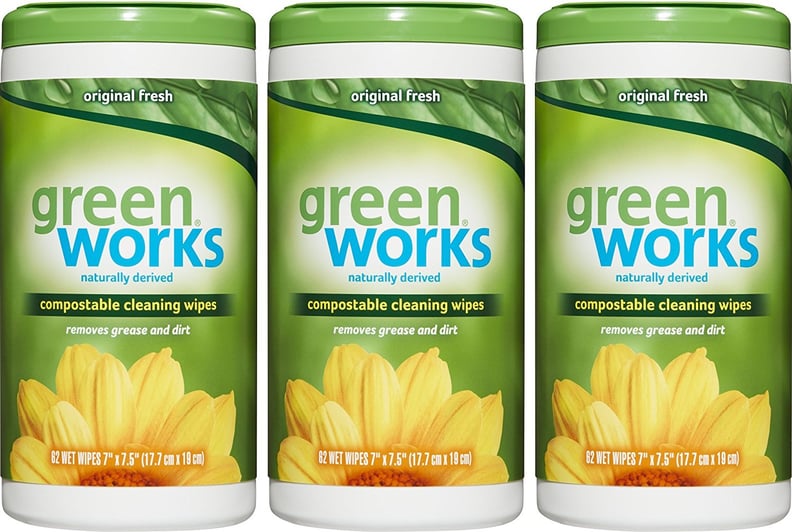 Cleaning Wipes
Given that cleaning wipes usually come into direct contact with your skin, it's extra important to make sure they're not filled with harmful chemicals or toxins. Enter: Green Works Compostable Cleaning Wipes ($14). They're naturally derived, biodegradable, and safe to use on just about every surface in your home. So when your son comes home from school coughing or your daughter gets the stomach flu, you can follow them around wiping down every surface they come into contact with, from countertops to toilet handles.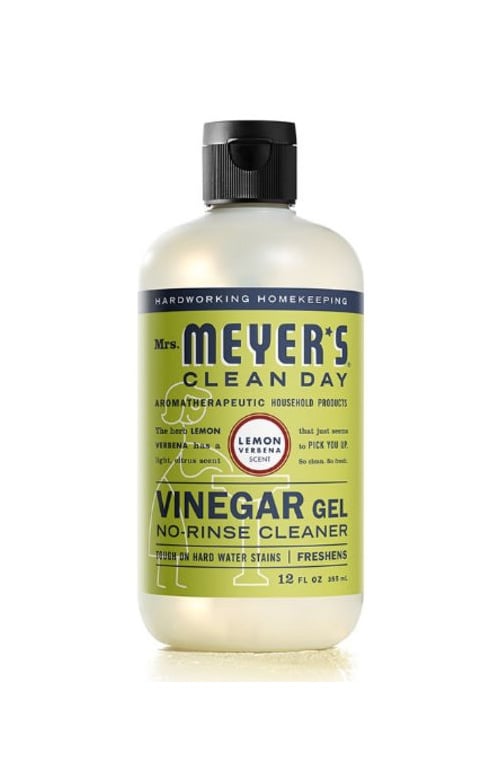 Stainless Steel Cleaner
At first this product might be kind of a head scratcher, but once you figure out how to apply it, your home will never shine so bright. Mrs. Meyer's Vinegar Gel Cleaner ($4) removes dulling grime from just about every surface; think: shower doors, stainless steel surfaces, door knobs. And it does it sustainably, using vinegar, essential oils, and plant-derived ingredients. It's a double win.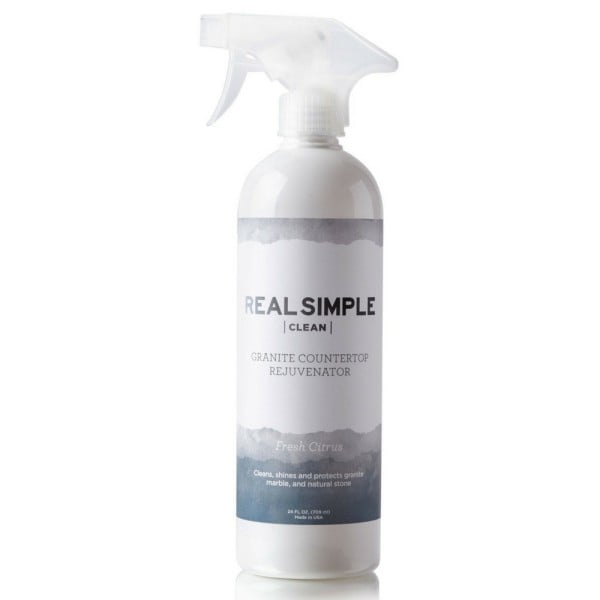 Natural Stone Countertop Cleaner
When it comes to creating powerful niche cleaners that are actually good for the environment, Alexandra says Real Simple is building a stellar reputation for itself. Its Granite Countertop Rejuvenator ($13) is no exception. With a refreshing citrus scent and easy-to-use spray bottle format, it effortlessly dissolves grease and removes spills from elegant natural stone surfaces, like marble and granite, so your kitchen and bathroom look their best.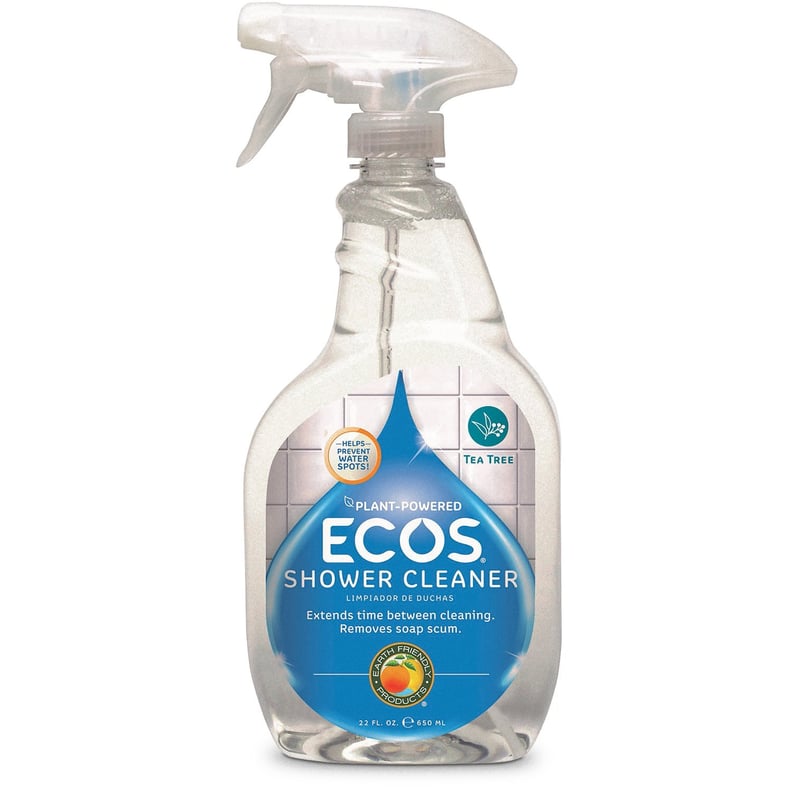 Shower Cleaner
Stop soap scum and mildew in their tracks with ECOS Shower Cleaner ($6 for pack of two). Scented with tea tree essential oil and aloe vera and powered by plant-derived ingredients, regular use of this product will allow you to go eons between deep shower cleans. And don't worry about it coming into contact with your bare skin as this product is free of dyes, parabens, and phosphates.