A Bride Gave Her New Stepson a Ring on Her Wedding Day, and the Photos Are Stunning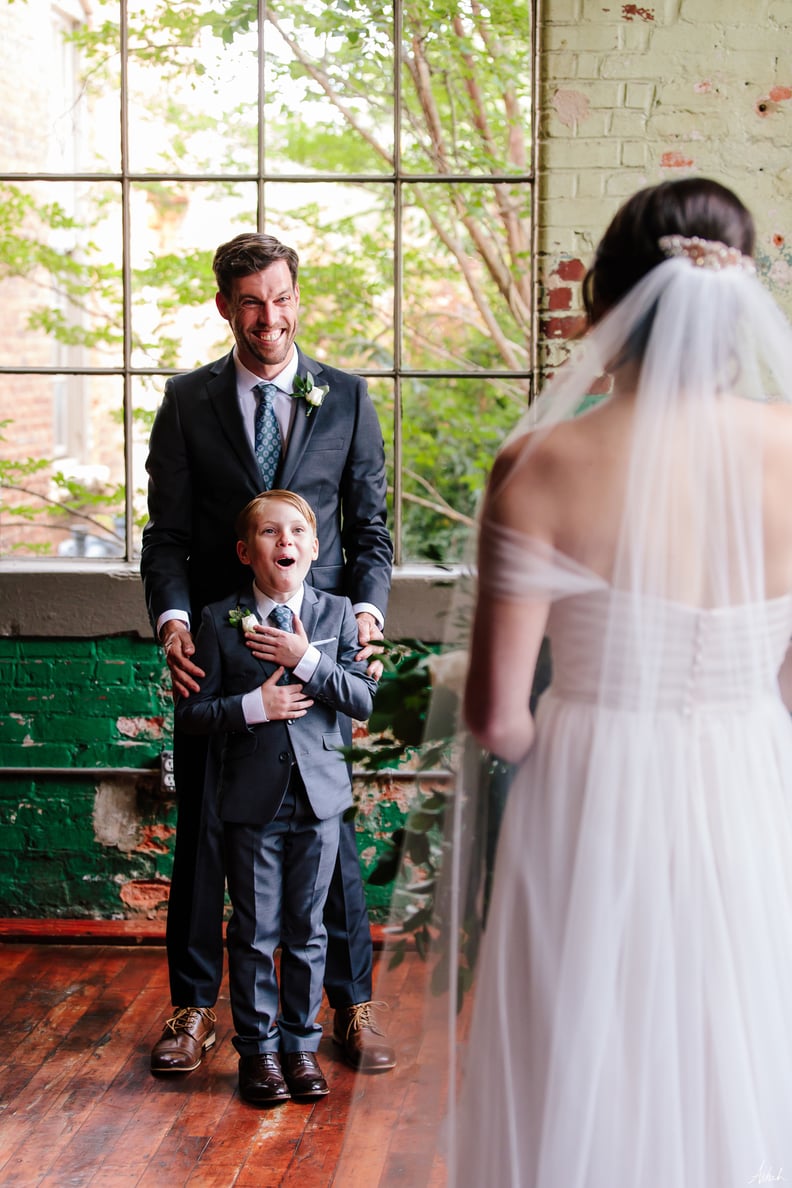 Ashah Photography
Before marrying her husband, Tyler, Rebekah Ryan Seabolt knew she wanted to meaningfully incorporate her new stepson, Jude, in a big way on their special day. Determined to mark the beginning of their journey as a family, Rebekah started planning the gift she was going to present Jude with long before she said I do. She enlisted the help of photographer Ashah Smith to capture the heartwarming moment, and the rest is history!
"I always knew that I wanted to do something special for Jude so he felt included on our big day," Rebekah told POPSUGAR. "But I had a hard time coming up with an idea that wasn't cheesy or overdone. I remembered throughout our engagement Jude mentioning that he wanted a ring since his dad and I were going to be getting them. I figured this would mean the most to him as a gift!"
With her heartfelt idea in mind, Rebekah began looking for the perfect ring on Etsy. "I had the ring engraved with 'forever family' and our wedding date on it to make it even more special than just the thought behind it," she explained. "I wanted it to serve as a reminder to him as he got older of the day we officially became a family."
"My role as a step-mom is extremely important and I take the honor of being in this role very seriously."
After going back and forth on when to give Jude his new gift, Rebekah opted to have a special moment with Jude during her first look before the ceremony. "I decided it would mean the most to Jude if I had a special moment with him so it could be a more intimate moment for us as a family," she said. "I'm so thankful we did it prior to the ceremony because having that moment alone (with our photographers of course) before we officially became a family was so special and will forever be etched into my memories as being one of the best days of my life. I pray it's the same for Jude."
Now that Rebekah and Tyler are officially hitched, she's looking forward to embracing her role as a stepmother. "My role as a step-mom is extremely important and I take the honor of being in this role very seriously," shared Rebekah. "Each day I try so hard to do what's best for Jude and parent him as if he were biologically my own (while fully understanding that he's not). I'm now part of the team of parents who are responsible for helping him navigate through life, and that's huge!"
Naturally, being part of a blended family takes work, however Rebekah is so grateful for the close relationship she's fostered with Jude over the last year. "I am honored that I get to be part of his life and get to fill this role for him alongside his Daddy," she explained. "I would have never imagined that I'd be in the shoes I am today, but I'm forever grateful that this is the path I've been chosen to walk on."
Scroll ahead to see the gorgeous photos that Rebekah and Tyler will cherish forever!