This Family Has 5 Living Generations of Strong Women, and These Photos Are Making Me Teary
Natasha, a 31-year-old photographer at N Bee Photography, and her 35-year-old cousin Shakeibra both know how blessed they are to still have their 91-year-old great-grandmother, Wilsie, in their lives as adults. Recently, the duo decided to stage a photo shoot to take gorgeous updated family portraits that they can appreciate now and share with future generations later. And speaking of future generations, Shakeibra has a 15-year-old daughter, Kylea, who has four living generations of women up her branch of the family tree — for those silently counting on their fingers, that's five full generations!
To celebrate their rare family dynamic and cap off the fun photo shoot, Shakeibra decided to direct and star in a recreation of a TikTok video she'd seen of another family's four generations. In the video, Kylea appears first, saying "Hi! Mom?" as she waves her mom into the frame before walking away. Shakeibra repeats her daughter's actions, calling her own mom, 55-year-old Debra, into the frame, who then welcomes her 71-year-old mother, Gloria, before Wilsie ends the video with: "Hi! Five generations!"
"I thought it would be so dope to be able to do this with my great grandmother!" Shakeibra told POPSUGAR of the TikTok video, which completely blew up in the hour after it was posted. Natasha recreated the same video with Wilsie, Gloria, and her own mother, and though it didn't go as crazy as Shakeibra's, she was still so excited to make it and see their family through the eyes of complete strangers.
"We will forever treasure having our great-grandmother during this lifetime."
"We're told that we look young a lot but to hear it from millions of people definitely made us realize how blessed we truly are and we will forever treasure having our great-grandmother during this lifetime; which is why we drill her on questions about her life and treat her like a queen at every chance we get. She is sassy and full of life. Like 91 who??!" Natasha told POPSUGAR, adding of everyone's comments on how young all of the women in her family look: "I honestly don't see how young we look because everyone in my family looks young! You should see my grand aunts!"
For Shakeibra, it's been even more amazing to be able to give Wilsie a great-great-granddaughter in Kylea. "It's truly been a blessing! I love the fact that my daughter got to know her great great grandmother," she said. "Family is everything to us all. We host a family reunion every other year to make sure we can connect! I love how we are able to ask questions and get so much history from the matriarch of our family! She tells the best stories! She has gone through so much — cancer and a stroke and still going strong!"
And that love and affection you can basically hear in both Natasha and Shakeibra's words? You can see it so clearly in each and every photo Natasha took, both of Shakeibra's family and her own. "I am super excited that we were able to share our family with the world but mostly that we got to share the excitement together," Natasha said. "We made history with our 91-year-old great-grandmother. We know she won't be around forever although she walks around all sassy like she has another 20-50 years so we are definitely cherishing these moments. I can only hope that I am able to introduce a little one to her as well and make 5 generations before she does gain her wings."
Keep scrolling to see photos of Shakeibra's five generations, Natasha's four generations, and to watch the family's fun TikTok video, which has now been viewed nearly 6 million times.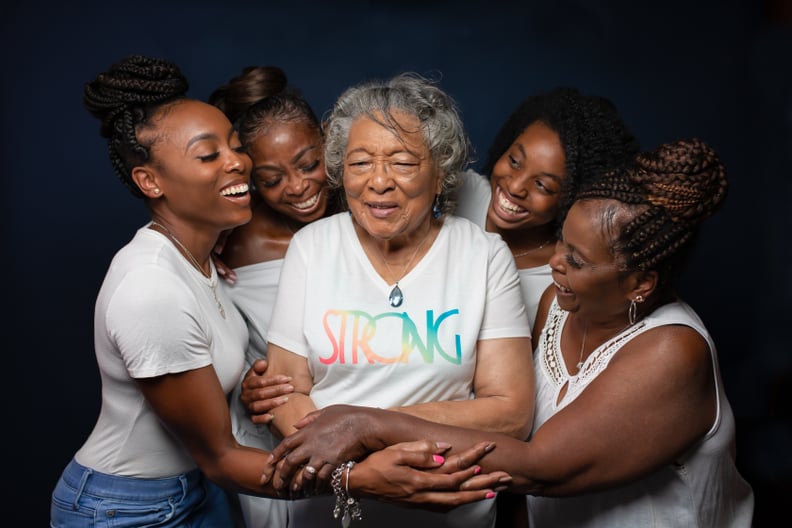 Photos of the Five Generations of Women in Shakeibra's Family
From left: Shakeibra, 35; Debra, 55; Wilsie, 91; Kylea, 15; and Gloria, 71
Shakeibra's TikTok Video of the Five Generations of Women in Her Family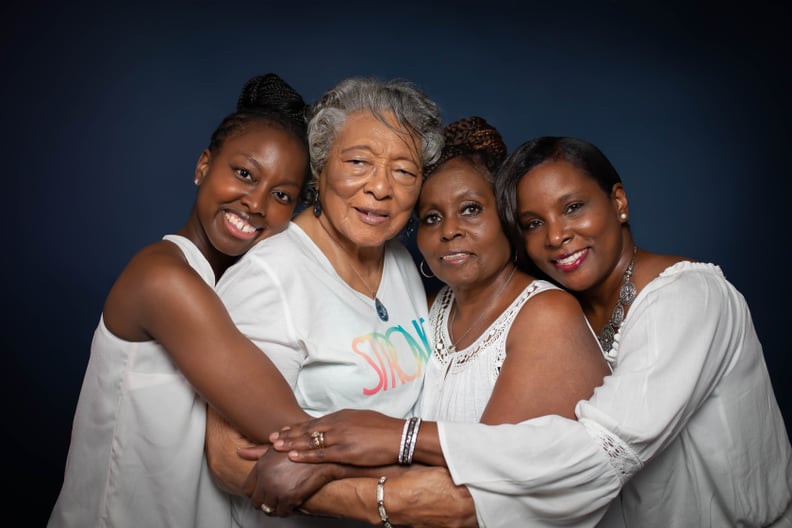 Photos of the Four Generations of Women in Natasha's Family
From left: Natasha, 31; Wilsie, 91; Gloria, 71; and Tonya, 53