Pixar's Turning Red Features Character With Diabetes
Blink and You'll Miss the Diabetic Kid in Pixar's Turning Red Trailer, but It Left a Major Impact on Fans
When Pixar released a trailer for its upcoming animated movie Turning Red, it received praise for how it's tackling the concept of anxiety — in the form of a 13-year-old girl named Mei Lee who transforms into a giant red panda when ever she gets overexcited — for young viewers. It's gotten positive press for being the studio's first feature film directed by a woman of color, Domee Shi, and it went viral for showcasing Pixar's very first Sikh character in the form of a friendly school security guard.
Well, the celebration continues thanks to some very discerning fans who spotted the blink-and-you'll-miss-it moment in the two-minute trailer when Pixar's first character with diabetes debuted.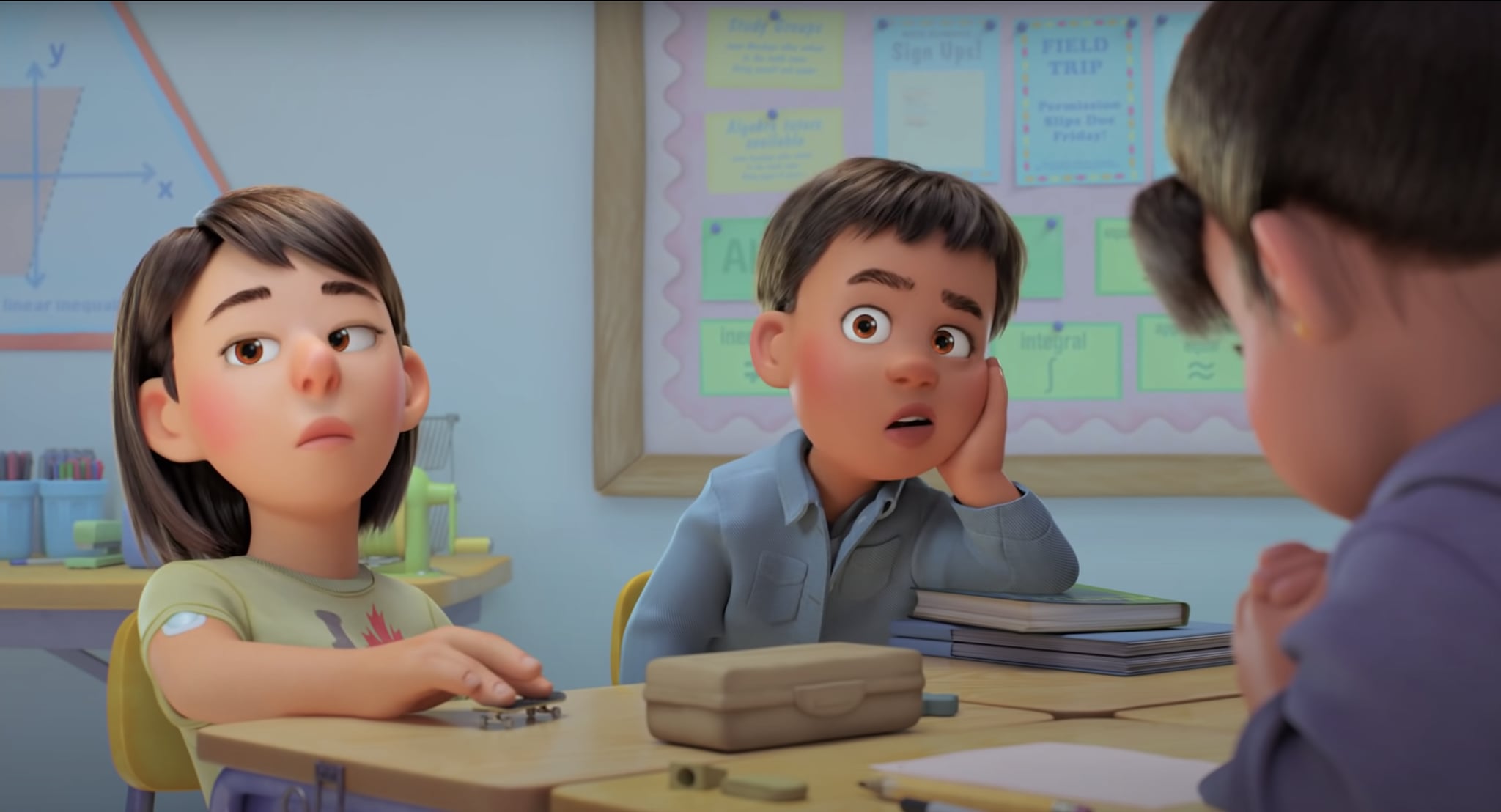 At the 0:34 mark, a student in Mei Lee's class appears to be wearing a white diabetic device, likely a Continuous Glucose Monitor (CGM), on their right arm. And a few moments later, thanks to a Twitter user who slowed down the trailer, it appears that when this character jumps up, what looks like a purple insulin pump is affixed to the student's waistband.
It looks more like an infusion site to me. If you slow down the trailer when that character jumps up you can see what looks like a purple Medtronic insulin pump. pic.twitter.com/6izarARNyS

— Randall Barker, T1D (@RandallbT1D) July 14, 2021
Although it remains to be seen how large of a role the character will play in the film, the small nod was enough to make many in the diabetes community celebrate this level of mainstream representation.
As one Twitter user, Angela Williams, wrote: "A Medtronic insulin pump and a CGM on her upper arm just like my 9-year-old granddaughter who was diagnosed five years ago. This is brilliant!"
Others took to a Reddit thread to share what the inclusion of this character meant to their families.
"I just showed this to my kid with Type 1," one parent wrote.
Another added: "When I see people in mainstream with diabetes gear on, I immediately sob. It's like adult me says to 9-year-old newly-diagnosed me, 'Look! You aren't the only one!' And I just think about all the little T1 babies who are so strong who will feel so validated seeing it."
Manufacturers of these devices are equally thrilled with Pixar's inclusive approach.
"Seeing diabetes technology in the Turning Red trailer immediately felt like a huge win," Lei Mercado, the chief marketing officer of Insulet, the maker of Omnipod tubeless insulin pump technology, told POPSUGAR. "This is such an important moment in time for us all to recognize, especially for children living with the condition as they see someone on the big screen representing them and the diabetes community as a whole."