What to Know About the Scoob Movie Before Watching With Kids
Scoob! Is a Family-Friendly Dream, but Here Are 5 Things to Know If You Watch With Young Kids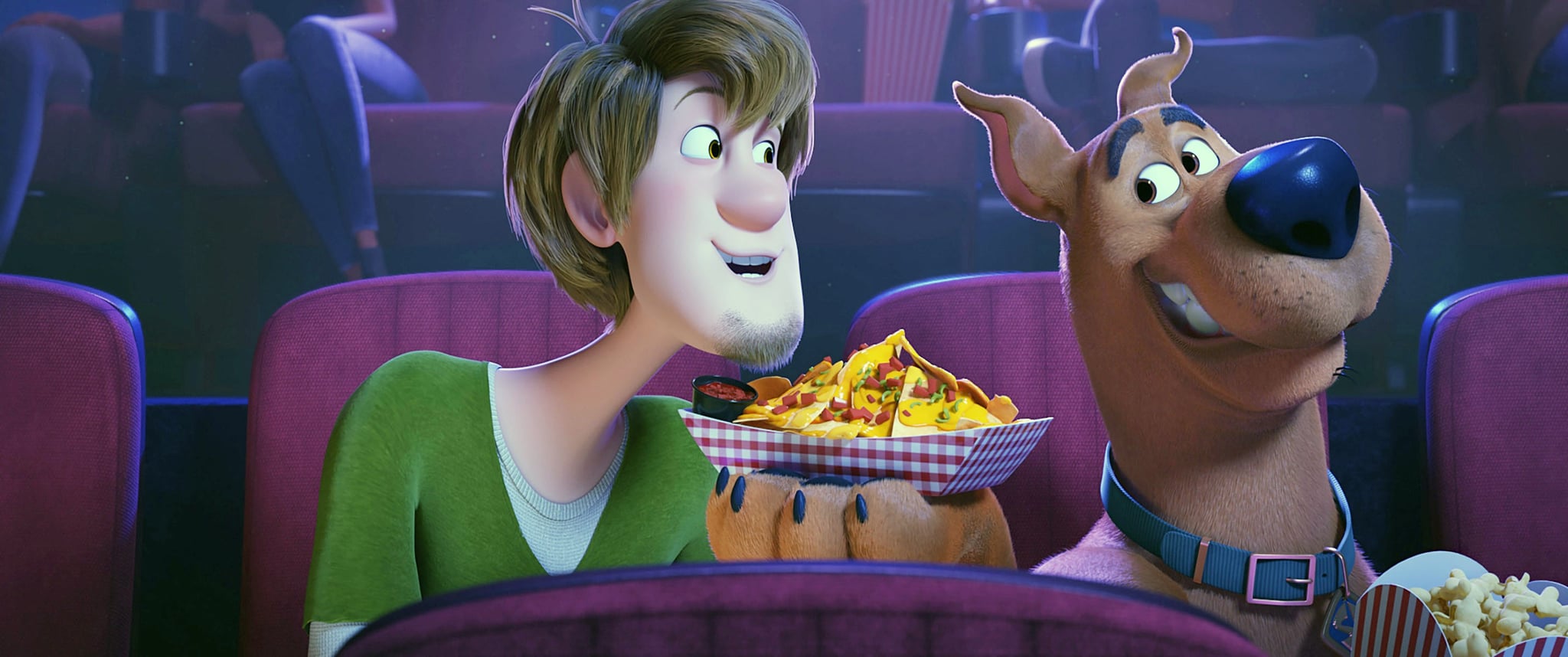 Whether you grew up watching Scooby-Doo and the Mystery Inc. gang solve mysteries or not, Scoob! is about to become one of your family's favorite movies to watch. This adorable animated movie has it all — Scooby has so much more dialogue than ever before, the nostalgia is there, Shaggy and Scooby eat everything in sight (as usual), and Simon Cowell appears as himself (yes, really). But for those watching with toddlers and younger — or more sensitive — kids, there are a few things you might want to be in the loop about beforehand.
Scoob!, which is just over an hour and 30 minutes long, is now available to stream ($20) or buy ($25) at home via Amazon Prime Video, Vudu, and Fandango Now. Read ahead to learn more about the movie before watching it with your kids.
What to Know About Scoob! Before Watching With Young Kids
There are a few scary and jumpy scenes. Scooby-Doo stories are always a bit spooky — the gang's whole purpose is to solve mysteries and crimes that often have to do with supernatural beings. There's a scene with a spooky house on Halloween night where a "ghost" pops out at them, there are killer shape-shifting robots that make their debut during the bowling alley scene but appear multiple times, there's a jumpy scene when one of the characters is in a room of mirrors, and there's a wild Fluffy the three-headed dog-esque situation toward the end.
There are a few weapons and some violence, and the characters are constantly in peril. From young Fred wielding an axe to blasters and guns on ships, there are a few instances of weapons and related violence throughout. And the characters are always in some sort of doomed situation, which is to be expected with an animated "action movie." It even looks like the Mystery Inc. gang bites the dust in front of Scooby's eyes at one point — but don't worry, all will be well!
There's a sad moment near the end that could upset your sensitive kiddos. Near the end of the film, after Mystery Inc. has taken out the villain, there's a sad moment between Scooby-Doo and Shaggy. There's no need to spoil it completely, but you'll know when it happens and we can assure you that telling your kids, "Don't worry, I'm sure it'll be OK!" should suffice, as the moment is pretty fleeting.
There are so many jokes for adults, but they'll likely go over your kids' heads. There are obviously plenty of things for kids to laugh about throughout, but there are also a TON of subtle jokes for adults. There's a reference made to Tinder at one point and the villain's name is Dick Dastardly, so um, yeah, there are a few jokes about that. Your older kids might giggle at his name as well as one of the bits, in which Scooby pronounces it as "Rick" and Dick emphasizes his name several times to reiterate that it's spelled with a D. We've gotta admit, it's pretty hilarious.
There are some sweet lessons your kids can take away. As in any Scooby-Doo story, this movie highlights the power of friendship, but Scoob! also goes deeper than ever before and really emphasizes the merit in making selfless sacrifices for the people you care about. Also, a new character, Blue Falcon, learns from his robot canine, Dynomutt, that heroes are allowed to get scared and still do courageous things despite their fears.