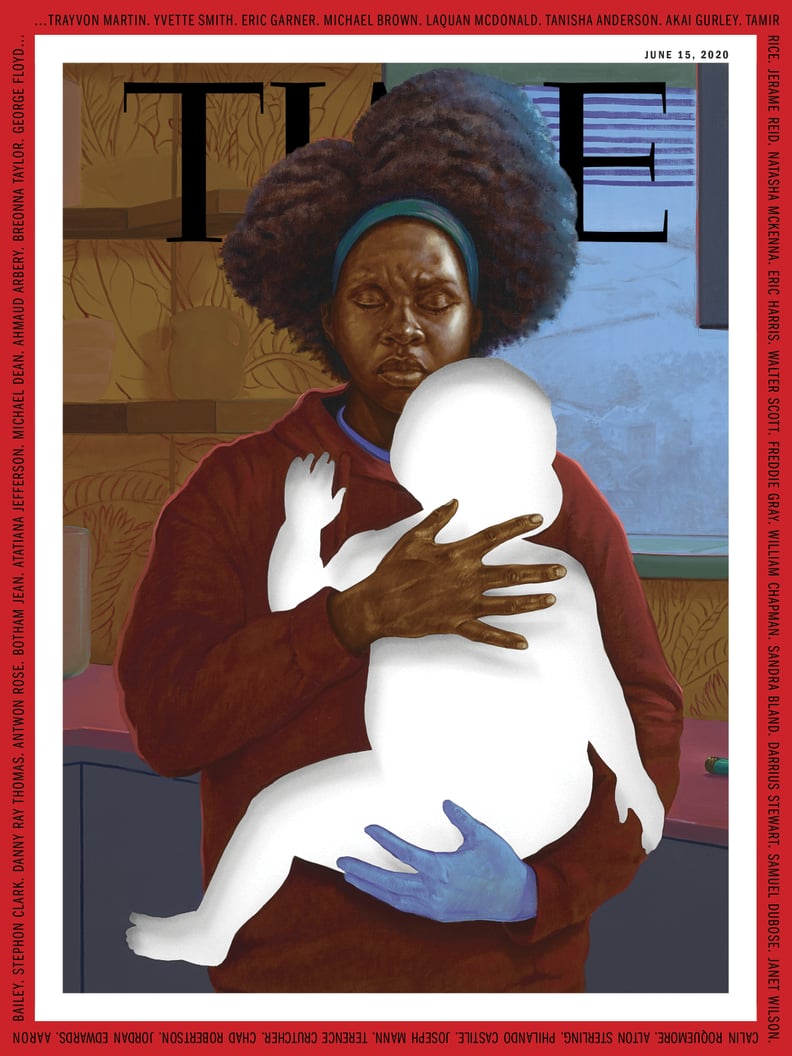 TIME
TIME
Time magazine has dedicated the cover of its latest issue to combating systematic racism and police brutality. The publication used an oil painting by the 44-year-old artist Titus Kaphar titled "Analogous Colors" — which shows a Black mother holding a cutout of her child — to show the impact that violence has on families.
"In his new work Analogous Colors, the artist Titus Kaphar depicts an African-American mother holding her child," reads Time's Instagram caption. "To complete the work, Kaphar cut out the canvas to show a mother's loss: Floyd called out to his deceased mother during the 8 minutes and 46 seconds he was pinned to the ground by a Minneapolis police officer."
The cover also includes the names of men and women who were victims of racial violence. "The red border of TIME includes the names of people: 35 black men and women whose deaths, in many cases by police, were the result of systemic racism and helped fuel the rise of the Black Lives Matter movement," says the caption. "Their names are merely a fraction of the many more who have lost their lives because of the racist violence that has been part of this nation from its start."
In an accompanying written piece, Titus shares his thought process behind his art. "In her expression, I see the black mothers who are unseen, and rendered helpless in this fury against their babies," he wrote. "As I listlessly wade through another cycle of violence against black people, I paint a black mother … eyes closed, furrowed brow, holding the contour of her loss."
"I want to be certain that her story is told. And so this time, America needs to hear her voice."
As a father, Titus explained that he too has had difficult conversations with his children about the reality of being Black in America. "How do I explain to my children that the very system set up to protect others could be a threat to our existence?" he said. "How do I shield them from the psychological impact of knowing that for the rest of our lives we will likely be seen as a threat?"
He also explained that creating his work was an emotional experience for him. "This black mother understands the fire. Black mothers understand despair. I can change nothing in this world, but in paint, I can realize her," he said. "That brings me solace … not hope, but solace. She walks me through the flames of rage. My black mother rescues me yet again. I need to be sure that they can see her. I want to be certain that her story is told. And so this time, America needs to hear her voice."