Anastasia Steele's Fashion Transformation
Video: See Fifty Shades of Grey's Anastasia Steele's Stylish Transformation
If you're like us, then you can't wait to see Fifty Shades of Grey this weekend! Before you go, check out this awesome video shared by InStyle. The film's star Dakota Johnson discusses her character's style transformation throughout the film.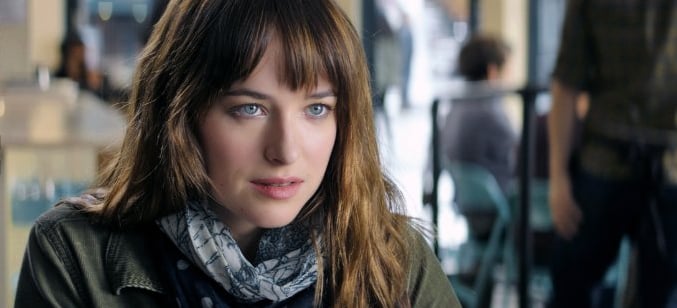 When you go from a literature-obsessed college student working at a hardware store to the girlfriend of a billionaire, chances are your style's going to change. So is the case for Anastasia Steele in Fifty Shades of Grey. The main character in the movie, played by Dakota Johnson, makes a major transition in the movie, both personal and sartorial.
Johnson and director Sam Taylor-Johnson sat down with People to discuss Steele's transformation in the film. "At the beginning of the film Ana's never had any sort of romantic relationship with anyone," the actress says in the video. "She throws herself into literature instead of boys and parties. It's not that she hasn't been interested, it's that she's never been ignited by someone before. Then she meets Christian and you can visually see her go through a change in the film." And what a stylish change it is: from ill-fitting button-downs to curve-hugging cocktail dresses, Ana makes a style 180 by the end of the film. See her full transformation in the video below.
To see the video, head over to InStyle!
More from InStyle:
Everything You Need to Know About Anastasia Steele's Outfits In Fifty Shades of Grey
Who Is Fifty Shades of Grey Star Jamie Dornan's Wife?
Take a Virtual Tour of Christian Grey's Fifty Shades of Grey Apartment