Angelina Jolie Bloody Shoes at Maleficent Photocall
Christian Louboutin Wants You to Walk in Angelina Jolie's Footsteps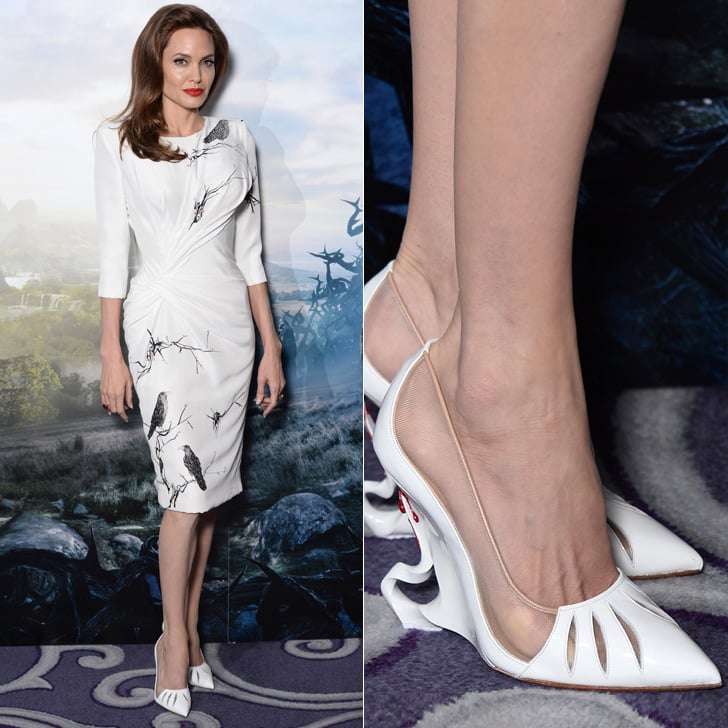 When Angelina Jolie attended a London Maleficent press event last May, we were struck by something more substantial than the actress's beauty. True to her craft, the star stayed in character when wearing Atelier Versace's evil raven print and what first appeared to be pretty white Christian Louboutin stilettos. A turn to the side revealed her footwear matched her sheath's brooding tone, because her twisted wedges were spiked with blood. Yes, blood. You've got to love Angelina's dark sense of humor.
And now there's good news for anyone who shares in the star's dangerous tastes: Christian Louboutin has announced that the heels will be available for purchase in October.
Dubbed the "Malangeli" shoe, this limited-edition $1,495 design will benefit SOS Children's Village and will be available for preorder in black or red patent leather at five Christian Louboutin flagship stores. So, are you dying to buy a pair?