Cannes Controversy Over High-Heels Policy
Is the Cannes High-Heel Policy Totally Out of Line? Emily Blunt Thinks So
Perhaps the biggest controversy to emerge at this year's Cannes Film Festival has nothing to do with the movies themselves. On Tuesday morning, trade magazine Screen International published a story claiming that several women were turned away from the premiere of Cate Blanchett's Carol on Sunday evening because they were wearing flats.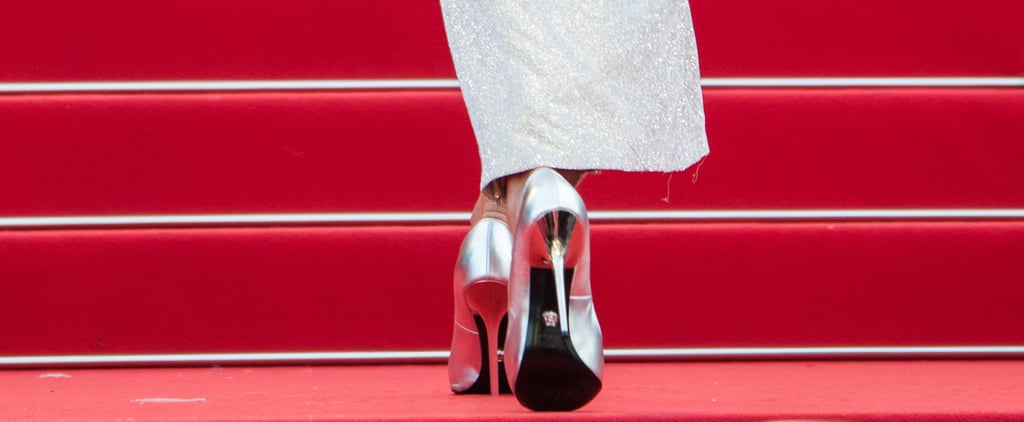 It's true that the festival's official printed guidelines require "black tie or dinner dress" for premiere events, but today festival director Thierry Frémaux tweeted a denial that any specific stilettos-only policy for women exists. He wrote, in part: "The rumor that the festival requires high heels for women on the steps is unfounded." We spoke with multiple people who were in attendance at the Carol premiere on Sunday, all of whom were unaware of the uproar until the story broke this morning. (One person did say they heard of a woman being turned away by one security guard due to her footwear but that they heard she was then granted entry by another.)
Exactly what occurred on the Carol red carpet might be up for debate, but the blowup has illuminated a larger issue. In an era when rigidity around gender roles seems to be dissolving — in part thanks to more frequent and humanizing portrayals of LGBT characters in Hollywood — the fact that the festival would continue to enforce such a rule strikes many as out of step with the industry at best and flagrantly sexist at worst. And what about women with medical reasons or injuries that won't allow them to choose heels? Because while the requirement that women wear heels may not actually be printed up in the festival guidelines, it seems obvious that it's at least an unspoken expectation. The director of Amy, the Amy Winehouse documentary that debuted at the fest, tweeted today that his wife had a similar run-in this week, though she was "eventually let in." And last night at the Chopard party, we also overheard Michelle Rodriguez recount a story about being turned away from a premiere during one of her first years at Cannes because she was wearing a pair of boots. Still, not everyone is always forced to play by the same rules. Just last year, Karlie Kloss was photographed on the red carpet at the Palais wearing some decidedly casual, flat leather sandals — albeit with an elaborate lace Valentino gown.
The news has become such a topic of conversation at the festival, Emily Blunt even spoke out about the report this morning at a press conference for Sicario, her film that premieres at the festival tonight. "Everyone should wear flats, to be honest. We shouldn't wear high heels," she said. "That's just my point of view — I love Converse sneakers. It's very disappointing. You think there are these new waves of equality, and people realizing that women are just as fascinating and interesting to watch." The director of Sicario, Denis Villeneuve, even said that he and the male stars of the film, Benicio Del Toro and Josh Brolin, would wear heels to the carpet tonight as a comment on the restrictions placed on women at the fest.
At least one woman we talked to successfully defied the requirement at last night's Louder Than Bombs premiere following the controversy. Samantha Baines, an actor and comedian, eschewed pumps and wedges in favor of a more down-to-earth pair of rhinestone slippers at the debut. "I wore flats as protest to the comment that all women HAVE to wear heels," she told us. "I was allowed on the red carpet and no one noticed!" Today, she even coined the hashtag #myfeetmybusiness on Twitter.